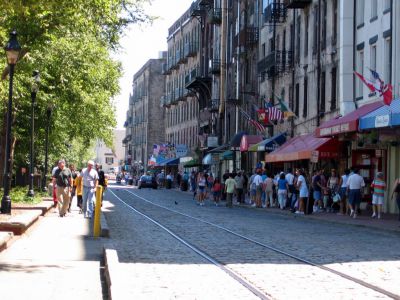 River Street, Savannah
(must see)
Paved with 200-year-old cobblestones, the historic River Street is a major commercial promenade running along the southern edge of the Savannah River in the heart of Savannah, Georgia. Its most well-known section extends from the Talmadge Memorial Bridge, then below City Hall and Yamacraw Bluff.

The area was once lined with cotton warehouses which were also used as holding cells for African slaves. The neighborhood saw a slow recovery from the 1818 yellow fever epidemic and, having been abandoned for over a century, was rediscovered only in the 1970s.

At a cost of $7 million, a new waterfront was unveiled in 1977 along with some 80,000 square feet of empty warehouse space converted into a colorful array of restaurants, cafés, craft shops, pubs, and art galleries. The half-mile-long pedestrian promenade, the John P. Rousakis Riverfront Plaza, is named for Savannah's longest-serving mayor (who was in office from 1970–1992).

Riverfront Plaza, as it is known today, is a popular destination for locals and tourists who come to buy souvenirs, contemplate the huge ships cruising on the river, or attend the numerous events and festivities throughout the year, including St. Patrick's Day, the July 4th fireworks or New Year's Eve. Families are safe and welcome here, but energetic pub crawling remains a favorite pastime for most.

If you happen to take a leisurely stroll along the landscaped river walk, observe the Waving Girl and Olympic Cauldron statues, then explore the bluffs along the river on the old passageway of alleys, cobblestone walkways and bridges known today as Factor's Walk. You can also stop at the River Street Hospitality Center, which is adjacent to the Hyatt Regency hotel or spend some time looking at vendors selling their wares in the Market Place.
Walking Tours in Savannah, Georgia