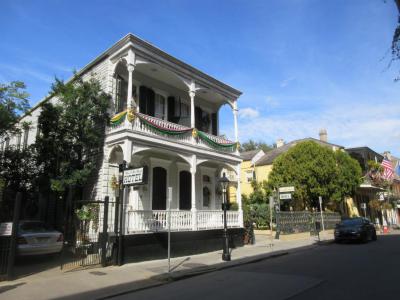 Royal Street, New Orleans
(must see)
If you want to experience the finer things in life, this is one of New Orleans' best streets where you can do so. In contrast to nearby Bourbon St., it displays a more sedate culture and refinement, with miles and miles of upscale galleries, boutiques, eateries, and local flavor such as potted ferns hanging from balconies. One of the city's oldest arteries, it's definitely one where you can get some good people-watching in while having all the main attractions within walking distance.

With their ornate and beautiful design, many of the 18th- and 19th-century buildings lining the avenue are dedicated to first-class selections of antiques and artworks rivaling those displayed in major museums; be sure to browse the sublime collection at the old M. S. Rau store (630 Royal) that welcomes gawkers. Other notable stores sell jewelry and decorative carnival masks ranging from simple feather-and-ceramic styles to handcrafted, locally made varieties with heftier price tags.

Royal Street is so unique that one will find it difficult to choose where to begin and where to end. From visiting the Gallier House to touring the Historic New Orleans Collection or eating at the restaurants displaying scenic gardens, ornate fountains, and beautiful courtyards, there is a lot to see and do here.

Why You Should Visit:
Certainly refreshing if you need a break from NOLA's bar/party scene, as the vibe is more family-friendly and the stores have many souvenirs appropriate for family and friends, especially as you approach the heavily trafficked areas near the river. Several blocks of Royal are closed to vehicles between 11am–4pm, and colorful street performers entertain for tips.

Tip:
Have a handful of dollar bills to tip the street performers: it's their livelihood and most are talented!
Walking Tours in New Orleans, Louisiana