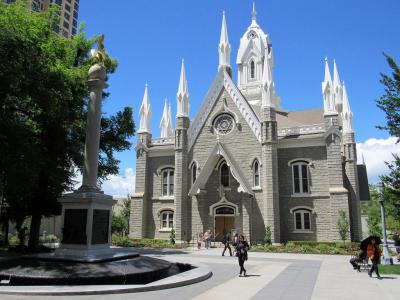 Salt Lake Assembly Hall, Salt Lake City
Yet another interesting place in Temple Square, this early meeting hall for members of the LDS Church is currently one of two religious buildings that non-LDS members can freely access. Although built of quartz monzonite rock from the same quarry as the Salt Lake Temple, the Assembly Hall's unhewn exterior looks much different, due to its stones having not been as exactingly cut. This accounts for the building's dark, rough texture which, together with the cruciform layout and the stained-glass windows, gives it the appearance of a small gothic cathedral.

However, the deceptively Gothic exterior conceals a more modern interior lacking vaulted ceilings. Details of the woodwork are beautiful, and there is an elegant organ (albeit smaller than the one in the Conference Center or the Tabernacle next door) centered up front. The acoustics don't rival the world-famous Tabernacle, but they are still quite impressive – and so are the performers. Walk in right before a concert and you'll be graciously allowed to stay and listen.

***PIONEERS TRAIL***
Directly east of the Assembly Hall stands the Seagull Monument, erected to commemorate the so-called "miracle of the gulls", in which, following fervent prayers, legions of native seagulls suddenly appeared and started devouring the swarm of crickets that was destroying much-needed crops during the pioneer farmers' first spring season in Utah. It is said that these birds, native to the Great Salt Lake, ate mass quantities of crickets, drank some water, regurgitated, and continued eating the pests over a two-week period. The pioneers saw the gulls' arrival as a miracle, and the story was recounted from the pulpit by church leaders such decades after the event.
Salt Lake Assembly Hall on Map
Walking Tours in Salt Lake City, Utah