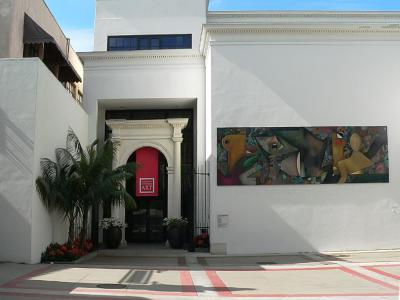 Santa Barbara Museum of Art, Santa Barbara
(must see)
The Santa Barbara Museum of Art is in a building that served as the Santa Barbara Post Office between 1914 and 1932. David Adler, a Chicago architect, simplified the facade that helped make the building more suitable as a museum. Adler was also responsible for the creation of the gallery areas, which guests have enjoyed since 1941.

Gallery additions in 1942, 1963, 985, and 1988 increased the numbers of works for the public to savor. The museum offers 60,000 square feet of exhibition and activity space in a well-lit setting. A children's gallery includes exhibits with interactive programming.

Visitors can visit the Museum Shop for gifts and the cafe for quick snacks. The auditorium has 154 seats and is perfect for special events. There is also a library with 50,000 books in its collection, as well as 55,000 slides.

The permanent collections span all forms of art, from prints and paintings to textiles, ceramics, and furniture. Some of the most famous artists featured include Ansel Adams, Henri Rosseau, Claude Monet, Auguste Rodin, and artists from the Santa Barbara Collections.

Collections on display at this museum include antiquities from the Greek and Roman Empires and the Mediterranean, as well as the ancient people of North and South America. Asian art on display in this museum includes sculptures and tapestries from China, Japan, Korea, and the Himalayan region.

The museum also has a collection of Latin American art, spanning 1930 to 1990. These collections offer a diverse look into how different cultures have shaped the artistic world.

Why You Should Visit

Check out a diverse collection of art from all eras, including ancient and modern times.
Enjoy the evolution of this building from a post office to its current museum status.

Tips

Look for the free hands-on workshops regularly offered.
Santa Barbara Museum of Art on Map
Walking Tours in Santa Barbara, California