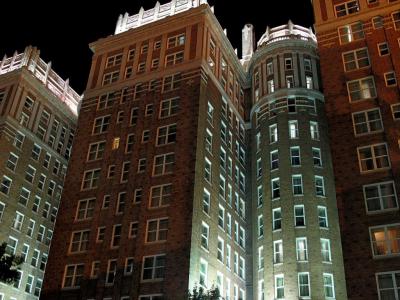 Skirvin Hotel, Oklahoma City
The Skirvin Hotel, at the corner of 1st Street and Broadway, is the city's oldest hotel. First opened in 1911, the Skirvin Hotel contained 224 rooms in a ten-story two-winged tower. A third 12-story wing was added in 1925, and then in 1929–30 all three wings were leveled off to 14 floors with a total of 525 rooms. The hotel is named for its founder, William Balser "Bill" Skirvin.

The hotel closed down in 1988 and sat abandoned for the next 19 years. It reopened 26 February 2007 after a renovation project restored the original exterior finish, installed historically accurate windows, reconfigured guest rooms and added new guest elevators.

Skirvin Hotel is one of the best known haunted places in Oklahoma City. Rumors of a haunting in the hotel persist, and have even been cited by NBA teams, notably in 2010 when the New York Knicks famously blamed their loss to the Oklahoma City Thunder on the haunting and when the Chicago Bulls reported doors slamming shut on their own and strange sounds outside their rooms.

As the story goes, the hotel's original owner, W. B. Skirvin, had an affair with a maid named "Effie", which led to a pregnancy. To protect his reputation and avoid a scandal, Skirvin locked the maid on the 10th floor. The maid became depressed and even after the birth of her child, she was still not let out of her room. She eventually jumped out a window killing herself and the baby, without notice in newspapers.

In some versions of the legend, this maid is described as "a woman of loose morals", and men who have stayed in the hotel have reported being propositioned by a female voice while alone in their rooms. Others claim to have seen the figure of a naked woman with them while taking a shower.

Skirvin Hotel is listed on the National Register of Historic Places.
Sight description based on Wikipedia.
Walking Tours in Oklahoma City, Oklahoma