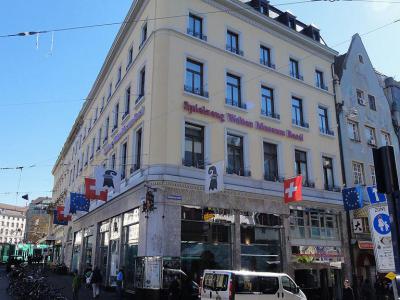 Spielzeug Welten Museum Basel, Basel
The Toy Worlds Museum used to be known as the Dollhouse Museum. This unique museum displays thousands of dolls, dollhouses, teddy bears, play shops, and miniatures.

Over 6000 individual items are displayed. The teddy bear collection is one of its kind and features over 2500 teddies.

The museum hosts special workshops for kids. For example, kids can create their own backpack and decorate it with potato stamps.

The museum also hosts special exhibitions. For example, the Moving World exhibition shows classic mechanical showpieces produced for advertising.

The Steiff family is most famous for their invention of the teddy bear. However, they also manufactured dolls and created other innovations and toys.

The Weekend in the Animal Kingdom is a showpiece created by the Steiff family. This large scene was created in 1928 and features 47 animals. Some of the animals move with the aid of mechanical devices. The animals are shown enjoying a wellness weekend, where they visit the sauna, engage in gymnastics, and participate in a boxing match.

The Mill in the Valley scene was created in 1926. It features 70 original Steiff dolls in rural settings and includes a village with characters at work.

Visitors can also enjoy the on-site restaurant. In addition, the museum shop features nostalgic gifts and souvenirs.
Spielzeug Welten Museum Basel on Map
Walking Tours in Basel, Switzerland