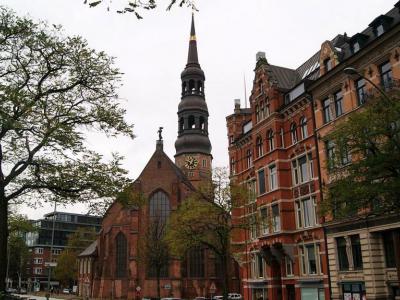 St. Catherine's Church, Hamburg
St. Catherine's Church features an ancient spire and extensive history. St. Catherine's is one of Hamburg's five historic Lutheran churches. The church's spire dates to 1256. The church was rebuilt in the German Brick Gothic style in the mid-15th century. An elaborate Baroque rooftop was added to the spire in 1657. This increased the spire's height to 115 meters (377 feet).

World War II bombs heavily damaged the church. Only the base of the spire and outer walls were left intact. St. Catherine's Church was rebuilt in the 1950s, and the steeple was restored with steel and copper. Catherine's crown sits on top of the impressive steeple.

During the 1700s, St. Catherine's Church was home to one of the largest organs in the world. Famed musician and composer Johann Sebastian Bach once played the beautiful organ. Along with the church, the organ was heavily damaged by WWII bombs but has been restored.

The church hosts a weekly market on Tuesdays in the church square.
St. Catherine's Church on Map
Walking Tours in Hamburg, Germany