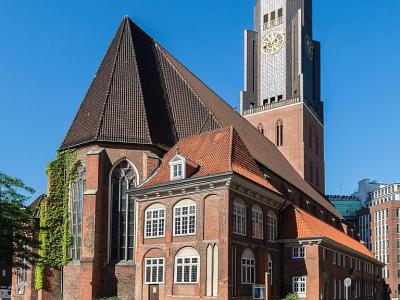 St. Jacobi Church, Hamburg
St. Jacobi Church is one of the five Lutheran churches found in Hamburg city centre. It is located in the Neustadt quarter, close to Mönckebergstraße, one of the city's main shopping streets. The first recorded mention of the church was in 1255, when it was listed as a small chapel outside of Hamburg's city walls. It soon became a central part of the growing medieval city, and was replaced by a three naved hall church, similar to the nearby St. Petri church. The fourth nave was added in the 15th century. .

St. Jacobi was destroyed by the extensive bombing of Hamburg during World War II. The church was rebuilt in 1963, in an unusual style featuring medieval design and a modern spire. Many of the church's original features, including its 60-register baroque organ, survived the bombings and were installed in the new church. The organ, the largest in Northern Europe, can be heard at the church's main service, held each Sunday morning.

Other medieval relics held within the modern church building include three altars dating from the 14th century, and the historic Ministers' Room, featuring murals and landscape paintings by Johann Riesenberger. The stained glass windows, created by Charles Crodel, are a modern addition to this aesthetically pleasing place of worship.
Walking Tours in Hamburg, Germany