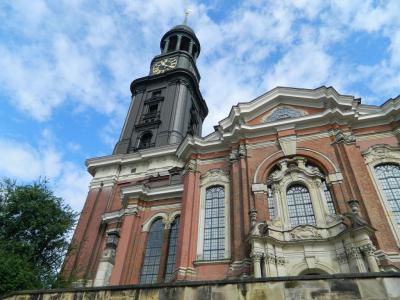 St. Michaelis Church, Hamburg
(must see)
St. Michaelis Church is one of Hamburg's five main Lutheran churches. This important landmark church is a gorgeous example of baroque architecture. Most of Hamburg's churches were built as Roman Catholic Churches and then converted to Protestant churches; however, St. Michaelis is one of Hamburg's few purpose-built Protestant churches.

The church is dedicated to the Archangel Michael, and a large bronze statue representing St. Michael stands above the church's portal. The impressive baroque clock tower is 132 meters tall (433 feet). The clock tower is covered in copper and serves as a landmark for ships entering the Elbe River.

A church has stood on this site since 1647. The current St. Michaelis Church was built in 1786. St. Michaelis underwent reconstruction after a 1906 fire, and after WWII bombs damaged it.

Johannes Brahms, the famous composer and pianist, was baptized in St. Michaelis in 1833.

St. Michaelis is the largest church in Hamburg and can seat 2.500. The marble pulpit features an impressive staircase. The white marble baptismal font represents a seashell. The marble altar is 20 meters (65 feet) tall and features three scenes from the life of Jesus.

The large crypt has over 2,000 grave chambers. The crypt was used as a shelter during WWII and is now used for concerts and church services.

Visitors can access the 106-meter-tall (348 foot) observational platform using the elevator or stairs. The view from the top is spectacular.
St. Michaelis Church on Map
Walking Tours in Hamburg, Germany