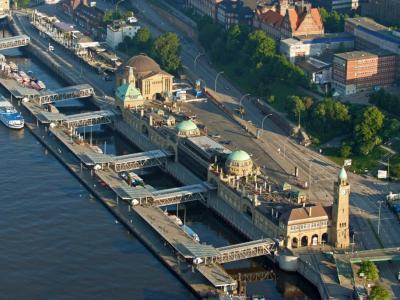 St. Pauli Piers, Hamburg
(must see)
St. Pauli Piers offers historic waterfront buildings and stunning views. The first pier was built in 1839 and served as a steamship terminal. The piers now connect more modern transportation options. The current floating piers were originally built in 1907 and rebuilt in the 1950s after World War II bombs damaged them.

The floating jetty is 700 meters (2297 feet) long. This vibrant waterfront area draws visitors to see the busy harbor upfront, take pictures, and enjoy the scenery. The piers are connected to the city by ten movable bridges. Hop on a ferry or catamaran and take a tour of the harbor. If you have tickets to The Lion King, you can get ferry transport to the production's musical island.

The 205-meter-long (672-foot) terminal building features two distinct green domes. On the attractive St. Pauli Piers promenade, visitors can find restaurants, cafes, and bars along the piers. Visitors can also enter the Old Elbe tunnel from the piers.
Walking Tours in Hamburg, Germany