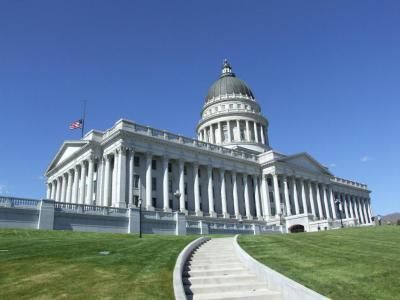 State Capitol, Salt Lake City
(must see)
Utah's spectacular State Capitol building is a bit of an uphill hike from the heart of downtown Salt Lake City, but well worth the effort. Take in the breathtaking mountain views from the front steps, then head inside to see the state's history unspool through the glorious artwork adorning the walls and ceiling of the cavernous atrium. Traditional architecture built with a variety of stone and other materials, as well as a very open interior, makes this building quite an experience to visit.

Utah history is dramatized in large murals and canvasses, while the dome ceiling is painted with seagulls – the official state bird since 1955. Exhibits from all 29 counties are displayed on the ground floor, but the 2nd floor – and especially the Gold Room where visiting celebrities are hosted – should not be missed. Decorated with native bird's eye marble, the room boasts exquisite chandeliers, chairs and a table adorned with gold leaf from Utah mines.

Once the (free) tour is over, you can ponder your thoughts in the quaint outdoor courtyard area or the really neat park on the east side – just walk along one of the trails to get down the hill. Immediately across the street, the visitor center has lots of free brochures, maps, and travel guides for all of Utah, as well lots of awesome and affordable gifts and collectibles.
Walking Tours in Salt Lake City, Utah