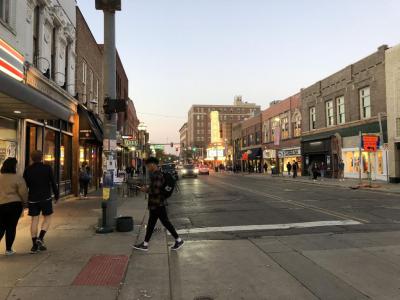 State Street, Ann Arbor
Found near the University of Michigan campus, the State Street and its surrounding area is deservedly regarded as the "entertainment capital " of Ann Arbor – a true mecca for arts and culture lovers, as well as shoppers of all stripes and passionate foodies.

In particular, those keen on history, science, and other intellectual entertainment, will find it in abundance in this artistic and theatrical giant of the community. Places like the University of Michigan Museum of Natural History, Planetarium & Dome Theater, and the Kelsey Museum of Archaeology are fit to blow anyone away with their exhibits.

And if you're a fan of classical music, then the Ann Arbor Symphony Orchestra is your place. Even those digging on pop more, will find it equally entertaining, as the place regularly runs pieces rooted in pop culture, such as their Harry Potter-inspired event and annual Disney show. University Musical Society is a world-renowned institution that brings world music and barrier-busting performances to Ann Arbor's historic venues.

The Michigan and State Theaters, in addition to being historic gems, play host to two annual film festivals. The Ann Arbor Film Festival in January is the oldest experimental film festival in North America, while the Ann Arbor Summer Festival is an annual display of performing arts, outdoor entertainment, offering film screenings as well as live performances by stand-up comedians and other artists.

In terms of food and drink, the street stands tall with many outstanding restaurants and bars, serving both American culinary classics and international cuisine. The shopping scene is just as fantastic, fitting the trendy needs of all ages and genders.
Walking Tours in Ann Arbor, Michigan