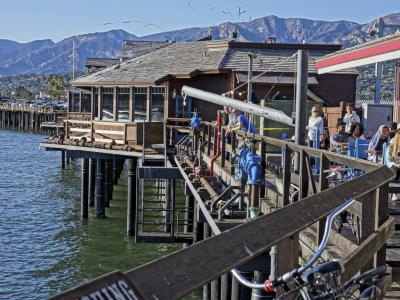 Stearns Wharf, Santa Barbara
(must see)
Stearns wharf has been a part of Santa Barbara's landscape since 1872 when it became the longest wharf between San Pedro and San Francisco. The wharf was an essential part of California's shipping industry for over 25 years. Today, the waterfront holds a lot of excellent surprises for visitors.

The Sea Center is an excellent place to enjoy marine life. You can grab a water taxi if you'd like to explore a little more of the area beyond the pier. Madame Roskinkas is the best place to visit if you want your fortune told. Stearns Wharf Bait & Tackle has everything that you need should you plan a future trip here for fishing.

Stearns Wharf is host to some of Santa Barbara's best dining, with some of the best possible views of the city. Longboards Grill has casual dining, and Char West offers favorites like char-burgers and fish and chips.

Visitors in the mood for fish will enjoy Moby Dicks for the daily catch and Santa Barbara shellfish Company for shellfish fresh off the boat. For a dining experience that includes steak and a full bar menu, consider the Harbor Restaurant.

There are also some excellent shopping options to take advantage of during your visit. Stop by Nature's Own Gift Shop to get some unique shells. If you're looking for some ice cream, give the Great Pacific Ice Cream Company a try. Mother Steams Candy Shop has tasty candy and fun souvenirs to take home with you.

Why You Should Visit

Views of the Pacific Ocean that you will not want to miss.
Enjoy plenty of dining and shopping opportunities, unlike any other.

Tips

Consider visiting the pier around sunset for memorable photo opportunities.
Walking Tours in Santa Barbara, California