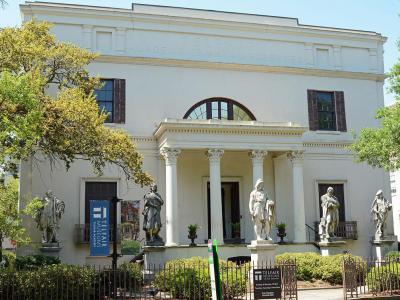 Telfair Academy, Savannah
(must see)
The Telfair Academy is a historic neoclassical Regency-style mansion and another creation of William Jay in Savannah, one of the few of his surviving works. The mansion was built in 1818, originally as a family townhouse belonging to the Telfair family, and as such, was the former home of Alexander Telfair, the son of Revolutionary War patriot and Georgia governor, Edward Telfair.

In 1875 Alexander's sister, Mary, heir to the family fortune and last to bear the Telfair name, bequeathed the house, complete with its furnishings and family collections, to the Georgia Historical Society. After significant renovations, which included the addition of the Sculpture Gallery and the Rotunda, the venue opened to the public in 1886 as a free art museum, being the first art museum in the southeastern United States.

In 1976, the building was declared a National Historic Landmark.

Presently, this is one of three sites owned by Telfair Museums (the other two being the Owens-Thomas House and the new modern-art focused Jepson Center). The Telfair Academy contains two 19th-century period rooms and houses 19th- and 20th-century American and European art from its permanent collection, including paintings, works on paper, sculptures and decorative arts. In addition to these, the Academy houses artworks representing Savannah's history and those from native local artists.

Perhaps the most famous attraction here is the Bird Girl statue (relocated from Bonaventure Cemetery), which was made famous by the John Berendt novel, "Midnight in the Garden of Good and Evil".

In a sense, this place offers a great introduction to Savannah by way of depicting local life from the early 20th century, complemented by a broader selection of American impressionism, American portraiture, and the Ashcan school. Whilst inside, don't miss the upstairs room, holding impressive large-size paintings the likes of which can be found only in Chicago or New York.

The museum is open Sunday and Monday from 12–5pm; and Tuesday through Saturday from 10am–5pm.
Walking Tours in Savannah, Georgia