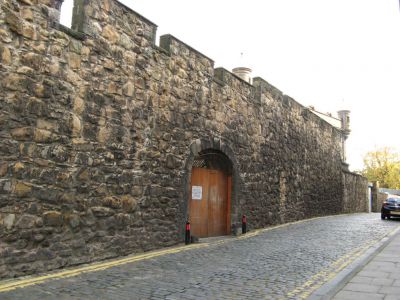 Telfer Wall, Edinburgh
If you would like to see a real part of ancient Edinburgh, you should go to Heriot Place where you will find one of the only remaining stretches of the Telfer Wall.

The Old Town once had three defensive walls. The first wasn't very extensive and protected the denizens of the area around the High Street. After the Battle of Flodden, the locals realised that only part of their town was protected, and so in 1513 they built the Flodden Wall.

By the 17th century, the wall had showed signs of ageing, shoddy workmanship and was too small to defend the growing town, so the last fortification – the Telfer Wall – was built to the south of the Flodden Wall in 1630.

Sadly, today not much of these fortifications remain, and the gateways, or ports as they were called, have been knocked down. Parts of the Flodden Wall can be seen in the Royal Scottish Museum, but the Heriot Society managed to preserve one corner tower from the Flodden Wall and a long stretch of the Telfer Wall along Heriot Place.

During excavations at the base of the Wall in 1850, a well-preserved bronze Roman coin, dating back to the time of Constantine the Great, was discovered. Further excavations revealed two coffins fashioned out of oak trunks; the exterior of the coffins was rough wood, but the interiors were hollowed out to receive the head and arms of a man and a woman.

Between the coffins, the skull and antlers of an enormous deer were discovered, along with a spearhead made of horn. The burial site is thought to date back to the 3rd century AD. The remains of the humans disintegrated when attempts were made to remove them from the coffins, but the deer's skull is intact and displayed in the Royal Scottish Museum.
Walking Tours in Edinburgh, Scotland
Useful Travel Guides for Planning Your Trip
---