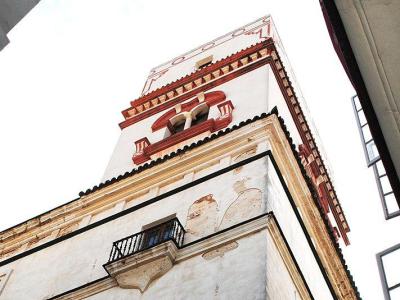 Torre Tavira (Tavira Tower), Cadiz
(must see)
The Tavira Tower (Torre Tavira), the watchtower of Cadiz, is more than 149 feet above sea level and the highest point in the Old City. It's part of the House Palace of the Marquises of Recano (Marqueses de Recano). These days, the palace is the home of the Conservatory of Music of Cadiz.

Since the beginning of the 18th century, Cadiz had dominated all trade with the Indies and the Americas. Such a city needs towers to keep an eye on things, especially things coming from over the sea. Cadiz went for it. Today it has over 126 watchtowers, including the Tavira Tower.

The Tavira Tower was built in 1780 as a part of the Palace of the Marqueses, but it was always intended to be a lookout tower. Considering its superior height, it was officially designated as the town's surveillance tower.

In 1787 the palace gave over its function as a residence. It successively was home to the School of Noble Arts, the College of Jesus, Mary and Joseph, the Supreme Court, and finally, the City Hall Conservatory of Music.

Don Antonio Tavira was the first watchman of the tower. He left his name and so much more. In addition to commanding views of Cadiz and its environs, the Tavira Tower also has a Camera Obscura.

In a darkened upper room of the tower, a guide operates the optical system of the Camera Obscura. Images of the sea, monuments, and the city are projected on a round table screen in the center of the room. The session takes about twenty minutes.

In the two other rooms, exhibits explain the evolution of the Camera Obscura and the history of Cadiz in the 18th and 19th centuries. This room is about Cadiz's Golden Age. Finally, there is a panel on the Cortes de Cadiz of 1812. This panel tells the story of Spain's first written constitution, which was written in Cadiz.
Torre Tavira (Tavira Tower) on Map
Walking Tours in Cadiz, Spain