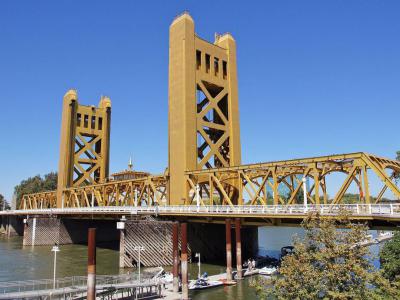 Tower Bridge, Sacramento
Coming into the city via US Highway 40, it's hard to miss the eye-catching and dramatic Tower Bridge. The vertical lift bridge was opened for traffic in 1935. It replaced the original M Street Bridge, which at only 25 years old was already causing concerns with traffic congestion. The possibility of war and the need for moving supplies from west to east across the US was a significant factor in building the bridge. The original design featured two single-land roadways on either side of central railroad tracks, but the train tracks were removed in the early 1960s.

The 209-foot long lift section of the bridge weighs around five million pounds. Still, the clever use of perfectly balanced counterweights means that two relatively small electric motors can operate the bridge. When the bridge is up, it provides 100 feet of vertical clearance for vessels sailing up the Sacramento River. The towers are 160 feet tall and extend 50 feet below the water surface and into the river bed to provide structural support for the bridge's colossal weight.

The bridge's paint scheme has been changed several times over the years. The present gold color, applied in 2002, was chosen by a local vote.
Walking Tours in Sacramento, California