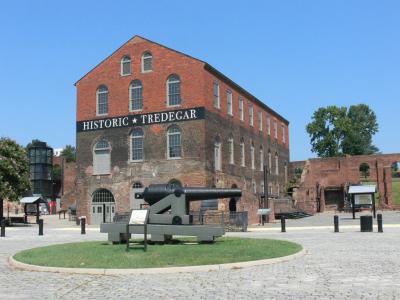 Tredegar Iron Works and American Civil War Museum, Richmond
(must see)
Situated right on the James River near downtown, the Tredegar Iron Works was founded in 1837. It was one of the country's biggest industrial sites before the Civil War, manufacturing everything from locomotives to ships. During the war, it supplied about half of all of the Confederacy's artillery and the iron plating for the Confederacy's first iron-clad vessel, the CSS Virginia. The ironworks survived the burning of Richmond after the war and continued production well into the 20th century.

Today the ruins of the ironworks buildings house the American Civil War Museum. The new facility has been built in a modern building attached to the original ironworks brick warehouse. The site's permanent exhibit, A People's Contest, features theater showings and original artifacts to share the story of the war from many points of view. The museum presents all sides of the Civil War and explores lingering issues.

Why You Should Visit

The Tredegar Iron Works has been restored for self-guided tours. The Foundry Building has been converted into a multi-use space for events.

The American Civil War Museum is dedicated to interpreting and presenting the war from all possible perspectives, including Union and Confederate views, slaves, free African Americans, and everyday families.

The museum is one of the most complete collections that tell the entire history of the war from start to finish. Their masterful use of personal stories and interactive displays is as compelling as it is educational. This museum isn't just for war buffs—everyone will walk away having learned something about what the nation has gone through to get us to this point in history.

Tips

Plan to spend between one and three hours touring the exhibits.
Tredegar Iron Works and American Civil War Museum on Map
Walking Tours in Richmond, Virginia