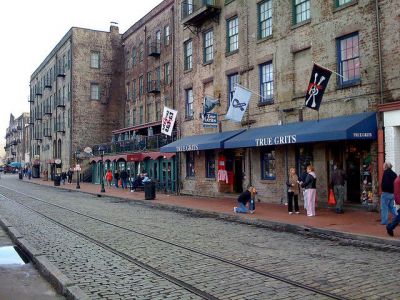 True Grits, Savannah
True Grits is a beautiful, cozy store that will delight you with items pertaining to the history of the South. Named in honor of the popular John Wayne movie "True Grit", the place itself was founded in 1996. For the past few decades it has aimed to be the go-to shopping destination for those visiting Savannah.

Initially, it started out as a heavily nautical-based store. As a shipwright, the founding member found a deep passion and love for all things nautical. Still maintaining a focus on these items, the selection has eventually evolved over the years, constantly reflecting the interests of the times.

Nowadays, it has an amazing collection of Civil War artifacts and all things country. There are plenty of cowboy hats, screen print t-shirts, fake guns, and ideal things on the walls that make great backgrounds for selfies. Also available here are some kitschy items, like a cute mug or a small pirate ship figurine.

Overall, it's a nice place to stop in to get out of the heat and spend money on something that says Savannah or highlights that you'd be drinking and wearing green whilst bar hopping in the touristy part of Savannah.
Walking Tours in Savannah, Georgia