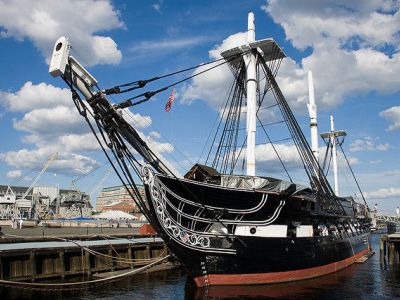 USS 'Constitution', Boston
(must see)
USS 'Constitution', named in honor of the United States Constitution by President George Washington, gained the famous moniker "Old Ironsides" owing to its remarkable 25-inch-thick hull at the waterline. In a pivotal moment during the War of 1812 against Great Britain, the ship engaged in a battle with HMS 'Guerrière', leaving the British vessel severely damaged. Witnessing British cannonballs seemingly bounce off USS 'Constitution's' formidable hull, a sailor reportedly exclaimed, "Huzzah! Her sides are made of iron!" Throughout the same conflict, the frigate captured numerous merchant ships and emerged victorious in confrontations with four other British warships. During the American Civil War, the 'Constitution' served as a training vessel for the U.S. Naval Academy.

Retired from active service in 1881, the 'Constitution' now serves the mission of promoting understanding and education about the Navy's contributions to peace and warfare. While the ship is typically docked at Pier 1 of the Boston Navy Yard, marking one end of the Freedom Trail, the USS 'Constitution' Museum is conveniently situated nearby within a restored shipyard building at the base of Pier 2..

Featuring nearly 2,000 artifacts and over 10,000 archival records related to the USS 'Constitution', the museum's exhibits ignite enthusiasm for maritime culture and naval service. Visitors of all ages can enjoy "All Hands on Deck: A Sailor's Life in 1812", an immersive experience that allows participants to scrub decks, climb aloft to furl a sail, partake in a meal of salted meat and ship's biscuit, and even retire to a hammock. History enthusiasts can delve into the ship's comprehensive history, from its construction to its pivotal battles.

Why You Should Visit:
To fully appreciate the world's oldest commissioned warship, with the opportunity to explore most of its spaces through a free guided tour. Meanwhile, the adjacent museum offers engaging exhibits and a souvenir shop for mementos and refreshments.

Tip:
While visiting, don't miss the Navy Yard Visitor Center and the USS 'Cassin Young', a World War II-era Fletcher-class destroyer.
For families with children, the museum's second floor offers interactive learning experiences.
USS 'Constitution' on Map
Walking Tours in Boston, Massachusetts
Useful Travel Guides for Planning Your Trip
--- Boston's Marblehead Eateries
With such a diverse variety of dining cuisines and styles, the little town of Marblehead has something to satisfy every budget and culinary palate. You won't find any neon here, none is allowed in town and there are no fast food or drive-thrus establishments either. Most are quaint and...