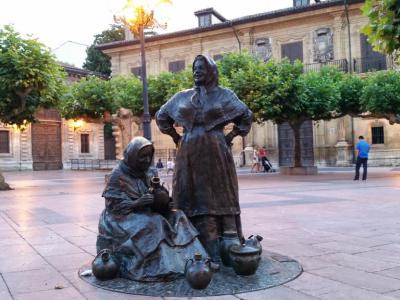 Vendedoras del Fontán (Sellers of the Fontán), Oviedo
Two bronze women, one seated, one standing, guard a collection of ceramic ware in the Daoiz and Velarde Square. They are known as the "Sellers of the Fontan." The statue, inaugurated in 1996, is the work of sculptor Amado Gonzales Hevia. The bronze women are one of more than 100 such monuments that populate Oviedo streets.

The urban landscape of the city is adorned with sculptural works. For the most part, they represent personages of particular relevance in a former period. The "Sellers" was inspired by an old photograph of Spanish photographer and painter Adolfo Lopez Arman. It shows two women who have come from Faro to Oviedo to sell ceramics they have made in their home workshop.

The Daoiz and Velarde Square holds part of the Market of Fontan where shoppers of Oviedo may buy agricultural products and artisan goods of Asturias every Thursday and Saturday. Since the civil war, the Market has become the exclusive sphere of women. The sculpture is a realistic scene of the Market in the 18th century.
Vendedoras del Fontán (Sellers of the Fontán) on Map
Walking Tours in Oviedo, Spain