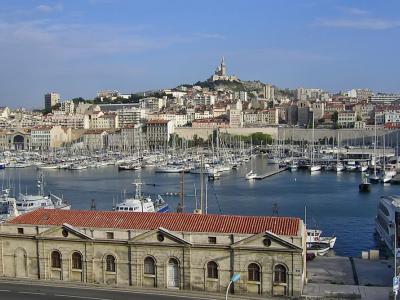 Vieux-Port (Old Port), Marseille
(must see)
The Old Port of Marseille is located on the Canebiere, the "Main Street" of the old city. Yes, the city is old, like very old. Originally used as a seaport of the ancient Phoenicians, a sea-faring nation that had colonies throughout the Mediterranean.

The old port itself was established in 600 BCE by Greek settlers from Phocaea. Shipyards were established by both Louis XII and Louis XIII during the fifteenth and sixteenth centuries. Louis XIV erected the forts of Saint Jean and Saint Nicolas at the harbor's entrance. Apparently, in France, there has been no dearth of Louis.

In it's busy heyday, in the 1850s, the port was host to as many as 18,000 merchant ships a year. This amount of traffic rivaled that of major European ports like Liverpool or Le Havre. With the advent of steam the shallow depth of the harbor created problems for the deeper draft steamships.

In World War II German occupation forces, with the help, unfortunately, of the French police destroyed most of the harbor to deny its use by the allies. This became known as the "Battle of Marseille".

The Old Port today serves mainly as a marina. It is a terminal for local boats and ferries. It also has a fish market. It stars in quite a few movies, such as, The Count of Monte Cristo, featuring the Chateau d'If, and The French Connection and French Connection II, featuring Gene Hackman and Tony LoBianco.

Why You Should Visit:
The Old Port has been thoroughly renovated and it is mostly open to pedestrians. The harbor and the many historical sights and buildings can be seen when walking along the Canebiere.
Vieux-Port (Old Port) on Map
Walking Tours in Marseille, France