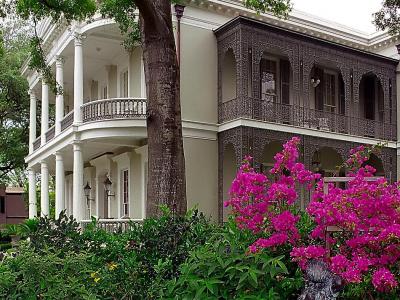 Walter Robinson House, New Orleans
Built in 1859 and the work of New Orleans' most famous architect Henry Howard, this Italian-style mansion and its adjacent servant quarters + stable recently underwent a tremendous renovation. It's also for sale. If you can imagine yourself sipping champagne from the 2nd-story gallery, this home can be yours for a mere $9.5 million.

Galleries were an essential feature of Garden District homes and are here supported with Doric columns on the first floor and Corinthian columns on the second. One of the grandest and largest homes in the district, it features a distinctive curved portico. Its unusual roof acts as a large vat that once collected water and acted as a cistern. Gravity provided water pressure and the Garden District's first indoor plumbing.

Walter Robinson came south from Virginia to establish himself as a cotton factor, but instead, the Lynchburg native fell back on his roots as a tobacco merchant and went into perique tobacco – a curly variant used in pipe tobacco, grown only in St. James Parish.
Walter Robinson House on Map
Walking Tours in New Orleans, Louisiana