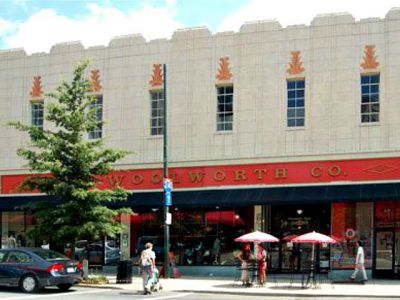 Woolworth Walk, Asheville
Woolworth Walk is an art gallery and crafts space in downtown Asheville. It is a privately owned gallery that is held in the Woolworth Building. Lovers of art should visit Woolworth Walk to see pieces from local artists, purchase souvenirs to take home or visit the Woolworth Soda Fountain.

Glass, jewelry, photography, painting, metal, pottery, digital media and mixed media are all on display at Woolworth Walk. The bulk of the art is available for purchase, though it can also be simply admired.

The Soda Fountain is a prime example of history come to life. Visitors love stepping back into the past where they can recreate the experience of dining in a 1950s era Woolworth luncheonette. It is open seven days per week serving full meals, beverages and ice cream.

Woolworth is open Monday through Thursday from 11am to 6pm, Fridays and Saturdays from 11am to 7pm and Sundays between 11am and 5pm.
Walking Tours in Asheville, North Carolina