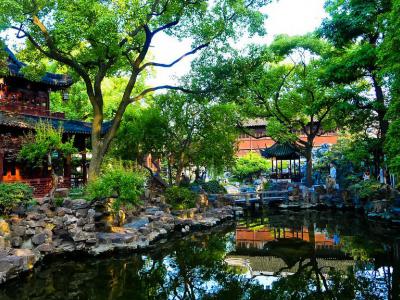 Yuyuan Garden, Shanghai
(must see)
This lovely classical Chinese garden was built in 1577, under the Ming Dynasty, by a high-ranking imperial court official who dedicated it to his elderly father, and quite fittingly so, as 'yu' means peace and comfort in Chinese. Probably because of this name or good luck, despite changing fortunes, the garden had miraculously survived the passage of centuries and was reopened to the public in 1961.

For those unfamiliar with Chinese gardening, this would be a great introduction to its elegance manifested, among other things, in the hidden bat and dragon features and, in this particular case, a huge authentic rockery dating back to the Ming period. Overall, the garden has less emphasis on flora and more on water and the harmonious position of elements.

It may well look small, but you will be amazed at how much actually fits in here. The corridors, archways and zigzag bridges all are carefully placed with a great deal of meaning. Of special interest is the Ming-style rosewood furniture in three halls within the garden, one of which is historically famous as the headquarters of the anti-imperialist "Little Sword" society during the Taiping uprising in the 1850s-60s. The roofs and tops of the walls here are decorated with incredible carvings of dragons, horses, and warriors.

Among other highlights is the famous Jade Rock, a 5-ton boulder said to have been one of the private collection items of the Song Dynasty Emperor Huizong. Interestingly enough, this rock's 72 holes are reportedly positioned so as to make the water or smoke sent into one of the holes, come out from all the other holes simultaneously. Sometimes, the guides show another trick with a coin dropped into a hole at the top and exiting from a certain hole down below (each time different) in accordance, they say, with the person's astrological sign.

Tip:
Depending on the time of your visit, the garden may be quite crowded – but that's China! Try coming early, as closer to the opening hours as possible; otherwise, later in the day, the queues are usually long! Don't forget a bottle of water or check out a two-storey teahouse on the island in the middle of the garden. The Queen of England herself once dropped in for a cup of tea there, so these days it's a bit pricey, but you're welcome to poke about anyway.
Walking Tours in Shanghai, China
Useful Travel Guides for Planning Your Trip
--- 15 Uniquely Chinese Things to Buy in Shanghai
Prepare a Shanghai surprise for your loved ones back home! Bring them a piece of exciting China from one of the country's most iconic destinations. Luckily, the choice of things fit to do the job is enormous. All you need is a knowledgeable advice on where to go to get a fair price and decent...