16 Uniquely Israel Things to Buy in Jerusalem
Modern day Jerusalem is a mosaic of neighborhoods, reflecting different historical periods, cultures, and religions. The influx of repatriates in recent years has made the cultural and artisanal scene of the city even more colourful and diverse. To find your way through Jerusalem's intricate maze of shops and outdoor markets (shuks) in search of a memorable, authentic thing, and at a reasonable price too, is an uneasy task, requiring insider knowledge. The provided here list might shed some light on the issue and steer you in the right direction!
---
1. Jewelry
The Israeli diamond industry emerged in the early 1900s, when the country's first diamond-cutting plant was established. Today, Israel exports annually over US$7 billion worth of diamonds. High-end stores like H. Stern, with a branch in Mamilla Mall, specialize in exclusive golden jewelry with diamonds.
There's also a lot of jewelry on sale reflecting broad spectrum of the country's ethnicities. Religious symbols, such as the Cross and the Star of David, are common, much is the Hamsa Hand. The materials used in their production range from gold and silver to copper and brass. A particular technique applied, and worth noting, is gold wire knitting.
The Eilat Stone, Israel's national stone, is mined near the city of Eilat (hence the name) at the southern tip of the country. When polished, it reveals different shades of green, blue, and turquoise. A mixture of azurite, malachite, turquoise, and chrysoccola, the stone is reputed for calming and balancing one's spirit and even providing inspiration. It is, therefore, often used in pendants.
Yemenite filigree, a 3000-year old technique, is hugely popular in Israel. Historically, Muslims in Yemen were forbidden from working with precious metals, so they had to buy jewelry from non-Muslim artisans; the Jews were only happy to deliver. The traditional designs include symbols of fertility and prosperity for new brides. Filigree is particularly used in silver necklaces, bracelets, and earrings with semi-precious stones.
The Ethnics Artist Co-operative, at 34 Jaffa Road, was established in 1995 by a group of Israeli artists. Among their products there are tonnes of jewelry. On offer, in particular, are copper-, brass-, semi-precious stone- and glass bracelets at $100.00, brass pendants with beads at $70.00, silver Hamsa pendant with turquoise at $120.00, and a ring featuring gold and silver mosaic at $68.00. The store is open Sunday to Thursday from 9:00 a.m. to 7:30 p.m. and Friday from 9:00 a.m. to 3:30 p.m.
GRAS (www.gras.co.il) is a leading Israeli designer of sterling silver and gold jewelry. Their branch in Mamilla is open Sunday to Thursday from 10:00 a.m. to 10:00 p.m., Friday from 9:30 a.m. to 3:00 p.m., and Saturday evening until 11:00 p.m. There, you can find silver earrings for $24.00, a silver necklace for $26.00, and silver filigree earrings with embedded Roman glass for $69.00.
Where to find it:
Hedya, at 23 Hillel Street (in a lane off the street) is a jewelry workshop inspired by Sara Einstein, an Israeli jeweler originally from New York. Einstein used to collect antique bead necklaces, take them apart, and refashion them. She did a lot of research into tradition styles of jewelry worn in countries such as Morocco, Iran, and Yemen, and used that knowledge to create unique, eclectic pieces. Since her death, her spirit lives on in this tiny shop, where new works are being created in the same style. The store also has a range of estate jewelry. Prices range from $30.00 to $6000. Hours are from 10:30 a.m. to 5:00 p.m. Sunday to Thursday, and Fridays from 10:00 to 1:00. It is recommended to call first (054-4247452).
Offline reading and travel directions:
You can carry this article in your mobile device to read offline and create a self-guided walk to visit the venues featured herein with the GPSmyCity App (available on
iTunes App Store
or
Google Play Store
).
---
2. Armenian Pottery
Armenian pottery is a distinctive kind of ceramics, with traditional glazes from metallic oxides and graceful, hand-painted designs. The colors are bright yet earthy, with the dominant color being cobalt blue. The peacock, symbolizing long life, is a popular design.
This type of ceramics was developed by Armenian artists who lived in Turkey in the 18th century. In 1919 the British government invited Armenian craftsmen to repair the ceramic tiles on the Dome of the Rock mosque in Jerusalem. Among them were craftsmen from the Karakashian family, who came to Jerusalem and remained there, opening a shop called Jerusalem Pottery, at 15 Via Dolorosa. (http://www.jerusalempottery.biz) The shop is open 9:00 a.m. to 5:00 p.m. Monday to Saturday.
Today Jerusalem is the only place in the world where this type of ceramics is still being produced. But beware of cheap, fragile copies of Armenian pottery, which are mass-produced in factories in Hebron. Authentic Armenian pottery of the Karakashian Brothers is unique and each piece is hand-painted and hand-signed.
Note that the dishes can be used for serving only and must not be micro-waved or heated in the oven.
There are plates, bowls, mugs, and platters, wooden trays with embedded tiles, all brightly colored, with floral designs, Persian-style hares or deer. Prices range from $19.00 for a plate to $93.00 for a wooden tray with embedded decorated tiles. A custom-made name-plate is $25.00.
Other authentic sources of Armenian pottery are Garo Sandrouni (www.garosandrouni.com) at 87 Armenian Patriarchate Road, and Baslian Armenian Ceramics, at 14 Nablus Road (http://www.armenianceramics.com/).
---
3. Antiquities
Many stores in Jerusalem sell antiquities, but beware of fakes. Make sure to buy only from authorized dealers showing certificate by the Israel Antiquities Authority.
A clay oil lamp is a historically meaningful gift. These tear-drop-shaped vessels were filled with olive oil through a large hole in the top, and a wick was inserted in a smaller hole at the front of the nozzle. Some oil lamps have a handle at the back, others have several wick holes. Each region and historical period has distinctive shapes and patterns, such as the simple Herodian lamp; the Byzantine lamp decorated with a palm branch pattern; the Askelon lamp, a three-wick lamp decorated with little circles; and the Jerusalem lamp with a cross above the wick hole.
Oil lamps and other antiquities can be purchased in a number of stores throughout the Old City, for example Baidun Antiquities, 28 Via Dolorosa (http://www.baidun.com/). The store is open Saturday to Thursday from 10:30 a.m. to 5:00 p.m., Friday 1:30 p.m. to 5:00 p.m.
The Baidun family has been collecting and selling antiquities for three generations. The store has a unique collection of rare artifacts from all over the Middle East and from the many civilizations that have dwelt in this region. Numerous thank-you letters from prominent world figures, such as former US president Bill Clinton, grace the store's wall.
The priciest item on sale here - $35,000 - is a Roman marble sculpture of Venus, the goddess of love. For less you can buy a Roman glass perfume bottle, a Roman fibula or toga ring, a 1st century AD bronze arrowhead, or a bronze Roman sheep's bell. An authentic oil lamp is offered for $150 to $200. Another gift idea is a bronze Greek or Roman coin ($50 to $200) or an Imperial Roman silver coin ($200). A pendant with a coin, Roman glass, or silver design will set you back some $100.
---
4. Traditional Palestinian Embroidery
The traditional outfit of a Palestinian woman consists of a long dress with the densely embroidered bodice. Women in villages used to gather in groups, at the end of a day, to gossip and embroider together. A lot of effort was put into preparing clothing for their daughters' dowries.
There are two main types of embroidery — cross-stitch (fallahi) and couching (tahriri).
In cross-stitch, a piece of loosely woven canvas is basted to the cloth (usually a dark color like black) and dense rows of X's are embroidered on it, using different colors of thread, with red being the base color. Then the threads of the canvas are pulled out, exposing the design on the dark background. Each region has its own recognizable designs combining geometric patterns (triangles, stars, and squares) with motifs from nature, such as the moon of Bethlehem, Damask rose, serpent, bird, and cypress tree.
A black velvet coin purse with a cross-stitch embroidered design sells for $12.00.
In couching, developed in the Bethlehem area, a string is basted to the cloth and fastened in place with tiny stitches. Gold and silver cords twisted into delicate floral and geometric patterns are often used in this type of embroidery.
A zipped Bethlehem evening bag, fully embroidered on both sides with couching stitch, costs $52.00. A 17x17-inch embroidered cushion cover costs $100.00.
Sunbula, founded in 1996, is a Jerusalem-based NGO whose motto is "Empowering Palestinian artisans by promoting traditional handicrafts. Sunbula works with 18 craft-producing organizations, employing over 2000 artisans. All products are made by hand, helping to preserve Palestinian craft traditions. Their crafts are sold online (www.sunbula.org) and at two shops in Jerusalem. One of them is called the House of Palestinian Crafts and is located at 7 Nablus Rd., in a renovated traditional stone house in the Sheikh Jarrah neighborhood, north of the Old City. The store is open Monday to Saturday from 10:00 a.m. to 6:00 p.m., or by appointment (02-6721707). The other store is at 1 David Remez Street, open Tuesday through Thursday from 10:00 a.m. to 5:00 p.m., and Sunday from 11:00 a.m. to 1:00 p.m., or by appointment.
Among other crafts sold by Sunbula there are patchwork, weaving, olive wood carving, mother-of-pearl carving, olive oil soap, ceramics, and basketry.
---
5. Hamsa
The hamsa or hand symbol is an amulet protecting against evil eye. It is sold just about everywhere in Jerusalem, made in many different materials, from wood to ceramics to copper. Artist Chaim Peretz creates unusual hamsas of stained glass, bronze, sterling silver, and even some with embedded gemstones. Prices range from $15.00 to $90.00 apiece.
The hamsa, explains Peretz, is a symbol of power, and hanging it on a wall has a positive influence on the house energy. The color blue is particularly effective against evil eye and negative thoughts.
Peretz's stained glass fish hamsa of blue and orange glass and sterling silver ($20.00) is decorated with a silver fish. Peretz refers to Genesis 1:28 which says, "Be fruitful, and multiply, and replenish the earth…" noting that hanging a fish hamsa in your home blesses you with many children.
The small-eye hamsa ($26.00) of blue, purple and green glass with sterling silver protects your home against the evil eye, while the large-eye hamsa (also $26.00) provides reinforced protection.
Peretz's studio is not that far from the Mahane Yehuda market, in the refurbished Nahlaot neighborhood, at 2 Rabby Arye, a narrow lane off Shomron St. The sign outside the store says, "Art, Judaica, Jewelry"; their hours are 9:30 a.m. to 6:00 p.m. daily, except Friday, when it closes at 1:00 p.m. Peretz recommends phoning first (054-7281593) to make sure he is in. His website is http://israelvisit.co.il/ChaimP-SG/hamsa.htm.
---
6. Ahava Salt Sea Products
Ahava (http://www.ahava.com/), which means love, is a company that produces a broad range of therapeutic skincare products from the Dead Sea or Yam Hamelah (Salt Sea), as it is called in Hebrew. An hour drive south of Jerusalem, the Dead Sea lies 1,388 feet below sea level, the lowest place on Earth. Over eight times saltier than the ocean, it has been a health resort since the time of King David, due to the rich mineral content of its water, salt, and mud.
There are numerous Ahava factory outlets, including one on the Midrachov, at 5 Ben Yehuda Street. Several other companies produce cosmetics from Dead Sea salt and mud. Some are reputable and others are simply cashing in on the popularity of Ahava's products. Over twenty years ago, Ahava was the first company to create cosmetics based on the Dead Sea, and since that time the company has maintained its high quality standard. There is a broad range of products for men and women on offer, including those for rejuvenation, cleansing, and detoxifying. There are mineral botanic soaps, Dead Sea mud, hypo-allergic products, and sun care creams.
Creams run from about $35.00 to $75.00, and a set of creams in a case makes a lovely gift. A gift pack with a hand cream, foot cream, and body cream retails for $35.00. All products are brought fresh from the factory on a weekly basis. The store is open from 9:00 a.m. to 10:00 p.m. (8:00 p.m. in winter) Sunday to Thursday, and Friday from 8:00 to 3:00.
---
7. Israeli Olive Oil
Olive oil is a staple of the Israeli diet and is used liberally for both, cooking and salads. Produced from the Syrian and Barnea varieties, it has a much stronger flavor than Italian oil. Beware of bargain olive oil, as it is often diluted with cheaper kinds of oil.
A soft white cheese, called labani, is traditionally served with olive oil poured over it and a spice mixture, called za'atar (consisting of ground hyssop, sumac, sesame seeds, and salt), sprinkled on top. The mixture is scooped up with pita bread.
Za'atar can be purchased at any spice shop in the Mahane Yehuda market, such as Pereg at 79 Eitz Hahaim St. (Tree of Life Street) (http://www.pereg-spices.com). Pereg recently opened a second store in the Mahane Yehuda market, appropriately named Rak Shemen Zeit (Only Olive Oil).
The Pereg olives are hand-picked and cold-pressed. Prices range from $3.50 for a 100 ml bottle to $70.00 for a 5 liter can. The shop is open from 8:00 a.m. to 8:00 p.m. daily, except Friday when it closes at 3:00 p.m.
If you are a connoisseur, try the olive oil produced by a company called Eretz Gshur. In an international competition it was designated one of the best olive oils in the world. Eretz Gshur olive oil can be purchased at branches of the Teva Anis Health Food store (76 Jaffa Road or 32 Emek Refaim) or any other major health food store in the city. A 750 ml bottle costs $15.00 and a 5 liter can is $67.00.
---
8. Israeli Wine and Beer
Wine has been produced in Israel since biblical times, the climate being suitable for varieties, such as Cabernet, Merlot, Riesling, and Chardonnay. In the last twenty years, there has been a major increase in wine production and, today, the country boasts about 100 boutique wineries. An international market for Israeli wines is rapidly developing. In the Jerusalem area, a number of wineries produce their wines from local grapes, among them Zmora, Tzuba, Tzora, and Castel. The Sea Horse Winery uses only organic grapes.
Some wineries are located at historic sites, such as the Ella Valley Winery, where archaeologists have determined that wine was produced during the reign of King David. The Cremisan Winery uses grapes from the Bethlehem area. A bottle of Israeli wine costs from $6.00 to $70.00.
The Avi Ben wine store is located in the Nahalat Shiva area, at 22 Yossef Rivlin Street. It is open from 9:00 a.m. to 8:00 p.m. Sunday to Wednesday, Thursday from 9:00 a.m. to 10:00 p.m., and Friday from 8:00 a.m. to 4:00 p.m. The store is well stocked, its floor to ceiling shelves is lined with neat rows of bottles. Both, Israeli and foreign wines and beers are sold here. The manager is knowledgeable and will help you find a wine or beer that suits your taste and budget. When asked to recommend a wine in the middle price range, he suggested the Agur Kessem red table wine, a blend of Cabernet Sauvignon, Merlot, Peitit Verdot, and Cabernet Franc, at $26.00 a bottle.
The best Israeli boutique beer is Malka, which sells for $4.50 a bottle. Also popular is Taybeh beer, costing about $2.50 a bottle. The Taybeh Brewery was designated by Newsweek Magazine as "The best microbrewery in the Middle East."
---
9. Middle Eastern Halva
Halva is a rich, crumbly confection, popular in the Middle East. The word "halva" comes from hulw, the Arabic word for sweet. In the 7th century, hulw was made of dates and milk. Later, nuts and other dried fruits were added. It was the Europeans who began making halva from crushed sesame seeds and sugar. Today's Middle Eastern halva is produced from tehina (ground sesame seed paste), sugar and flavoring. It is displayed in large slabs or wheels, from which slices are cut. Most vendors will let you sample the halva before purchasing.
In the Mahane Yehuda market, at 12 Eitz Hahaim St., there's a shop called Mamlechet Hahalva (The Kingdom of Halva) which has been producing and selling halva since 1947. The sign is in Hebrew only, but look for the crown above the lettering. Prices range from $10.00 to $32.00 per kilo, depending on the additions, which include white Swiss chocolate, coffee, pecans, and pistachio nuts.
Mamlechet Hahalva also produces stone-ground organic tehina and sugar-free halva. The shop is open from 8:00 a.m. to 8:00 p.m. daily, except Friday, when it closes at 3:00 p.m.
Another place to buy halva is the fruit and vegetable market in the Old City. Ask for halva from Nablus, which is reputed to be the best halva available.
---
10. Bedouin-Woven Rugs and Cushions
Bedouin-woven rugs and cushions make authentic gifts. In Arabic, farmers are referred to as Fellahin, while the Bedouins are those who migrate with their flocks, furnishing their goatskin tents with rugs and cushions.
It is the women who create the rugs, working together to spin, dye and weave the wool on simple, ground looms. Traditionally, a 25-meter length of rug is woven, then cut into pieces and sewn together to form a wider rug. Each region has its own traditional designs. Bedouin rugs are usually woven from 90% sheep wool and 10% camel wool. Colors range from white and beige to bright colors.
A bride's dowry is tied to a traditional rug with a white stripe in the middle, then secured on a horse or camel for the ceremonial trip to her husband's tent.
Red is the dominant color of most rugs, and some have triangular designs or strips. The rugs are sturdy and last a long time. A typical red patterned rug from Hebron is about 160 x 1 meter and costs about $175.00.
Genuine Bedouin rugs can be purchased at Qaissi, 107 Christian Street, open from 10:00 a.m. to 6:00 p.m. daily. In the front of the shop foreign rugs are displayed, but let Qaissi take you into the back room where he keeps the Bedouin rugs, which range in price from $150 to hundreds of dollars. From floor to ceiling, there are rolled up rugs of every size and pattern. You can also purchase striped cushions, or cushion covers, which are easier to transport.
---
11. Israeli Ceramics
On Yoel Salomon Street there are three ceramic cooperative shops, presenting the work of forty of Israel's most talented ceramicists. The range of styles and techniques is broad, reflecting the cultural heritage of the artists. Cadim, founded in 1987, displays the work of 15 artists, who also manage and staff the store. The goal of the Cadim potters is "to exhibit and sell their work directly to the public, thereby creating contact between customer and artist." All artists live in or near Jerusalem and their styles are distinctive. Russian-born Leonid Gosin takes his inspiration from nature and the poetry of daily life. Nitsan Stern is influenced by Japanese aesthetics and Israeli scenery. Rani Gilat tries to achieve "simplicity and pureness of the shape" in porcelain. Argentinian-born Edith Adi hand-builds her pottery and uses various printing techniques. Goods are sold at studio prices, ranging from $10.00 for little clay jars to $200.00 for large pieces with 18K gold designs. Hamsas and pins with printed designs and gold sell for $10.00.
---
12. Kakadu Artisans
Kakadu Artisans Workshop was founded in 1990 by a Jerusalem couple, Reut and Aharon Shahar. Reut is an artist, musician, and environmental sculptor. Together with her husband Aharon, who is a carpenter and designer, they developed techniques for hand-painting images on wood, producing aesthetic, functional, and durable products. The company's slogan is "Art for the Heart". Today, Kakadu is a well-known Israeli brand name and its factory produces brightly colored items, such as wall hangings, placemats, trays, lazy susans, and vases. Designs are taken from nature, with elements such as leaves, stylized birds, geometric shapes, and caricatures of people. Colors are bright yet earthy.
The Kakadu factory is in the vicinity of Jerusalem; they regularly hold workshops for tourists, where they can learn the process, explore the colors, and decorate their own souvenirs to take home. For details see http://kakadu.co.il/.
Kakadu's products are sold in stores, such as King David's Treasure, at 14 Ben Yehuda Street on the Midrachov, which also sells a range of souvenirs. A decorated wooden tray costs $35.00 to $70.00, a set of six coasters is $20.00, and a hamsa is $23.00. The store is open from 10:00 a.m. to 10:00 p.m. (8:00 p.m. in winter) Sunday to Thursday, and Friday from 9:00 a.m. to 3:00 p.m.
---
13. Books on Jerusalem
The Jewish people are often referred to as "the people of the book", and Israelis are avid readers. During the annual Hebrew Book Week, an estimated 45% of the population visits book fairs held in venues throughout the country. A book makes a wonderful gift.
Steimatsky is the country's oldest and largest bookstore chain. Founded in 1925, the first store was on Jaffa Road in Jerusalem. Steimatsky now has over 160 branches all over Israel. The tiny branch on the Midrachov, at 7 Ben Yehuda Street, has a broad selection of books in English. It is open from 8:00 a.m. to 9:00 p.m. (8:00 p.m. in winter) Sunday to Thursday, and Friday from 8:00 a.m. to 3:00 p.m.
The obliging store manager recommended the following two coffee table books for gifts:
Skyline Jerusalem ($40.00), by Duby Tal and Moni Haramati, is a book of stunning aerial photographs of Jerusalem. This is one of the books often given by Israel's Prime Minister to visiting world leaders. Modern Jerusalem is shown in juxtaposition to the ancient city, and various architectural styles and historical periods are illustrated.
Jerusalem: Places and History ($21.00), by journalist Roberto Copello. This book of aerial photos and maps depicts the religious sites of Judaism, Christianity, and Islam, presenting a generous amount of historical detail about the city's heritage.
Other books suitable for gifts are translations of short stories and works of fiction by popular Israeli writers, such as Meir Shalev, David Grossman, Amos Oz, and Etgar Keret.
---
14. Metalace
A unique art form, called Metalace (http://www.metalaceart.com/), was developed by Israeli artist and industrial designer Talila Abraham.
Inspired by traditional lace fabrics and embroidery designs, Abraham found a way to recreate their effect in metal, using advanced metal processing technologies, yet adding a personal touch to each piece, by shaping and finishing it manually. The resulting items, mainly in stainless steel, are sturdy and durable, yet delicate and lacy, traditional yet modern. "In the transition from the 'language' and texture of textile fabric to the stiffness of stainless steel, we create an art form that marries the old and the new." says Abraham, who designs and creates each piece individually.
A 14" X 14" platter is based on 19th century Belgian lace. A square, fluted serving dish is reminiscent of Palestinian embroidery. Flower vases have contemporary floral designs and glass inserts, and a golden color brass bowl is patterned after 19th century Romanian lace. There are also delicate, lacy picture frames of various sizes. Prices range from $108.00 to $250.00.
A shop, called Set Gifts, features Metalace products in its display window. It has a branch at 34 Emek Rafaim and one in Mamilla. In addition, Set Gifts sells products by fifty Israeli artists and crafts people.
---
15. Puzzles and Games
Backgammon (sheshbesh) is one of the world's oldest board games, believed to have been developed by the Egyptians 5000 years ago. A game of strategy, it is played on a wooden board with 30 wooden tokens. A decorated backgammon set can be purchased for about $100 in the Old City.
An official Hebrew version of the popular board game Monopoly was released in the 1960s, with properties in Tel Aviv being the priciest. The game has been updated, adding credit cards and updating the prices of properties to reflect reality. Players can buy tourist attractions like the Western Wall in Jerusalem.
There is a Hebrew version of Scrabble called ShabetzNa, but all organized competition in Scrabble in Israel is in English. There is even an Israeli Scrabble Players Association.
If you like puzzles, visit a store called Gaya (http://www.gaya-game.com), located at 7 Yoel Moshe Solomon Street, in the Nahalat Shiva area. It is open Sundays to Thursdays from 10:00 a.m. to 10:00 p.m., Fridays from 9:00 a.m. to 3:00 p.m., and Saturday evenings from 7:00 p.m. to 11:00 p.m.
Since 1996, Gaya has been producing hand-made puzzles and games in natural wood, either stained or painted with non-toxic colors. The store has over 700 puzzles to choose from.
In addition to browsing, you can try your hand at some of the puzzles in the store. The company's motto is "We mixed a cup of strategy, a dose of intuition, a spoon full of bluff and a pinch of luck."
Prices range from $5.50 for a puzzle on a key chain to family games for $22.00 to $44.00. One popular gift item is a little bottle of Red Label or Absolut with a wooden puzzle you need to solve in order to open the bottle.
---
16. Michal Negrin Jewelry
Israeli Designer Michal Negrin (http://www.michalnegrin.com/michal_world) has been creating unique designs in jewelry, fashion, and home décor for over twenty years. Her products are vintage-inspired and each branch of her stores is a unique fantasy world.
Negrin began by designing her own imaginary world and found that other people identified with her warm, feminine style. Her many products are distinct and romantic, including gift items, such as a jewelry box, a business card box, table clock, picture frame, key chain, door sign, and angel doll. There is also a set of Michal Negrin stationary ($9.00) and a journal ($20.00).
Her jewelry combines materials, such as brass, lace, and leather, with glass beads and Swarovski crystals for a romantic look. Stud flower earrings cost from $15.00 to $34.00, hanging earrings from $44.00 to $68.00, necklaces $68.00 to $345.00, and rings $35.00.
There are three branches of Michal Negrin in Jerusalem, one in Mamilla, small but well-stocked. The other two Jerusalem branches are at 12 Yoel Solomon Street in Nachalat Shiva and the Malha Mall.
Get GPSmyCity App for IOS or Android
You can read offline thousands of travel articles like this one in the "GPSmyCity: Walks and Articles with Offline Maps" app on
iTunes App Store
or
Google Play
. The apps also offer GPS navigation to guide you to the places featured in the articles.
Jerusalem Walking Tours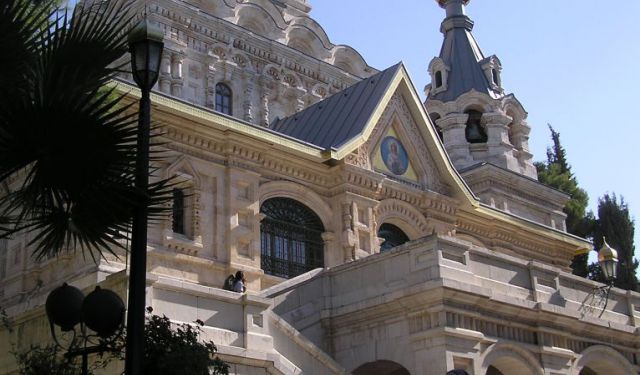 Jerusalem is considered to be one of the most holy places on this planet. Temples, cathedrals and churches are packed closely together in this ancient town. This self-guided tour will take you through some of the most historical religious buildings in Jerusalem.

Tour Duration: 2 hour(s)
Travel Distance: 4.7 km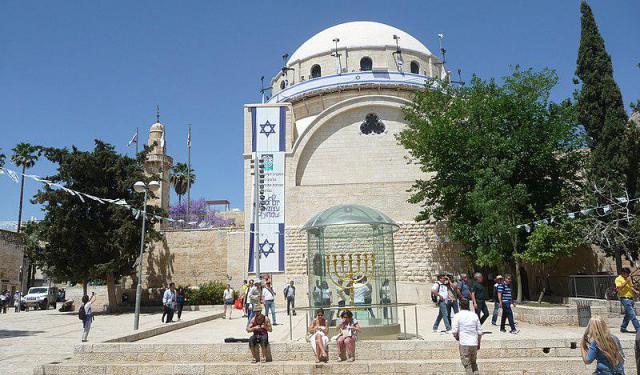 Jerusalem is a city that represents the three main religions of the world, that is Christianity, Judaism and Islam. The city contains some of the oldest and most beautiful historical monuments related to these religions. This self-guided tour will lead you mainly through the Jewish Quarter of the Old City of Jerusalem and its synagogues:

Tour Duration: 1 hour(s)
Travel Distance: 0.5 km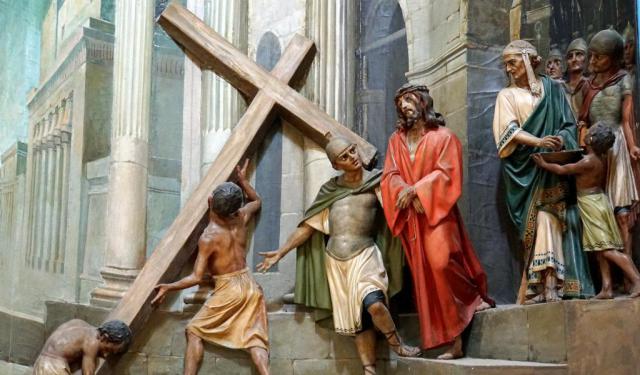 Jerusalem was considered for centuries to be the center of the universe. The most famous figure in the history of mankind, Jesus Christ, fulfilled his divine mission in this city. This self-guided tour will retrace the steps of Jesus to show you some of the holiest places in the world.

Tour Duration: 3 hour(s)
Travel Distance: 5.7 km