Souvenirs Shopping: 19 Uniquely Greek Products to Bring from Athens
A cradle of European civilization, Greece, in general, and Athens, in particular, have long been - from the days of the Roman Empire up until present - the lure for travelers and history buffs seeking to find and bring home something memorable. Today's Athens (much as its ancient self) offers a lot to choose from in terms of trip mementos. Here are some of the ideas worth considering when looking for a quality gift from the Greek capital!
---
1. Demitasse Cup Sets
Wherever you go in Greece, you will see Greeks sitting at little tables, watching the world go by, and slowly sipping from little white Greek coffee cups. The cups also come in a range of colours and styles, from classic white to novelty designs. You can buy different coloured porcelain sets with 24k gold overlay, decorated with classical Greek images or male and female names, as well as various places in Greece. It is a perfect gift to take home to remember your travels. These sets are sold all over Athens, in Plaka, Monastiraki, Thisio and even in the upmarket district of Kolonaki. In the heart of Monastiraki there is Ignatios Romios Touristika Eidi selling a variety of Greek coffee cup sets. The shop is located at 40 Pandrosou Street, Monastiraki. Prices start from anywhere from 5 to 200 euro for the more elaborate designs. Be sure to sit at a cafe, sip a cup of coffee and have your cup read from the residue left at the bottom! A common practice in Greece!
Where to find it:
Ignatios Romios Touristika Eidi
40 Pandrosou Street, Monastiraki, Athens, Greece
Offline reading and travel directions:
You can carry this article in your mobile device to read offline and create a self-guided walk to visit the venues featured herein with the GPSmyCity App (available on
iTunes App Store
or
Google Play Store
).
---
2. Worry Beads (Komboloi)
A perfect gift for a gentleman and a part of modern Greek culture, used to relieve stress, keep hands busy and, generally, pass the time away. Kombolois are made up of various types of beads, including glass and wood; amber is the most common material, though. The number of beads used to make kombolois are generally odd. Most Greeks have at least one set to play with regularly and several more as household decorations. The great popularity of kombolois prompted the appearance of specialty stores dedicated exclusively to selling this item. Also, in the south of the country, in a place called Nafplio, there is a Komboloi Museum. If you are in the Kolonaki district of Athens, you can visit Kombologadiko Exclusive, located at Koumpari 6 in Kolonaki Square. Here, you will find unique designs, all handmade. In the tourist districts of Athens - Plaka and Monastiraki - there are several shops specialized in komboloi. Their opening hours are generally same as everywhere (except for tourist areas) with split shifts three days a week (Tuesday, Thursday and Friday – 9:00 a.m-2:30 p.m. and 5:30 p.m-8:30 p.m.) and morning shifts for the other three days (Monday, Wednesday and Saturday – 9:00 a.m-3:00 p.m.). The prices of komboloi vary from as little as 5 euro to up to 2000 euro! A must-have gift that is exclusively Greek!
Where to find it:
Kombologadiko Exclusive
6 Koumpari st., Kolonaki square, Athens, Greece
Tuesday, Thursday and Friday: 9:00 a.m.-2:30 p.m. and 5:30 p.m.-8:30 p.m.
Monday, Wednesday and Saturday – 9:00 a.m.-3:00p.m.
Offline reading and travel directions:
You can carry this article in your mobile device to read offline and create a self-guided walk to visit the venues featured herein with the GPSmyCity App (available on
iTunes App Store
or
Google Play Store
).
---
3. Flokati Rugs
When you own a flokati, you not only own an attractive floor cover, but also a little bit of history. These pure wool rugs, made by a unique centuries-old method, are traditionally cherished as family treasures, part of brides' dowries and used as wall-hangings and bed covers, as well as rugs. They say shepherds first started using sheep wool to cloth themselves in cold winters as far back as the 5th century AD.
Today, flokati are used as a lovely household decor. The original flokati rug is an off-white colour, although many different colours are also available to suit diverse tastes. Flokati rugs are shaggy and warm and would give any living room an inviting cosy feel!
In the Plaka district, Village Flokati shops lives up to its name selling trendy flokati rugs. It is located at 19 Mitropoleos Street and is open Mon, Wed and Sat 11am-4pm; and Tue, Thu & Fri 11am-8.30pm. Aiolou Street, stretching from the Omonia district to Monastiraki, is filled with homeware stores offering, among other things, a good choice of Flokati rugs.
---
4. Tavli (Greek Backgammon)
This board game has its origins as far back as the Mesopotamian times! Every Greek kafeneio is filled with men playing this beloved Greek game - tavli. It looks a bit like a western game of backgammon, and would definitely make a great gift from Athens. A tavli set may come in various shapes and sizes. The traditional sets are made from different materials, mostly wood, such as cherry tree, ebony, mahogany, olive tree, pine tree, rose tree, walnut-oak, wenge-rose and zebrano, as well as leather and mother of pearl. A good place to buy, with a great choice on offer, is called Dimitris Gounaris ΓΟΥΝΑΡΗΣ, located at 11 Ifestou Street in the Monastiraki district. Prices here are reasonable and you can find a decent tavli set for as little as 20 euro. This is a family-owned business and is open from 9:00am - 9:00pm Tue, Thu, Fri, and from 9:00am - 6:00pm Mon, Wed, Sat and Sun.
Where to find it:
Dimitris Gounaris
Ifestou Str 11, Athens 10555, Greece
Tue,Thu,Fri: 9:00am - 9:00pm
Mon,Wed,Sat,Sun: 9:00am - 6:00pm
Offline reading and travel directions:
You can carry this article in your mobile device to read offline and create a self-guided walk to visit the venues featured herein with the GPSmyCity App (available on
iTunes App Store
or
Google Play Store
).
---
5. Olive Oil Soap and Beauty Products
Olive oil soap originated in Greece on the island of Crete and is now one of the most popular soap types available, especially for sensitive skin. There is a long range of beauty products made from olive oil, including hand cream, body lotion, shampoo, conditioner and shower gel containing this precious 'elixir' of life. Olive oil from Greece is considered one of the best in world. It forms basis of the Greek and Mediterranean diet and, research has revealed that, continual use of olive oil increases longevity!
Imagine what these products can do for your skin! No need to buy anti-aging stuff; olive oil products are a gift to suit anyone who looks after their skin! Olive oil products can be bought in the Monastiraki district, but also in the major department stores, such as Notis Gallery in the Omonia district and Attica near Syntagma Square. Prices start at a couple of euros. Notis Gallery is located on Stadiou and Aiolou Street and is open on Monday and Wednesday from 10am - 7pm, Tuesday, Thursday and Friday 10am - 9pm, and Saturdays from 10am - 6pm.
Where to find it:
Notos Gallery
Kapnikarea 1, Athens 10563, Greece
Monday and Wednesday 10am - 7pm, Tuesday, Thursday and Friday 10am - 9pm and Saturdays from 10am - 6pm.
---
6. Evil Eye (Mati) and Local Jewellery
Evil eye jewellery is deeply embedded in many cultures of the Mediterranean. According to Greek belief, evil eye jewellery is set to protect from such things as envy of others and bad luck. Mati is the Greek word for 'eye', hence this jewellery is sometimes simply referred to as mati. Choose from evil eye pendants, bracelets, charms and earrings. There is a unique store at 20 Voukourestiou, called "Mati", which carries a huge variety of traditional folk art, but is best known for its handcrafted evil-eye glassware and charms. Worth a visit and the prices vary! Greece also produces some of the finest handmade silver and gold jewellery in the world. Along Voukourestiou there are many jewellery shops. Cheaper versions of the mati and jewellery can be found in the Monastiraki and Plaka districts.
Where to find it:
Evil eye (mati) and local jewellery
Mati
20 Voukourestiou, Athens 10671, Greece
---
7. Greek Coffee
Greek coffee is a very fine ground coffee prepared in a special coffee pot, called a briki. Coffee is a daily ritual in Greece, consumed at home, at work, and in coffee houses throughout the country, thriving in even the smallest villages. Sharing a cup of coffee is a sign of friendship, as well as an excuse to catch up on the day's events, flirt a little or, perhaps, play a game of tavli! It's an acquired taste and served in an espresso style coffee cup. There is a great shop in the Kolonaki district, Leventi 7, called Miseyiannis café. There, you'll learn the way Greek coffee should be made and they have great blends there too. This store is a family-owned business established in the early 1900s. Greek coffee is sold in many places around Athens, but this store knows their coffee! Take home various blends to sample and share with friends.
Where to find it:
Miseyiannis cafe
Leventi 7, Kolonaki, Athens, Greece
+30 210 721 0136
---
8. Greek Tea
The most popular Greek tea, known as mountain tea, is made of the dried leaves and flowers of the Sideritis plant (ironwort). The tea is aptly named, as its staple plant grows on rocky slopes at altitude of over 3,200 feet (1,000 metres) above sea level. Greek mountain tea is credited with a wide range of health benefits, and most Greek homes have a good supply of it on hand. Another popular Greek tea is the sage tea (faskomilo) reputed to sharpen memory and produce a sense of well-being. The good places for tea shopping are Peonia or ΠΑΙΩΝΙΑ shops in Thissio, located at Amfiktionos 12 and Poulopoulou 8, and the TSAINA shop at Lycavittou 9 near the Kolonaki district - all offer a wide selection of teas. Opening hours are split shifts three days a week (Tuesday, Thursday and Friday – 9:00 a.m.-2:30 p.m. and 5:30 p.m.-8:30 p.m.) and morning shifts for the other three days (Monday, Wednesday and Saturday – 9:00 a.m.-3:00 p.m.).
Where to find it:
Peony
Amfiktyonos 2, Athens 11851, Greece
Tsaina
Lykavittou 9, Athens 10672, Greece
Tuesday, Thursday and Friday – 9:00 a.m.-2:30 p.m. and 5:30 p.m.-8:30 p.m.
Monday, Wednesday and Saturday – 9:00 a.m.-3:00 p.m.
---
9. Sweets and Confectionary
Greek desserts are the most tantalizing, mouth watering desserts you'll ever find. Baklava (diamond shaped, crisp filo pastry, layered with a filling of walnuts and drenched in an aromatic honey syrup) is probably the most famous of all Greek desserts. Other popular favourites include kourambiedes (crescent shaped shortbread, filled with crunchy pieces of almond, dusted in icing sugar), and melomakarona (golden cookies drenched in honey syrup and sprinkled with crushed walnuts). Other sweet treats include Ion chocolate, mantolata (sugar coated almonds), pasteli (sesame seed and honey bars), nougat, ouzo candy, and loukoumia (flavoured Turkish delight) to name just a few. You can find these in Zaharoplastia-the Greek cake shops all over Athens. They are generally open everyday and close quite late. A box of cakes can start at 10 euros. Greeks usually buy cakes, when visiting friends or family, rather than making their own. The variety is so great, you don't know what to choose, but the shop owners will help you, giving you to taste a few so as to help you make up your mind. One great store in Athens - open since 1930! - is called Mitropolitikon, located at Bouλης 39.
Where to find it:
Mitropolitikon
Voulis 39, Athens, Greece
---
10. Ceramics and Pottery
Choose from a great variety of museum replicas and pottery inspired by the Greek glory of Minoan civilization and mythology: amphoras, rhyta (pots), statues, vases, mugs, jugs, relief representations, as well Greek facades of buildings of traditional, neo-classical and island architecture. These products are some of the most popular gifts to buy in Greece. Bring home some ancient art from one of the oldest districts in Athens - Plaka. The Greek Pottery shop is located at 150 Adrianou Street and has a vast selection of pottery and ceramics on offer. Some of the more elaborate designs have 24k gold overlay featuring Greek gods and goddesses of mythology.
Where to find it:
The Greek Pottery shop
150 Adrianou Street, Athens, Greece
---
11. Olive Wood Handicrafts
Take home the colours and textures of Greece with these handcrafted olive wood products, made on the island of Crete from environmentally harvested old olive trees. The wonderful grain of the olive wood is featured in a vast range of products, including wine stands, wine and bottle openers, honey spoons, olive spoons, lemon squeezers, pestle & mortars, chopping boards, salad servers, butter knives, egg cups and letter racks. These pieces are not only beautifully crafted, but also very handy in the kitchen! Take, for example, a spaghetti measurer. It is about 20 cm long and looks something like a flat baseball bat and has 4 holes of various sizes, measuring meals for 1 - 4 people! Prices vary from 10 euro upwards. You can pick up products like this and more in the Plaka and Monastiraki districts. A good option would be Elia Olive Tree shop, located at 67 Andrianou Street in Monastiraki.
Where to find it:
Elia Olive Tree
67 Adrianou Street, Monastiraki, Athens, Greece
---
12. Religious Items and Decorative Silverware
Greece is well-known for its quality silver products. Silver, gold and other precious materials have been widely applied here to decorate religious items for over a thousand years. Initially done to protect an icon from human handling in devotions, it later became a way to enhance an icon's beauty. Buy handmade Byzantine silver icons, ecclesiastic and decorative items hammered by hand, as well as a range of silver fruit bowls, vases and plates. Pick up handmade icons with sterling silver trimming, starting at 12 euro and up to 300 euro for an all over silver. Sterling silver contains 92.5% pure silver and is referred to as 925 degree silver. Silver work is finished by hand to create the fine details seen in the icons. You can find these and other beautiful pieces of religious art at silverware specialty shops in the Monastiraki and Agiou Markou districts. One such shop is called Anastasios Vobirakis Religious Items and is located at 29 Pandrosou Street in Monastiraki. The owner will find even the most obscure icon for you!
Where to find it:
Anastasios Vobirakis Religious Items
29 Pandrosou Street, Monastiraki, Athens, Greece
---
13. Cheeses
Greece produces some of the finest cheeses in the world, and many varieties have been accorded protection under the European Union's Protected Denomination of Origin (PDO) provisions. This means that no other EU member nation can use the name, and that these cheeses must meet processing and location of origin standards. Feta tops the list of Greek cheeses. Hard, salty cheeses like kefalotyri and graviera are enjoyed grated, fried, and served as mezethes and appetizers. Kasseri, one of the few yellowish Greek cheeses, is a favourite table cheese. Sweet cheeses, like manouri and fresh myzithra, are most often used to create some of the best desserts this side of the Parthenon! In the Psirri district you will find specialty cheese stores selling various cheeses from all over Greece. Also in Plaka, Mesogeia at 52 Nikkis Street, is a little "boutique" grocery store stocking a great variety.
Where to find it:
Mesogeia
52 Nikis st, Athens, Greece
---
14. Musical Instruments
Music and dance are at the core of Greek culture. The most popular local string instruments, such as oud, laouta, tamboura, bouzouki and baglama, make exclusive gifts for music lovers and enthusiasts worldwide. Bouzouki is one of the top Greek instruments of the lute ("tamboura" in Greek) family. This instrument dates back to the ancient times, although it became largely popular during the 1920s with the rise of the Rembetiko music popularity. Look no further than the Bouzouki Shop in Monastiraki at 31 Pandrossou Street. The variety here is amazing! All the instruments are handcrafted and detailed in design. Another good store in Egaleo, not far from Athens central; it also includes a workshop. The Bouzouki Shop has been a family-owned business for 35 years. A bouzouki can start at 190 euro, but if that's out of your price range, ask to see their miniature products. The store's philosophy is "Don't just come in and visit"; trying out the instruments is part of the experience!
Where to find it:
The Bouzouki Shop
31 Pandrosou Street, Athens, Greece
---
15. Leather Sandals
Wear your handmade leather sandals, created by Stavros Melissinos, and you will hit the road like one of the world's celebrities, many of whom have been Melissinos' clients for 50 years now; even the Beatles once wore the sandals made by Stavros! His shop is located at 2 Agias Theklas Street in Monastiraki Psirri district. Prices are reasonable for a handmade product, between 12 and 30 euro! The designs vary and are unisex; the leather is of high quality calf from the north of Greece. Each sandal is named either after a certain celebrity or philosopher. Around the same district, behind the Monastiraki train station on Adrianou Street, as you head towards the cafes and restaurants in Monastiraki, there are other leather sandal stores to be found. Because of their location in the tourist area, these stores are open everyday. Check out the Adrianou store in particular, renowned for their good quality sandals; some still going strong after 5 years and more!
Where to find it:
Stavros!
2 Agias Theklas Street, Athens, Greece
---
16. Sports Paraphernalia
Greeks are fanatical about football (soccer), and you will find a perfect gift for some die-hard soccer fan in your midst with a cap, jersey, sweatshirt or scarf blazoned with the Olympiakos (the most successful club in Greek football history), Panathinaikos (shares a great and long-standing rivalry with Olympiakos) or AEK (another major Greek football club) logos. In the back streets of Monastiraki, towards Thissio district, there are selected football stores selling gifts of all sorts, supporting major Greek teams. These stores are located in the tourist area of Athens and are open all day long, seven days a week. Depending on what you are buying, you can pick up something for as little as 2 euro. The official Panathinaikos Store is located at 47 Pandrosou Street, Monastiraki and the official AEK store is found at 9 Aiolou Street, Monastiraki.
Where to find it:
Panathinaikos Store
47 Pandrosou Street, Monastiraki, Athens, Greece
AEK store
9 Aiolou Street, Monastiraki, Athens, Greece
---
17. Alcoholic Beverages
Alcohol plays a daily role in the Greek lifestyle. The most popular alcoholic drinks in Greece are distilled spirits, such as ouzo (an anise-flavoured aperitif), metaxa (a blend of brandy and wine), mastika (a liquor seasoned with mastic), raki (produced by distillation of fermented fruit – usually grapes) and tsipouro (produced from the residue of the wine press). Greece is also renowned for its production of red wine and retsina (flavoured with the resin from pine trees). If you are having trouble deciding on which alcoholic beverage to buy, look no further than Brettos bar. Located on Kidathineon Street in the Plaka district, you can't miss the colourful array of bottles decorating the walls of this stylish little bar. Brettos was a family-owned distillery and is apparently the oldest in Athens. It's over 100 years old and some of the furniture in the bar are original pieces dating back to 1909! The bartenders are very knowledgeable and will help you with your gift choice! The bar is open 365 days a year from 10am to 3am.
Where to find it:
Brettos
Kydathinaion 41, Athens 10558, Greece
30 21 0323 2110
Daily 10am to 3am
brettosplaka.com
---
18. Herbs
Herbs are loved all over Greece and have been part of the Greek culture for thousands of years. Bring home the flavours of Greece, including Greek oregano, a key herb used to create the unique dishes in Greek cooking, and Greek red saffron, a pure product of the Greek land, considered to be one of the best saffrons in the world. Thyme, basil and sage are also key ingredients to make that perfect Greek dish you ate at the local taverna! A very well-known family business, called Elixir Spices and Herbs, is located at 41 Evripidou Street. Experts in the herb and spices industry, Elixir has longstanding relationships with herb growers and their variety in store is like nowhere else!
Where to find it:
Elixir Spices and Herbs
41 Evripidou Street, Athens, Greece
---
19. Pasta and Wheat Products
Though Greece may be a country of bread-eaters, the subject of regional pasta is quite vast. There are dozens, if not more, different traditional Greek pastas, and certainly dozens of ways to prepare them. One of the most popular are hilopites - the word for egg noodles used throughout Greece. These can be long and thin (not unlike fettuccine in shape) or small squares. There are simple recipes for making hilopites with meat and chicken in tomato base sauces. During the summer months, women in villages get together at the local pasta shop, bringing their ingredients to make bulk quantities of hilopes to last for a year. It's also a social thing for these women to catch up on the gossip of the town! Another popular pasta is trahana. There are two types of these; sweet trahana made with milk and sour trahana made with yogurt or sour traditional buttermilk. Pastas and wheat products are sold throughout Athens in supermarkets, but the specialty stores are located in the Psirri and Monastiraki districts. A great store selling these products is the Lesvos Shop, located at Athinas 33. Their products are all from the Island of Lesvos and Limnos.
Where to find it:
Lesvos Shop
Athinas 33, Athens, Greece
Get GPSmyCity App for IOS or Android
You can read offline thousands of travel articles like this one in the "GPSmyCity: Walks and Articles with Offline Maps" app on
iTunes App Store
or
Google Play
. The apps also offer GPS navigation to guide you to the places featured in the articles.
Athens Walking Tours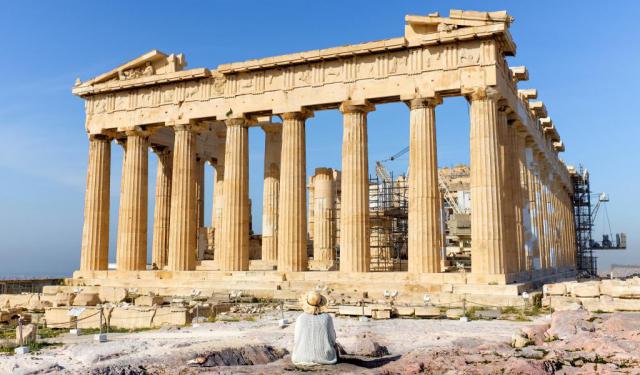 The Acropolis of Athens is famous all over the world, it is the symbol of the city of Athens. The first habitation remaining on this site dates back to the Neolithic period. The Acropolis hill is also called the "Sacred rock" of Athens, as it was home to temples and churches throughout recorded history. It is the one historic site you cannot miss!

Tour Duration: 1 hour(s)
Travel Distance: 1.0 km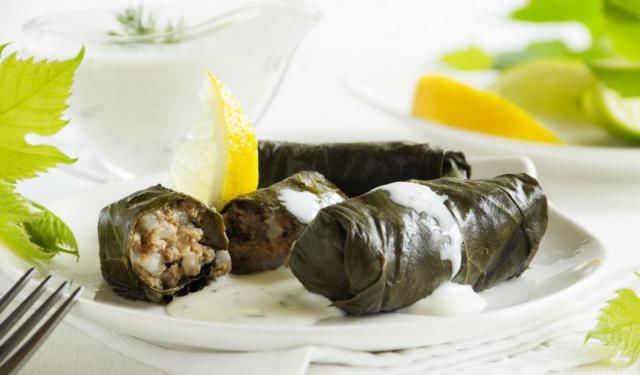 Athens is one of the oldest and culturally richest cities in the world, the city's ancient streets and buildings are steeped in history and legend. We invite you to take a stroll through the city center and its ancient streets and see history come alive. This walking tour includes such important historic monuments as the Tower of the Winds, Stoa of Attalos, Temple of Hephaestus, and many other sights.

Tour Duration: 2 hour(s)
Travel Distance: 3.8 km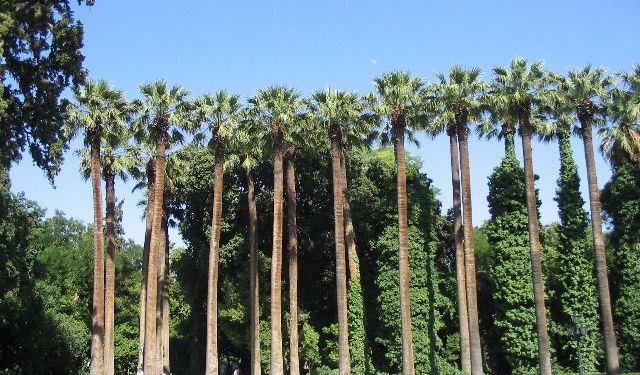 The National Garden is an impressive, historic park in the center of Athens. Formerly known as the Royal Garden, it was commissioned by Queen Amalia in 1838, reason why it is located right behind the Old Palace (currently the Greek Parliament). Many major tourist attractions are situated in and around this peaceful site. The following tour will guide you through this Garden and the amazing surrounding sights.

Tour Duration: 2 hour(s)
Travel Distance: 3.4 km