 16 Uniquely Romanian Things To Buy in Bucharest
Nicknamed "Little Paris", today's Bucharest is the capital of a vibrant European nation, known as Romania, with lots of history and great cultural heritage - spanning from centuries-old rural traditions to New Wave cinema. Keen on rustic stuff, Romanians carefully preserve their traditional craftsmanship. Listed here are some of the things, distinctly Romanian, fit to make an ideal and rather unique present from Bucharest.
---
1. Bead Jewelry Romanian women have a long-standing tradition of highlighting their natural beauty. They don't do this in a showy manner, but rather in a discrete and seductive way. Silence, sometimes, speaks volumes and so does traditional Romanian jewelry. Although not made from expensive and hard-to-find materials, the traditional bead necklaces ("zgardan" in Romanian) of peasant women are striking in their simplicity, elegance and fine taste. Women used to make zgardan's to adorn themselves for special occasions, such as weddings, christenings or anniversaries. The beads are usually sown on a thin stripe of cloth; the elaborate patterns oftentimes demand a great deal of time and patience to make, but the end result is always rewarding. The typically Romanian bead necklaces is a fine jewelry piece suitable for both, formal and informal social events. Its stark colorful patterns create a very contemporary feel to a traditional part of a woman's ritual of beautification. Prices range between $5 and 25.
Where to find it:
The Traditional Popular Art Gallery, at The Museum of the Romanian Peasant (Muzeul Taranului Roman)
Address: Şoseaua Kiseleff No. 3, Sector 1, Bucharest
Website: www.muzeultaranuluiroman.ro
Telephone: 0040213179661
Opening Hours:
Tuesday-Sunday: 10:00-18:00.
Offline reading and travel directions:
You can carry this article in your mobile device to read offline and create a self-guided walk to visit the venues featured herein with the GPSmyCity App (available on
iTunes App Store
or
Google Play Store
).
---
2. Hand-Painted Easter Eggs When it comes to religious holidays, Easter is among the top in Romania. Indeed, preparations for this holiday, marking the outset of spring and the resurrection of true faith, start well in advance. And there are obvious reasons for that. Just imagine how long it might take to hand-paint complicated patterns on the shell of an emptied egg. The foremost important thing here is not to break the shell. Then comes the labor of painting it. Those who do the painting are the true masters of this traditional craft, which is still very much alive in rural parts of Romania. Usually, it's women. The process takes hours of work and is absolutely mesmerizing to look at. Eventually, simple white egg turns into a small, fragile masterpiece of artistry set to warm the hearts of those celebrating Easter. It also makes an excellent gift - small and lightweight, yet requiring extra packaging to prevent damage. The applied painting technique is unique and implies the use of hot wax to isolate layers, as well as intricate coloring that is done in several steps on the shell surface. After the coloring is finished, the shell is treated with a special varnish to protect its patterns and colors. The price is between $2-5.
Where to find it:
The Traditional Popular Art Gallery, at The Museum of the Romanian Peasant (Muzeul Taranului Roman)
Address: Şoseaua Kiseleff No. 3, Sector 1, Bucharest
Website: www.muzeultaranuluiroman.ro
Telephone: 0040213179661
Opening Hours:
Tuesday-Sunday: 10:00-18:00.
Offline reading and travel directions:
You can carry this article in your mobile device to read offline and create a self-guided walk to visit the venues featured herein with the GPSmyCity App (available on
iTunes App Store
or
Google Play Store
).
---
3. Romanian Wines The history of wine making on the territory of today's Romania goes back almost 2,000 years and largely predates the appearance of the Romanian nation as such. Romanian ancestors, the Dacians, cultivated grapes and produced fine wines in this land for centuries, utilizing to their best ability the knowledge of the soil and carefully selecting grapes suitable for growing on this terrain.

If mainstream Romanian brands, such as Murfatlar, hardly need any advertising in the country, recent developments in wine trends have led to the emergence of high-class, state-of-the-art wines, courtesy of some of the best local experts, such as Aurelia Visinoiu. Together with her business partner, Visinoiu has set up a very successful wine house, called Domeniile Sahateni. Their three ranges of wines are often praised at international forums and have gathered multiple awards for quality over the years. Wine business is highly competitive in Romania and wines, in general, are taken very seriously. After all, it is only wine that has the ability to let the truth out and change one's blue mood over the course of several sips. Romanian forefathers noticed this phenomenon 2,000 years ago and, thenceforth, made sure that it never be forgotten. This is why Romanian wines enjoy much acclaim throughout the world, these days, for their quality and high spirit. Prices vary considerably, depending on several criteria, such as year of fabrication, producer, grape sort, etc. A low average is about $20-30 a bottle.
Where to find it:
Vinexpert Experience, Cocor Store, 1st floor
Address: 29-33 I.C. Bratianu Bld., Sector 3,
Mr. Dragos Ghinea (Retail Manager, Sommelier,)
Telephone: 0040740111099)
Website: www.evinoteca.ro.
Offline reading and travel directions:
You can carry this article in your mobile device to read offline and create a self-guided walk to visit the venues featured herein with the GPSmyCity App (available on
iTunes App Store
or
Google Play Store
).
---
4. Horezu Ceramics They say, Horezu Ceramics is more than just something money can buy, but is rather a gateway to another world. A world of simple, pure beauty crafted by skillful hands, passing down the knowledge over generations for hundreds of years. Color, clay, paint, and sense of harmony have come together in the form of internationally acclaimed ceramics, originated in the South-Western Romanian region of Horezu. Produced here ceramics feature distinct geometrical patterns and motifs - plants, fish, and animals - masterly painted on the variety of clay pieces - cups, bowls, plates and large trays. Whether using contrasting color backgrounds, like the mighty ultramarine, or a delicate combination of earthy shades and vibrant reds, the Horezu pottery stands out as one of the highly symbolical expressions of freedom, love of nature and never-ending power of imagination. The centuries-old tradition of Horezu pottery is very much alive today thanks to the artisans who are highly and equally regarded both at home and abroad. All original Horezu artifacts bear a hand signature, or a stamp, of the author on the back. Prices range between $2-7 apiece.
Where to find it:
The Traditional Popular Art Gallery, at The Museum of the Romanian Peasant (Muzeul Taranului Roman)
Address: Şoseaua Kiseleff No. 3, Sector 1, Bucharest
Website: www.muzeultaranuluiroman.ro
Telephone: 0040213179661
Opening Hours:
Tuesday-Sunday: 10:00-18:00.
---
5. Oltenia Carpets and Rugs Made of cotton and wool threads by hand (hand-dyed, hand-sown) from start to finish, the Oltenia rugs are a true wonder of the traditional Romanian craftsmanship. Nowadays, the rugs are produced both in small artisan manufactures, using partially mechanized equipment, and at homes, made by women using traditional techniques (wooden weaving machines), in the Southern Romanian province of Oltenia. The Oltenia items are remarkable as the only ones in European popular art to feature, besides geometrical patterns, stylized images of birds, flowers and people. They strike you with the vitality of color palette and fascinating motif design. Usually employing strong black, burgundy and dark cherry reds against the vibrant green of plants or sandy backgrounds, they are a true eye-candy. Just imagine a piece like on the neatly polished floor of your study room, and you'll find it very hard to resist. Price range: $64-550
---
6. Glass-Painted Icons Their meaning goes far beyond religious purpose and touches the soul of every beholder. These glass-painted icons are a true piece of popular Romanian art, native only to the region of northern Maramures in Transylvania. Invented by simple peasants who passed their craft down from one generation to another, this style of icon painting is often referred to as naïf and rustic, and reveals native talent for chromatic combinations fit amaze even the hardest art skeptics.

The icons depict key moments of Christian learning and Biblical episodes, such as the Crucifixion of Christ, the Birth of the Savior, the lives of Saints, The Annunciation and so on. But in doing so, they come nowhere near the splendor of the grand Baroque paintings or religious imagery of the Western Art. Instead, they present reality where faith seems almost touchable, a world where all the biblical figures live the lives of common people, mingling with and guiding them. The Christ himself, in eyes of the Romanian peasants painters, is presented as a simple man, suffering and living his life the way all the other people do. It takes a great deal of love to paint this way and, once you see these icons, you will know that there's more to it that meets the eye on the glass surface of these paintings. Price range: $17-167
Where to find it:
The Traditional Popular Art Gallery, at The Museum of the Romanian Peasant (Muzeul Taranului Roman)
Address: Şoseaua Kiseleff No. 3, Sector 1, Bucharest
Website: www.muzeultaranuluiroman.ro
Telephone: 0040213179661
Opening Hours:
Tuesday-Sunday: 10:00-18:00
---
7. Tuica Weather cold? - Have a tuica, to warm yourself up. Weather nice? - Have a tuica, to stir up appetite before lunch, and be blessed with a pleasing sense of light hunger. Dumpy, rainy weather? - Have a tuica, to make your blood run faster and you feel cozy and dry, at least on the inside. Romanians will tell you that for every occasion (good or bad), there's tuica to it, a raw potent spirit fit to make one feel good regardless of the circumstances, weather or whatever. This is why the Romanians can't do without it. Over the course of several centuries, tuica has become Romania's national drink, pretty much like whiskey in Ireland, ouzo in Greece and so on.

With its distinctive flavor and somewhat yellowish clearness, Tuica is not that easy to make. The process involves double distillation, careful selection of fruits, and thorough preparation of the storage room with special wooden barrels for maturing and attaining the desired subtle taste. Traditionally, tuica is made of fermented plums, but there are also variations with pears, apricots and peaches. One of the most classical images of tuica is that in a bottle with a whole big pear inside, drowned in the liquor. The pear cannot be reached to be eaten unless the bottle is broken. So, when in Bucharest, put your mind to it, get your spirit high and empty a bottle of tuica, so that you might know why Romanians call it their national drink. As a bonus, you just might get to eat the pear as well. A bottle of decent tuica runs for about $36.
Where to find it:
La Chambre Aux Bons Vins
Address: Calea Dorobantilor 111-131, Bucharest
Telephone: 0040769069641
Website: www.lachambre.ro
E-mail: ileanadelia@yahoo.com, or vinuri@lachambre.ro
Opening Hours: Monday - Friday 12-19:30.
---
8. Walnut Jam This is undoubtedly the "king" of Romanian jams. Made of fresh green walnuts, this jam is widely regarded by locals as a definite must for those with a severely sweet tooth. Traditionally, jam making was the domain of household grannies, matriarchs of the family who took immense pride in preparing jams to the most difficult of recipes, involving fruits and combinations of fruits and flower petals.

When visiting a Romanian family for the first time, be ready for a warm welcome with homemade jams, hot coffee and cold refreshing water. The crunchy, yet sweet-mellow taste of walnut jam makes it a particularly sought-after desert. Although the best jams are still believed to be homemade, as of recently, the industrial production of jams in Romania has been on the rise. Raureni is recognized to be one of the most successful national producers of canned fruit and vegetables (jams, pickles, etc.). It has been around for more than half a century and is one of the upholders of the natural standards in food production. Their walnut jam is said to be as good as that made at home. So, whilst you're at it, working your way down to the very bottom of the jar, not wanting to stop until it's empty, take a moment and think about this: Romanians are just as famous for their apricot, rose petal, raspberry and peach jams. Enjoy the sweet life! A jar of walnut jam retails at around $5.
Where to find it:
Nic Supermarket
Address: Piata Amzei 15, Sector 1, Bucharest
Telephone: 0040213197255
Opening Hours:
Daily: 24/7.
---
9. Ie Blouse Depicted and praised by painters and poets alike, this blouse is widely regarded as a symbol of Romanian identity and, sometimes, even revered as a true work of art. Ie, women's blouse, was traditionally made by hand out of the finest linen or cotton threads, and was a mandatory garment in almost every household throughout the country, something the proud owners would hang on the walls as a piece of interior decoration, or show to the guests during visits. Ie's exquisite embroideries are usually made with blue or gold silk threads, featuring a range of popular traditional motifs, presented in the form of complex patterns on the chest and arms. If properly stored, ie could be worn by three or more generations of women and the most valuable of them were, indeed, passed down from one generation to the next as a true value to a new household. Back in the past, the blouse was worn by peasant women on special occasions, e.g. weddings, christenings, etc. Today, there are still some young women in rural and urban parts of Romania who love to wear ie, as a token of tradition, freedom, beauty and connection with their ancestors. Ie prices range from $60 to $117.
---
10. Reghin Musical Instruments The Transylvanian town of Reghin, nicknamed "The City of Violins", is famous for its tradition of making quality musical instruments - violins, guitars and cellos. The town is home to Romania's most famous manufacturer of musical instruments - Hora, the factory where all contemporary lute makers of Reghin have cut their teeth in the complex craft of creating unique musical instruments. In Reghin, lute making historically has gone hand in hand with massive production of wood furniture; hence the insider knowledge of special techniques employed in wood treatment.

David Oistrach, one of the world's most acclaimed violin players of all times, noted that Reghin-made violins have "rich sound, with quite a dynamic tenure". When in Bucharest, you might want to visit Hora factory store, called Rapsodia, carrying a large stock of violins, cellos, guitars and other musical instruments, including Romania's national lute, cobza. The latter comes from a family of mandolins and balalaikas; each instrument has to be hand-made due to a specific shape and technical requirements of its sound box (the body). The vast majority of Hora instruments are exported and considered good for both, study and hobby practicing. So, if you're in Bucharest and in need of a brand new quality violin or guitar, you now know where to go. Hora violins go for the price of $83-790, guitars - $68-334, and cobza - $300.
Where to find it:
Rapsodia Musical Instruments Shop (Hora representative)
Address: Burebista Avenue 2, Bl.D14, Sc.4, Sector 3, Bucharest
Telephone: 0040318057298
Website: www.magazinulrapsodia.ro
Email: magrapsodia@yahoo.com
Opening Hours: Monday - Friday: 9:00-17:00.
---
11. Honey Honey had been around in this country long before Romania established itself as a nation. The ancestors of today's Romanians, the Dacians, mastered the trade of beekeeping and honey making and practiced it for the whole of more than 2,000 years, during which they honed their skills of honey extraction to perfection. Contemporary honey making in Romania focuses mostly on traditional honey, such as that from acacia, linden tree, or polyfloral. There are also producers engaged strictly in bio honey production, as well as those seeking to bring something new onto the market, applying new recipes obtained from the pollination process of fruit plants, such as raspberry, apricot, etc. Romanian honey is well known internationally as one of the key ingredients of a good, hearty breakfast. A jar of Romanian-made honey can be bought for $2-6.
Where to find it:
Ki-Life Natural Store
Piata Amzei 17, Sector 1, Bucharest
Telephone/fax: 0040213079440
Email: kilifenatural@yahoo.com
Website: ronatura.ro
Opening Hours:
Monday - Friday: 9:00-17:00.
---
12. Nasal Cheese This Romanian delicacy has a story of its own and, as any other delicacy, is unique in its own right. This ripened white mould cheese is produced in the Transylvanian county of Cluj, the place called Taga. However, if you imagine tiny shops with people making this cheese, you'd be wrong. In reality, it is produced in a cave near Nasal, in Taga. Legend has it that once upon a time, a group of dodgy servants of the local count stole some of his freshly-made cheese and hid it in the Taga cave out of fear of being caught. When they returned to pick up after a long while, they only found what we know now as a legendary culinary delight served at fancy dinners and high society gatherings.

The Nasal cheese resembles Camembert or Brie and is best savored in the company of rich red wine. The cheese owes its unique taste to a special bacteria found in the cave mould, as well as temperature conditions in the Taga cave. Experts say it is this micro climate - impossible to replicate anywhere else in the world - that is primarily responsible for the Nasal cheese appearance. Although unique, this cheese isn't hard to find. One of Romania's top dairy producers, Napolact, distributes Nasal cheese nationwide via large retail chains. The price varies between $17-20.
Where to find it:
Carrefour Unirii, Dairy Products Department
Address: Corneliu Coposu Bld. 2
Telephone: 0040374145800
Website: www.carrefour.ro
Opening Hours:
Monday - Sunday: 7:00-22:00.
---
13. Romanian New Cinema Cristi Puiu, Ciprian Porumboiu, Cristian Mungiu are the heroes of New Cinema Wave that put Romania on the international map of contemporary cinema back in the early 2000s. They are the architects of Romanian Minimalism, a movie trend that had direct impact on the Eastern European cinema, the way it appears today and is screened at major international festivals, such as Cannes and the Berlin Film Festival. But the most important thing about the New Wave was that it drew attention of the audience to the most burning issues of the Romanian society - political, cultural, social, issues of corruption, poverty, high-level demagogy, communist legacy and civic passiveness.

The directors of New Wave pride themselves on their ability to dig deep into the core of the society, without embellishing the truth and refraining from visual pleasantries, to offer the audience pieces of true life depictions that would haunt them long after the movie is over. Cinematographic masterpieces, such as "Aurora" and "The Death of Mr. Lazarescu" by Cristi Puiu, as well as "4 months, 3 weeks and 2 days" by Cristian Mungiu, have received much critical acclaim and been widely recognized as an added value to the European cinema. Romania's New Wave movies are available on DVDs and can be purchased in selected book stores across Bucharest at $15-100.
---
14. Leather Goods Romania has a long standing tradition of manufacturing leather goods - bags, shoes, jackets and belts - all of which are skillfully crafted of fine leather and in a strict accordance with centuries-old practices. Whether hand- or machine-made, the quality of leather items bearing the label of Guban or Clujana is guaranteed. But the quality is not limited to big names only. Many small family businesses have opened in the field lately, maintaining the old craft and delivering rather impressive results. Comfort and elegance have always topped the charts of values for this industry in Romania and contemporary producers of leather goods are fully prepared to meet the new design challenges. Some of them accept special orders, which means that clients can customize their shoes without paying outrageous extras for a new pair. The average price for Romanian-made leather footwear is about $30-60 a pair.
Where to find it:
Nancu Com Star Company Shop (entitled Romanian Leather Shoes)
Address: 2K Splaiul Independentei, Bucharest
Telephone: 0040726554855 (Mr Catalin Nancu)
Opening Hours:
Monday - Friday: 9:00-19:00
Saturday: 9:00-14:00.
---
15. Traditional Veils Veil (or "marama") is the essential part of the Romanian traditional female costume. Worn as a head garment, it sometimes gets so long as to touch the ground. The veil represents a true piece of craftsmanship, featuring silk and gold thread embroideries on see-through fabric. Traditionally, it was worn during hot season to protect from excessive heat. Nowadays, maramas are still worn in rural parts of Romania, whereas in the cities they are also found, but mostly as decoration objects - hanged on the walls, as part of a sophisticated interior. It can also go with an elegant costume appropriate for smart casual or formal dress codes. Marama can make an exquisite gift and a wonderful fashion accessory for those interested in local fashion. There are several types of marama available, each befitting specific traditions of a certain region of Romania. Regardless of the geography, each marama is a distinctly Romanian garment. You can buy one at stores in Bucharest for $106-207.
Where to find it:
The Traditional Popular Art Gallery, at The Museum of the Romanian Peasant (Muzeul Taranului Roman)
Address: Şoseaua Kiseleff No. 3, Sector 1, Bucharest
Website: www.muzeultaranuluiroman.ro
Telephone: 0040213179661
Opening Hours:
Tuesday-Sunday: 10:00-18:00.
---
16. Opinci Roughly translated as traditional peasant sandals, "opinci" have been the footwear of the Romanian country folk for centuries. Historically, their production depended on the artisanal work of a village shoemaker who knew the secrets of his craft. The opinci were made from sturdy cow leather, with holes for shoelaces that were wrapped around the ankle up the leg and tied under the knee. Having a pointy tip, the unique image of this type of shoes stays in memory and creates a true identification mark of the Romanian traditional costume.

Nowadays, opinci can be seen worn only by the traditional folk musicians who want to remain faithful to the old ways, as well as by the children who are taught to uphold the traditions of popular crafts and arts, especially in the rural areas. Opinci are not usually adorned in any way; their simple look being in perfect balance with the richness of the motifs found on other pieces of the national costume. Although not utilized today as shoes by urban dwellers, opinci make a great design object and interior decoration piece fit to embellish one's house. You can buy a pair at stores in Bucharest for around $43.
Where to find it:
The Traditional Popular Art Gallery, at The Museum of the Romanian Peasant (Muzeul Taranului Roman)
Address: Şoseaua Kiseleff No. 3, Sector 1, Bucharest
Website: www.muzeultaranuluiroman.ro
Telephone: 0040213179661
Opening Hours:
Tuesday-Sunday: 10:00-18:00.
Other Interesting Souvenirs from Romania
---
If traveling to Romania is not on your immediate agenda, or you simply can't afford an extra space in your luggage, fortunately, these days, you can find a wide selection of authentic and truly interesting Romanian souvenirs online. Presented here are some of the Romanian products sought by foreign visitors, now available online for your convenience.
1. Gerovital Cosmetics
- Romania is home to the first geriatric institute in the world, set up by pioneer Romanian biologist and physician Ana Aslan, who in the 1920s discovered the anti-aging properties of procaine. Two cosmetics ranges based on her discoveries, Gerovital and Aslavital, are still on sale today, and are wildly popular in Romania and abroad.
2. Romanian Jams - Just as many Southern and Eastern Europeans, Romanians love jams and sure know how to make them. If you want to try some Romanian-made fruit or berry jams – peach, plum, blackberry, and others – you won't be disappointed.
3. Eugenia Original Biscuit - Romania's favorite cookies, Eugenia Original Biscuits are a definite must try, especially for rum lovers. The hint of rum in the chocolate filling is truly unique. "Made in Romania" at one of its yummiest!
4. Mărțișor - Mărțișor, a diminutive of March (Martie in Romanian), is an old tradition, observed all over Romania, of celebrating the arrival of spring on March 1st. It is believed that whoever wears the red and white string will enjoy a healthy and prosperous year.
Get GPSmyCity App for IOS or Android
You can read offline thousands of travel articles like this one in the "GPSmyCity: Walks and Articles with Offline Maps" app on
iTunes App Store
or
Google Play
. The apps also offer GPS navigation to guide you to the places featured in the articles.
Walking Tours in Bucharest, Romania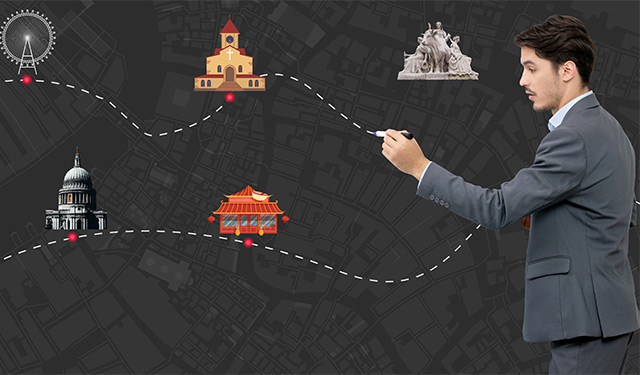 Creating your own self-guided walk in Bucharest is easy and fun. Choose the city attractions that you want to see and a walk route map will be created just for you. You can even set your hotel as the start point of the walk.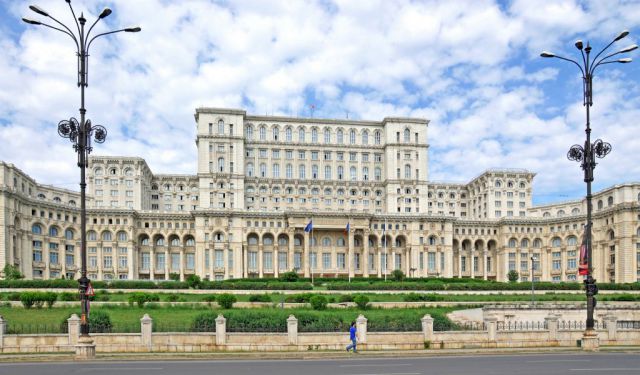 Bucharest, the capital and cultural center of Romania, is one of the largest cities in Southeastern Europe.
The name București has an unverified origin. Tradition links it to the guy named Bucur, who (according to various legends) was either a prince, outlaw, fisherman, shepherd or a hunter. The Romanian word "bucurie" means joy (happiness), which in turn explains one of Bucharest's...
view more
Tour Duration:
2 Hour(s)
Travel Distance:
3.7 Km or 2.3 Miles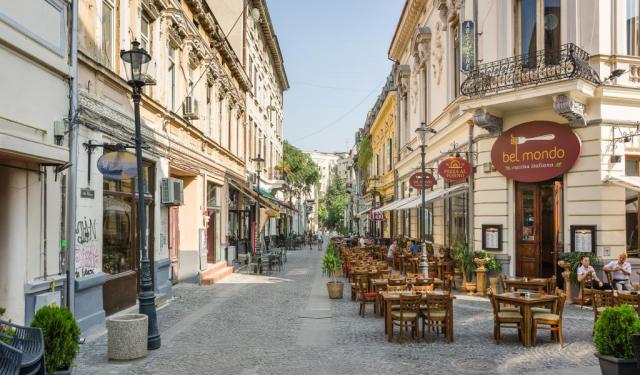 The Historical Center of Bucharest, or the Old Town, as the locals habitually refer to it, is one of the most beloved and attractive areas in the Romanian capital. The neighborhood is really beautiful a place to visit, and you can walk into it pretty much from anywhere in central Bucharest. Ion Constantin Brătianu Boulevard crosses the historic heart of the city from Piata Universitate...
view more
Tour Duration:
2 Hour(s)
Travel Distance:
1.9 Km or 1.2 Miles