20 Must-Buy Trip Mementos from Lima
Today's Peru is a basket of natural, cultural and historical riches manifested in the multitude of handicrafts that have flourished in the country for thousands of years and embraced Inca, Spanish and other influences. Local jewelry, wool, pottery, leather, music, food and drinks - all have a distinct Peruvian flavor. When in Lima, you will notice it with ease. This article is to help you decide what to pick up as a souvenir and where in the city.
---
1. Chulucanas Pottery
Chulucanas is a town located in northern Peru, an hour east of the city of Piura. This town is known for its tradition for making high quality ceramics. In 1967, an American nun Gloria Joyce discovered the potential the Chulucanas pottery had. The pottery was made of special clay collected from deposits along the Piura and Chira rivers. The clay was mixed with clear water and coarse sand of which vases, plates, boxes, bowls, figurines, and cups with traditional, ethnic and abstract motifs were created. Hatun Rupay is a small store where Chulucanas pottery can be found at reasonable prices, located at Avenida Petit Thouars 5330 (stand 183), in the Miraflores district. It is open on Monday to Saturday, from 10am to 8pm.
---
2. Paintings
Peruvian art has its origins in the ancient Andean civilizations, predating the arrival of the Spanish Conquistadors. Throughout years, Andean people created most beautiful paintings related to their customs, feelings and beliefs. Currently, artists maintain the spirit of Peruvian culture through the finest abstract, religious, colonial and traditional Peruvian oil paintings from renowned art schools, such as Cusqueña. Cusqueña paintings are characterized by their use of elite religious subjects, with images of saints, warrior angels and the Virgin Mary. These pictorial works often lack perspective, and the painters constantly use large amounts of red, yellow, gold leaf and earth colors. Most of these pieces speak the language of old colonial tradition of the Americas. The price of such paintings can begin at S/. 200. You can find them in La Casa del Cuadro, at Av. Arenales 1427, in Cercado de Lima or another location, at Av. San Luis 2492, in San Borja, open from 9am to 7pm, Monday to Saturday.
---
3. Retablos (Altarpieces)
This beautiful and sophisticated form of art originates in the highlands of Ayacucho. Retablos consist of portable artistically painted wooden boxes, depicting religious and historical events as well as everyday life scenes, all of which are important to the indigenous people of the Peruvian highlands. The depicted subjects usually include the curandero (shaman), yawar fiesta, pistaku (the cutter of throats, the Three Kings, the Nativity and a cross with coca leaves). Each figure is made of ceramic clay and painted by hand. The figures are brightly colored, emitting a sense of life and joy. Even though there are no set standards, classic retablos are 32 inches high and 26 inches wide. One of the key artisans in this field is Nicario Jimenez; his works largely sustain the Andean retablos heritage. Each retablo costs $15-$200, depending on the size, and can be bought in the Galería Museo Popular de Ayacucho located at 116 Av. Pedro de Osma, in Barranco; it is open from 9am to 5pm, Monday to Saturday.
---
4. Ekeko
These emblematic clay dolls portrait the Tiwanakan god of abundance and prosperity in line with the mythology of the Andean highlands. Ekeko is a man with a mustache who wears Andean clothes, such as poncho and chullo (Peruvian wool caps), and who also carries bags, baskets of food, household objects and currency bills - everything that a person might need for a comfortable, prosperous and healthy life. Furthermore, for "ultra satisfaction", he is shown with an open mouth to place a lit cigarette in. An offering is normally necessary before the god provides his services. If the request is accepted, Ekeko will smoke. According to a tradition, Ekeko must be given as a gift or, in the worst scenario, stolen. Under no circumstances, must he ever be bought, because in that case, he won't grant any favors to the buyer. Each Ekeko costs $15 at Cerámica Ayacuchana in Inca Plaza located at Av. Petit Thouars 5330, Stand 2, in Miraflores; open from 9am to 7pm, Monday to Saturday. Choose wisely, as there are many different designs!
---
5. Copper Plates
Copper, an abundant metal in Peru, has been tailored to fit different uses, from the earliest civilizations, up to now. Copper is a well known metal in Peru, which has been around since the pre-Inca period. Gilded work on copper by ancient Peruvian artisans has reached a high level of development and perfection. Artistic copper plates are highly coveted by tourists who visit Peru. The engravings depict various motifs, including animal figures, peasants, Peruvian pictures and the well-known Tumi, featuring a three-dimensional portrait in different colors. The plate always comes with a small hanger on the back, so it can be easily hung on a wall. Each plate costs $10 at the Artesanias Massiel-Indian Market at Av. Petit Thouars 5321, Stand 103, in Miraflores. The market is open from 9am to 7pm, Monday to Saturday.
---
6. Pisco
The strong, colorless type of brandy, which comes from the region of Ica, Peru, is known as Pisco. Pisco was produced in the late 16th century, and took the name from the town of Pisco, located on the Pacific coast of the country. Peruvian Pisco is produced from many types of grapes grown in the region of the Ica Valley around Pisco and the Ica rivers. The grapes are fermented and distilled into a strong aguardiente. The flavor, aroma, viscosity and appearance of the liquor varies. Because of this, there are different types of Pisco produced, including Quebranta grape pisco (with fruit flavor, such as raisins and almonds), Aromatic pisco (tropical fruit flavor, such as pineapple and dried fruits), and Acholado (fig and prune flavor). Pisco is the national spirit of Peru, and is the main ingredient for many cocktails. Drinks, such as pisco punch, pisco sour, serena libre, algarrobina, chilcano, Peru libre and capitán, are just the few cocktails based on Pisco. The price of a bottle at Bodega Santiago Queirolo, located on Av. San Martín 1062, in Pueblo Libre, starts at S/.30. The store is open from 8:15am to 6pm, Monday to Friday, and from 8:15am to 2pm on Saturdays.
---
7. Musical Instruments
In the course of the past 10,000 years, Peruvians have developed their own music. Many indigenous instruments are still very much in use keeping alive the authentic rhythm and musical tradition of the country. Throughout years, music has changed dramatically, prompted by the arrival of Western influences. The available large number of musical instruments reflect the rhythmic and tonal specifications of each region of Peru. For example, harp, violin and guitar are prevalent in the highlands, and have undergone certain transformations over time. In the course of the centuries, a vast variety of wind instruments have been created, made from cane, wood, clay, bone and even precious metals - quenas (traditional flutes of the Andes), pan pipes, blowing horns (shell trumpets) and many more. Prices of such instruments begin from S/.45 at Artesanias Sol y Turpo, located at Jr. Conde de Superunda 239 Galería Artesanal in Santo Domingo, Tienda 211 "A", Camana; open from 11am to 9pm, Monday to Saturday. Another good location to buy musical instruments is Art Music, located at Jr. Moquegua 885, Lima; open from 9am to 8pm, Monday to Saturday.
---
8. Traditional Sweets
There is not much information on the dessert preferences of the Incas. Peruvians were introduced to sweets by Spanish Conquistadors in the 16th Century. During the colonial times, desserts and sweets were prepared by nuns in convents, a tradition that still remains to this very day. There are sweets from the coast, highlands and jungle of Peru. These sweets usually attract great interest of the tourists visiting the country. The most well-known of them are turrón, king-kong, tejas, natilla and alfajores, which are especially packaged to pass through international customs. Prices vary, depending on the presentation, amount and packaging, but usually start around S/.10 at any supermarket, such as Wong, Plaza Vea or Vivanda. These are open from 8am to 10pm, Monday to Sunday. You can also visit some of the more exclusive chocolatiers specializing in tejas, such as Chocolates Helena at Calle Chiclayo 897, in Miraflores, or at Av. Juan Pezet 1447, in San Isidro or in Centro Comercial Jockey Plaza, Tienda 133, in Santiago de Surco; open from 9:30am to 9pm, Monday to Sunday.
---
9. Stone Sculptures
Miniature stone sculptures made of granite, basalt, andesite (the stone extracted from the lake located in Puno) and white alabaster (also known as the stone of Huamanga) are quite popular in Peru. To make these, three-dimensional techniques are used, which are rather elaborate. The most common subjects of these sculptures are the infant Christ, Catholic saints, crosses, Virgin Mary, and other relics. Prices start at $16, depending on the figure and its size. To buy any of these, go to Cerámica Ayacuchana in Inka Plaza, located at Av. Petit Thouars 5330, Tienda 2, in Miraflores. The store is open from 9am to 7pm, Monday to Saturday. Other good locations include Estirpe Inca in Inka Plaza, Av. Petit Thouars 5330, in Miraflores (open 9am to 7pm, Monday to Saturday) and Cultura Andina, at Av. Petit Thouars 5480, Stands 7-8, in Miraflores, open from 8am to 6:30pm, Monday to Saturday.
---
10. Baby Alpaca Clothing
In the textile industry, the most precious fabric comes from the first shearing of the alpaca, called baby alpaca. Baby alpaca is well-known for its softness, fine fibers, durability and high quality. This is one of rarest specialty fibers in the world. Baby alpaca comes in 22 natural colors, but some alpaca breeders claim there are in total 66 shades of color. There are three categories to classify baby alpaca: royal baby alpaca wool (available only in white), baby alpaca wool (available in all natural colors) and super fine alpaca wool (the lowest grade of alpaca wool). You can find this classic, elegant and luxurious fabric on sale at Indigo on Av. El Bosque in San Isidro or in the lobby of Casa Andina Hotel, in Miraflores, open from 8am to 7pm, Monday to Sunday. Alternatively, visit Wayra, located at Calle Bolognesi 494, in Miraflores, open from 8:30 to 7pm, Monday to Saturday. The prices start at $250.
---
11. Chullos (Peruvian Wool Caps) 
Chullo is a traditional winter cap with earflaps, woven with vicuña, alpaca or sheep wool. This Peruvian cap is used by locals to ward off the cold weather in the Andean Mountain region. It has also become a popular fashion accessory, one of the definite not-to-be-missed souvenirs for those visits Peru. Chullos are hand-woven, rich in colors and, according to a tradition, each chullo design tells a story. The chullos made of alpaca wool, are more expensive. The Feria Artesanal or artisans' market carries a wide range of handmade textiles, especially chullos. It is located on Avenida la Marina (blocks 6-10) in the Pueblo Libre district, and open daily from noon to 8pm. Chullos start at $7.50.
---
12. Silver Jewelry
Silver gilding in Peru started as far back as 10,000 B.C., originally near the Lurin valley. This ancient activity was undertaken by people for magical and religious purposes. During the Inca Empire, silver was a very important material due to its sophisticated metallurgic alloys. Furthermore, it was used for religious offerings. Traditionally, silver was related to the moon, similarly as gold related to the sun, which is why silver was considered the metal of the kings and Incas alike. Some years later, when the Spanish silversmiths arrived, Peruvian and Spanish craftsmanship merged together, creating a huge ornamental wealth. Currently, Peruvian silver workers continue this tradition, using ages-old techniques, such as laminating, imprinting, shaping and engraving the metal. Nowadays, everything - from necklaces to earrings to bracelets to rings to charms - can be found on Peruvian markets. The price of every piece of jewelry depends on the design and the types of precious stones used. There are many locations selling these wonderful items, including, primarily, The Peru Market, located at Av. Principal 268 in Surquillo, Lima. Peru Market is open from 9am to 6pm, Monday to Friday. Also, visit Ester Ventura located at Malecón Almirante Grau 1157, in Chorrillos; open from 9am to 5pm, Monday to Saturday.
---
13. Manjarblanco (Peruvian Milk Caramel)
Manjarblanco or "white delicacy," is a mixture of milk, sugar and vanilla, representing a traditional and delicious sweet spread. Manjarblanco is used as ingredient in many Peruvian desserts and is also enjoyed by itself. Its consistency is similar to that of thick cake frosting and the flavor resembles sweet cream, caramel, or nougat.  It is very easy to prepare, but can also can be bought ready-made at any supermarket (Wong, Metro, Tottus) at an excellent price, no more than $1.50 a jar. Try the San Roque's recipe of manjarblanco, dating back to the 1920s. Visit Bodega Las Dalias, located at Las Dalias 307, in Miraflores, and buy a small can of manjarblanco for $3; or try the delicious manjarblanco-filled cookies for just $6. The Bodega is open Monday to Saturday, from 8 am to 8 pm.
---
14. Peruvian Rum
Peru not only produces the best Pisco, but also has been noted worldwide as a superior rum producer, awarded with a gold medal in 2009. Peruvian rum is a distilled beverage made from sugarcane, which is fermented in stainless steel, using anaerobic fermentation, and is then aged in three different types of oak casks. The best product is made from a blend of 10-year old rum with 30-year old rum. Ron Cartavio, a Peruvian rum brand, offers premium varieties, leveling to XO products. Ron Cartavio's XO, is a premium rum with excellent quality and an outstanding price. It is blended with intense aromas of dried fruits, vanilla, chocolate and honey. Each 25-ounce bottle costs $45, and can be bought in the liquor and wine section of any supermarket. Visit Wong Supermarkets, at Avenida 2 de mayo 1099, in San Isidro or Avenida Santa Cruz 771, in Los Sirus in Miraflores. These stores are open on Monday to Sunday, from 9 am to 10 pm.
---
15. Leather Goods
Peruvian leather is among the finest and most affordable in South America. Its strength, durability and longevity, with adequate care, allow it to last four times longer than other fabrics and vinyl materials. Coats, jackets, purses, wallets, belts, shoes and even furniture are all products made of embossed leather, created by master leather craftsmen. Established in 1973, the Renzo Costa company turned into one of the most important companies in the market of leather goods in Peru. They're specialized in fine leather clothing and accessories. Renzo Costa has different stores in Lima. Go to Camino Real Mall, located at Avenida Camino Real 492, Level "B", Store 72, open on Monday to Friday, from 9 am to 6 pm, and Saturdays, from 9 am to 1 pm.
---
16. Home Textiles
Textile art is the most significant art in Peru. Weavers utilize skills that have been passed down from generation to generation. The designs, colors and quality of the textiles vary from one region to another. The fabrics used are made of sheep wool and natural cotton. The dyes are naturally obtained from nogal, tara, cochinilla and chilca. It is easy to see a unique mixture of colors and the creativity of Peruvian craftsmen in towels, tablecloths, bed sheets, hair bands, table runners and throws. Alpaca III, located at Avenida Larco 671, in Miraflores, offers a fine selection of woven or knit alpaca goods. A few blocks ahead, Inkantations store, located at Avenida Larco 1180 in the Miraflores district, offers locally-made woven textiles, rugs, coats and blankets. A Peruvian Alpaca rug is an example of hand-made artistry, with rich colors and unique native designs.
---
17. Chalinas
Chalinas are scarves woven with alpaca wool in native, multicolored designs. This popular cold weather garment is made by hand, using traditional weaving techniques. Wayra Shop, a Peruvian textile company, preserves the art of weaving beautiful textiles made by artisans from Huancavelica, Trujillo, Cerro de Pasco, Moquegua, Cajamarca and Puno. They have launched a line of clothing named "Reciclado," using baby alpaca waste. You can find beautiful chalinas in black, grey and purple colors, with delicate, homemade macramé pieces made with the crochet technique. Wayra Shop has two beautiful stores, one of which is located at Calle Bolognesi 494, in Miraflores, open on Monday to Friday, 10:30 am to 7:30 pm, and Saturdays, 11:30 am to 7:30 pm. The second Wayra Shop is at Larco 1345, interior 4, in Miraflores, open on Monday to Friday, 9 am to 9 pm, Saturday, 9 am to 6 pm and Sunday, 9 am to 1 pm.
---
18. Purses with Native Motifs
Beautiful purses are hand-made from alpaca or vicuña wool, with native and modern embroidered designs. Visit Feria Artesanal, on Avenida La Marina and on Avenida Sucre in Pueblo Libre, to find colorful wool bags, hand-woven on a loom with Andean and native designs. Feria Artesanal is open daily from noon to 8 pm. Also visit Puro Corazon (Pure heart), a superb boutique located at Calle Manuel Gonzales de la Rosa 235, in San Isidro. The owner, Carolina Restrepo, is a Colombian fashion designer. Her work has been inspired by Peruvian and particularly the Ayacucho artisans, which has facilitated the production of a variety of purses and handbags. Puro Corazon is open Monday to Friday, 8 pm to 7 pm, and Saturday, 8 am to 5 pm. She also has another store on Dedalo, Saenz Peña 295, in Barranco, open from Monday to Saturday from 10 am to 8 pm, and Sunday, 11 am to 7 pm.
---
19. Dolls and Stuffed Animals
Dolls and stuffed animals are made with natural fabric, depicting typical costumes and local fauna, such as, llamas, alpacas, vicunas, guinea pigs or birds. Peruvian handmade dolls have been exceptionally popular. The artisans recreate gala costumes with vast detail, including rich colors and embroidery, which Andean women are known for. This craft requires a great deal of patience and creativity to produce clothing for these dolls. The delightful stuffed animals are perfect as small gifts for children and infants. They are mostly made out of baby alpaca, which make them exceptionally soft, silky and durable. Kuntur Wasi is a well-known shop full of the highest-quality popular art, located at Calle Ocharan 182, in Miraflores, open on Monday to Saturday, 9 am to 9 pm. Some great picks for collectors can be found here!
---
20. Mystical Trinkets and Amulets
Huayruro is a native seed believed to grant good fortune. The Incas used these seeds as pendants, or created bracelets and necklaces, which protected them from "the evil eye." There are countless pieces of bijouterie and amulets made of these popular seeds. There are also trinkets made from natural occurring quartz and crystals believed to have paranormal powers. Amethyst heals depression and headaches, Jasper is used to feel confident, Pink Quartz helps to ease menopause, and Malachite is used to fight arthritis and to remove spiritual blocks. The best place to find mystical talisman is Mercado Central, or Central Market, located south of Plaza Mayor, at the edge of Chinatown, which is open daily from 8 am to 5 pm.
Get GPSmyCity App for IOS or Android
You can read offline thousands of travel articles like this one in the "GPSmyCity: Walks and Articles with Offline Maps" app on
iTunes App Store
or
Google Play
. The apps also offer GPS navigation to guide you to the places featured in the articles.
Lima Walking Tours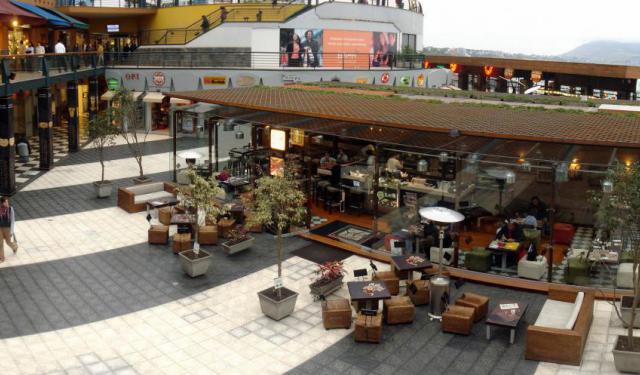 The capital of Peru is Lima. The city has a rich history of pre-Columbian heritage as well as a former oasis for American Indian culture. In 1535, the area was conquered by Francisco Pizarro - a Spanish conquistador - and officially became known as Lima.

Tour Duration: 1 hour(s)
Travel Distance: 2.5 km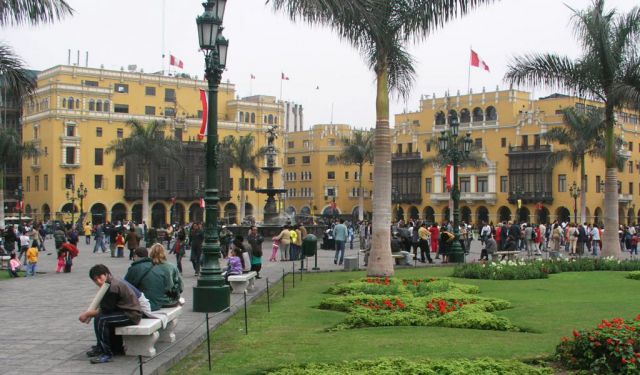 Lima, the capital of Peru, is a huge, thriving metropolis established by Spanish conquistador Francisco Pizarro in 1535. The carefully preserved city center has retained much of its original colonial character set in the stones of numerous Baroque and Renaissance cathedrals, colonial mansions and palaces, many of which are included in this city orientation walk.

Tour Duration: 3 hour(s)
Travel Distance: 4.8 km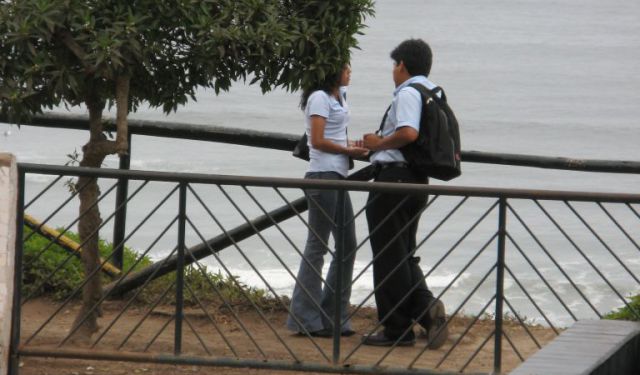 Located on the shore of the Pacific Ocean, Lima makes it the ideal place for a couple to spend some memorable time together. Tourists may walk along the beaches, visit the park of lovers, and/or spend an evening in a restaurant with beautiful view of the sea.

Tour Duration: 2 hour(s)
Travel Distance: 4.2 km