 Los Angeles: 15 Souvenir Shopping Tips and Ideas for Travelers
With some many celebrities per square mile, living or just visiting, practically any stone in LA could pass for a souvenir that one time or another was touched, held or walked upon by some of the movie or rock stars, or was filmed in one of the many movies shot in the City of Angels for almost a century. However, if you're in for something more substantial, reflecting the style and character of this fascinating city, then check out this list of gift ideas worth considering to bring home from Los Angeles.
---
1. Sea Salt Caramels Chocolate lovers can enjoy the heavenly flavors of LA's Little Flower Candy Company's sea salt caramels wherever they go.  Located in Pasadena, the candy store offers these handmade delicacies made of cream milk, corn, corn syrup and sea salt in quarter, half and one-pound bags.  Heavily salted caramels originated in Brittany, France and arrived in America in the early 1990s.  Angelinos have had a longstanding taste for salty mixed with sweet.   Chocolate turtles, pralines, Snicker's bars and other salty nut/caramelized sugar combinations have been staples at confectionery shops for decades.  Little Flower Candy Company's bite-sized desserts are creamy, rich and perfectly accented by a few sprinkles of Fleur de Sel on top.  In addition to sea salt caramels, the Little Flower Candy Company offers pretzel rolls, lemon bars, maple scones, sandwiches, pastries and salads, as well as a full breakfast menu and many vegetarian options.  Quarter pound bags of sea salt caramels are $7 and available at the Little Flower Candy Company at 1422 West Colorado Boulevard, open Monday through Saturday, 7 am to 7 pm, Sunday 9 am to 4 pm.
Offline reading and travel directions:
You can carry this article in your mobile device to read offline and create a self-guided walk to visit the venues featured herein with the GPSmyCity App (available on
iTunes App Store
or
Google Play Store
).
---
2. Oscar Statuette Anyone can be a star with this 8-inch Oscar statuette replica, complete with inscriptions ranging from "Drama Queen" to "Best Dad." Replicas of the art deco designed man are gold plated and weigh approximately eight pounds. Recognized as the highest level of achievement in movie making, the first Oscars were awarded in 1929 at the Hollywood Roosevelt Hotel.  Original Oscar statues feature a gold naked knight standing on a reel of film and clutching a crusader's sword.  The film reel includes five spokes signifying the five original branches of the Academy - actors, writers, directors, producers and technicians.  Replica Oscar statues are intentionally inaccurate, due to copyright laws, replacing a wreath for the original sword and three circles instead of a film reel for the base.  The original shape and style are recognizable enough to stand in for the original at Emmy watching parties or as a fun original souvenir from the movie making capital of the world.  Each statue costs $6.99 at Upstart Crow, located at 100 Universal City Plaza at Universal Studios Citywalk.  The novelty store sells Hollywood shirts, souvenirs and memorabilia, and is open Sunday through Thursday, from 11 am to 9 pm, and Friday and Saturday from 11 am to 11 pm.
Buy It on Amazon:
Offline reading and travel directions:
You can carry this article in your mobile device to read offline and create a self-guided walk to visit the venues featured herein with the GPSmyCity App (available on
iTunes App Store
or
Google Play Store
).
---
3. Los Angeles Philharmonic Scarf Whether you catch a concert at the Hollywood Bowl or at Disney Hall, the Los Angeles Philharmonic is one of the country's greatest orchestras.  Any music aficionado will cherish a unique LA Phil inspired scarf.  Available in royal blue or light grey, these shimmering fashion statements are patterned after the stainless steel panels covering the outside of Walt Disney Concert Hall in downtown LA.  The blue and grey are the colors of the outside reflection when the sun shines against the hall.  Built in 2003 by distinguished LA architect Frank Gehry, the acoustically sophisticated surrealistic Disney Hall is constructed of more than 22 million pounds of glistening steel and is the fourth facility of the Los Angeles Music Center.  Located on 3.6 acres on top of LA's historic Bunker Hill, Disney Hall houses four performance arenas, the Gershwin Gallery, Patina restaurant, an outdoor garden and the Los Angeles Philharmonic store.  The LA Phil scarf costs $60 at the Los Angeles Philharmonic store located at 111 South Grand Avenue in the Walk Disney Concert Hall.  The store is open from 10 am to 5 pm, seven days a week.
Offline reading and travel directions:
You can carry this article in your mobile device to read offline and create a self-guided walk to visit the venues featured herein with the GPSmyCity App (available on
iTunes App Store
or
Google Play Store
).
---
4. "I Love LA" Single/"Trouble in Paradise" Album Singer/songwriter Randy Newman, LA born and bred, puts his admiration for his native turf of the City of Angels into his "I Love LA" song, featured on his 1983 "Trouble in Paradise" album.  The song celebrates living the American dream with lyrics incorporating some of LA's most travelled and well-known streets - Century Boulevard, Ventura Boulevard, Santa Monica Boulevard, Imperial Highway and 6th Street.  Members of the group Toto shout, "We love it" throughout the song after the name of each street.  The song was also featured in a series of Nike commercials during the 1984 summer Olympics in LA.  The song is often performed or played after the Dodgers, Lakers, or other LA-based home team scores or wins.  Vintage copies of the "I Love LA" single or the "Trouble in Paradise" album can be found at Amoeba Music, America's biggest independent music store.  Here you can also find new and used hard to find vinyls, CDs, tapes, videos, DVDs and unique gifts for any music lover.  "I Love LA" vinyl 45 single costs $3.99, "Trouble in Paradise" vinyl album costs $9.99, available at Amoeba Music, located at 6400 Sunset Boulevard, open Monday through Saturday from 10:30 am to 11 pm, and Sunday from 11 am to 9 pm.
---
5. Laker Gear Bring home the excitement of a game at Staples Center with official Laker apparel.  This yellow sleeveless jersey features a purple screen printed Lakers team logo and Kobe Bryant name and number 8.   All Laker gear also includes the official NBA logo.  Jerseys are made from 100 percent polyester with rib-knit collar and armholes.  Ultra-absorbent knit keeps you cool on and off the court.  Matching purple and yellow sweats and shorts are also available.  The Los Angeles Lakers relocated to LA from Minneapolis in 1960.  During the last five decades, the Lakers acquired basketball greats Wilt Chamberlin, Jerry West, Kareem Abdul-Jabbar, Magic Johnson, Shaquille O'Neal and Kobe Bryant.  The LA Lakers have won 16 NBA championships, five in Minnesota and 11 in Los Angeles.  In addition to jerseys, fans can purchase T-shirts, shorts, sweats, pajamas, caps, calendars, jackets, jewelry, mounted photographs, car flags, basketballs, hoodies, and backpacks.  Laker gear and memorabilia can be purchased at the Team LA Store located in Staples Center at 1111 South Figueroa Street, open Monday through Friday from 11 am to 6 pm, and Saturday and Sunday from 11 am to 5 pm.
---
6. Windstream Pinot Noir, San Antonio Winery Wine When most people think of wineries in California, they envision the rolling hills of Napa or Sonoma.  Out of the hundreds that began here, there is one remaining winery left in Los Angeles.  Tucked away in the industrial area north of the Los Angeles River, which at one time was blanketed with wine vineyards, lies the San Antonio Winery.   One of their best-selling labels is the Windstream Pinot Noir, a dark wine with intense flavors of black cherry and raspberry with nuances of oak spice and cedar.   Other labels sold at the downtown winery include Riboli Family, Opaque, Stella Rosa, San Simeon, Maddalena, La Quinta, Kinderwood and specialty, sacramental and dessert wines.   You can stop by for a wine tasting of flights of cabernet sauvignon, chardonnays, malbecs, merlots, pinot noirs, rosés, pinot grigios, rieslings, sauvignon blancs or syrahs or join an hour-long group tour starting at noon daily.  All wines can be found at the San Antonio Winery located at 737 Lamar Street; a bottle of Windstream Pinot Noir costs $29.95.  A variety of wines, along with custom gift baskets, can be found at their on-site store.  The winery also houses the Maddalena Restaurant, a perfect location for an after wine tasting lunch.  Open from 9 am to 6 pm daily.
---
7. Glee's Rachel Berry Sweaters From It's A Wrap Dress like your favorite neurotic nerdy Glee star Rachel Berry with a choice of pleated plaid miniskirts.  A wardrobe to emulate the comedy's lead female singer includes plaid miniskirts, sweater vests, cardigans, tall socks and oxford shoes.   You can also find wardrobe pieces, such as pencil skirts, cropped jackets and sweater sets worn by the character of Emma Pillsbury, and girly flowered skirts in pastel shades, sundresses and a variety of shiny flats from cheerleader mom Quinn Fabray's character.  Guys will have plenty to peruse as well, with high-end Mark Jocobs T-shirts, chunky knits, skinny pants and a variety of blazers worn by character Kurt Hummel.  If you are a manly man and go for a simpler style, items from quarterback Finn Hudson's wardrobe can also be found at It's A Wrap, including American Eagle and Hollister shirts, jean jackets, Levi's and Adidas sneakers.  It's A Wrap boutique houses discounted clothes (up to 95% off retail prices), shoes and jewelry once worn by celebrities in movies, soap operas and TV shows.  The two-story store carries vintage and never worn items from a variety of studios.  Plaid miniskirt, $35, available at It's A Wrap, 3315 West Magnolia Boulevard, open from 11 am to 5 pm daily.
---
8. Sea Inspired Jewelry from Aquarium of the Pacific Carry a bit of the Pacific Ocean anywhere you travel with this set of whale earrings.  Modeled after the blue whale, these dropdown earrings feature glittering blue stars with a silver spout.  Hypoallergenic pierced earrings are made out of surgical stainless steel and are quarter inch wide and half inch in height.  Stud earrings can be worn with a matching blue whale pendant necklace.  Blue whales can be found migrating through the waters of Los Angeles beaches during the summer and fall months.  Named for their overall blue-grey color, the whales are the largest animal inhabiting Earth. Blue whales grow to be about 80 feet long on average, weighing about 120 tons.  They are also the loudest animals with a call reaching levels up to 188 decibels.  Approximately 2,000 blue whales live off the California coast and migrate to Mexico and Costa Rica from June to September.  Blue whale earrings, along with other jewelry, posters, stuffed animals and books inspired by the California coast can be found at the Pacific Collections Gift Store inside the Aquarium of the Pacific in Long Beach.  The aquarium houses fish, birds and mammals that make their home in the Pacific Ocean.  A full-scale model of a blue whale greets visitors in the front entrance.  Blue whale earrings are $ 12.99, available at the aquarium gift store at 100 Aquarium Way, open 9 am to 6 pm daily.
---
9.  MOCA Ring Watches Always be on time while flaunting some finger flair with this bright green Museum of Contemporary Art (MOCA) ring watch.  This stylish timepiece features an adjustable time knob to set time, precision Japanese quartz movement, a silver elastic ring to fit fingers of all sizes, a light green clock face featuring MOCA LA text and hour, minute and second functions.  The ring watch, also available in blue, white, rose and purple, reflects the modern theme of the museum.  Located in downtown Los Angeles, MOCA displays art in all media from 1940 through the present.  Works by Roy Lichtenstein, Jackson Pollack and Andy Warhol, among other artists, are housed in the museum's permanent collections.  Designed by famous Japanese architect Arata Isozaki, the museum is a collection of cubes, pyramids and other shapes in glass and red stone.  The green MOCA ring watch is $22 and available at the MOCA gift store inside the museum at 240 South Grand Avenue, open Monday through Friday from 11 am to 5 pm, Saturday and Sunday from 11 am to 6 pm.
---
10. 7 For All Mankind Jeans Founded by Los Angeles natives Michael Glasser, Peter Koral and Jerome Dahan, 7 For All Mankind jeans are worn by models, celebrities and shopaholics throughout Beverly Hills.  Stars including Ryan Reynolds, Cameron Diaz, Angelina Jolie, Jake Gyllenhall and Jennifer Aniston can frequently be seen in a variety of 7 For All Mankind denim.  Launched in Tinseltown in 2000, 7 For All Mankind jeans became an instant Hollywood hit with their low-rise tight fitting style.  The women's line of jeans includes bootcut, flare, wide-leg, relaxed and low-rise styles.  The jeans are also known as "Seven Jeans" or "Sevens" in the fashion industry.  Since its launch over a decade ago, 7 For All Mankind has expanded their product line to include kids, men's, handbag and footwear collections.  The brand has also teamed with famous designers, including Pucci and Zac Posen, to elevate their jeans into the couture world of fashion.  7 For All Mankind jeans (starting at $178) can be found at Macy's, Nordstroms, Barneys, and Bloomingdales, or at the 7 For All Mankind store located at 127 East 9th Street in downtown Los Angeles, open daily, 11 am to 6 pm.
---
11. Oliver Peoples Sunglasses Hollywood stars (and the sun) are so bright that everyone in LA has a pair of sunglasses, but the celebrities choose Oliver Peoples Aero 57 shades when they step into the spotlight.  The Aero 57 line is the designer's most recognizable pair, adorning the faces of actors and actresses, such as Reese Witherspoon, Bruce Willis, Demi Moore, Zac Efron and Brad Pitt.  A take on the classic "aviator" style, this modern remake has a lens shape designed to flatter almost any face shape.  These luxury designer shades feature silicone nose pads and temple tips providing additional comfort and fit.  Available with photochromatic and polarized lenses in shades of brown, blue or rose.  The first Oliver Peoples store opened in 1986 in West Hollywood offering retro-chic glasses to the rich and famous of Beverly Hills.  The brand also produces frames for prescription lenses, so you can be fabulous inside and out.  In addition to being sold at Neiman Marcus, Bloomingdales, Nordstroms and Barneys, Oliver Peoples frames can be found at their signature shops throughout Los Angeles and Orange County. Aero 57 shades cost $450 and are available at their signature shop at 8642 Sunset Boulevard, open Monday through Saturday, 10 am to 6 pm.
---
12. In N Out Burger Blanket In N Out Burger has been a staple in the LA hamburger scene since 1948 when Harry and Esther Snyder opened the first In N Out drive through in Baldwin Park.  Now the brand has 258 locations, all featuring fresh ingredients without the use of microwaves or freezers.  You can't take a double-double burger back home as a souvenir, but you can purchase an In N Out Burger blanket from their company store.  This high quality 100 percent cotton blanket features a red, white and black graphic of old cars lining up for California's first drive-thru burger under the famous red and yellow arrow In and Out logo.  Most Angelinos choose In N Out when they are craving a big juicy hamburger.  The menu is simple, offering hamburgers, cheeseburgers, shakes and hand cut French fries. The hamburgers come with lettuce, tomato, grilled or fresh onions Thousand Island based sauce.  There are "secret" additional items that can be ordered that are not listed on the menu.  For those in the know, you can also order a burger "animal style," a mustard cooked patty with additional pickles cheese and chopped grilled onions, or the "Flying Dutchman," a burger with two patties and two slices of cheese.  No bun, no lettuce, no tomato.  For those deleting carbs, the "protein style" burger hits the spot, everything on wrapped in lettuce instead of a bun.  The In N Out Burger blanket can be purchased for $34.95 at the In N Out Customer Store, located at 13800 Francisquito Avenue, open Monday through Saturday, 10 am to 5 pm.
---
13. Supreme Bean Coffee Beans Not only can you purchase shades and clothes worn by the stars, but you also can take home their favorite cup of Joe.  Hollywood's Supreme Bean Coffee Roasters supplies studios with hundreds of cups of coffee for thirsty actors on set.  You can purchase the same artisan beans to take home from their North Hollywood roasting location. The company grew out of Joe to Go, owner Jeff Cheam's successful catering company providing coffee, muffins, pastries and bagels to movie and TV studios across LA. Supreme Bean Coffee Roasters produces about 40,000 pounds of coffee per month and delivers roasted beans and ground coffee to restaurants, cafes, hotels, studios and offices throughout Los Angeles.  The company buys 40 different origins of beans from all over the world and deals with several countries directly, including Brazil and Costa Rica, as well as utilizing brokers for beans from other countries.  
In addition to their dozens of varieties of coffee, Supreme Bean also produces eight varieties of espresso, as well as tonics and teas. With prices about the same as mass produced roasted coffee, a large variety of java to choose from, and exceptionally roasted fresh beans, it's worth a visit to Supreme Bean Coffee Roasters to stock up on your favorite brew to take home.  A 1-pound bag of beans starts at $12.95 and can be purchased at Supreme Bean Coffee Roaster, 5457 Cleon Avenue, open Monday through Friday, 9 am to 5 pm.
---
14. Bob's Big Boy Bank Save your pennies in a LA icon.  This Bob's Big Boy bank is a replica of the huge statue of a chubby boy dressed in overalls with a distinctive wave in his hair, located outside of the original Bob's Big Boy restaurant in Los Angeles.  The plastic bank is 8 inches by 5 inches and holds approximately 3 pounds in change.  The Bob's Big Boy chain grew out of a diner Bob Wian, founded in Glendale in 1936.  The Hollywood adjacent location was the third, built in 1948 and designed by architect Wayne McAllister.  The building represents a distinct period in the region's architectural history, often referred to as "Googie," blending the 1940s style of large, curving windows, oversized roof overhangs and tall display signs into the design. Although the interior has been redesigned and the kitchen expanded, the building's original façade, including a 35-foot display sign, and huge Big Boy statue remain.
Most Bob's Big Boy's disappeared from Southern California in the early 1990s.  The Burbank location was declared a California State Point of Historical Interest.  When the Fab Four were touring California in the 1960s, they liked to hang out Bob's Big Boy.  There's a booth dedicated to the Beatles and other stars, including Bob Hope, Mickey Rooney and Debbie Reynolds, were also regulars.  If you aren't a Beatles fan, you can always ask to be seated in the orange booth where Robert DeNiro and Val Kilmer sat during a scene in the movie "Heat."  Bob's Big Boy bank can be purchased for $9.99 at Bob's Big Boy, 4211 Riverside Drive, open daily, 24 hours.
---
15. Rodeo Drive Charm Located between Wilshire and Santa Monica boulevards, Rodeo Drive is the most famous shopping street in the country.  This sterling silver Tiffany & Company charm features the iconic "Rodeo Dr." street sign and can be attached to both necklaces and bracelets.  The spring clasp is easy to open and fits on neck and wrist chains.  The three block stretch of shopping paradise on Rodeo Drive features a variety of designer shops, including Bulgari, Chanel, Christian Dior, Cartier, Dolce & Gabbana, Fendi, Giorgio Armani, Harry Winston, Louis Vuitton, Prada and Tiffany's.  The most recognized street in the world has been featured in dozens of movies, including "Beverly Hills Cop" and "Pretty Woman."  It also houses the famous Via Rodeo, a cobbled pedestrian street lined with the priciest boutiques in America, as well as high-end salons and eateries.  Associated world-wide with its signature blue box and the Audrey Hepburn movie, "Breakfast at Tiffany's,"  Tiffany & Company is a jeweler and specialty retailer, whose merchandise offerings include an extensive selection of jewelry, as well as timepieces, sterling silverware, china, crystal, stationery, fragrances and accessories.  Tiffany was founded in 1837 when Charles Lewis Tiffany opened a store in downtown Manhattan.  The Tiffany ¾ inch Rodeo Drive Charm sells for $150 and is available at Tiffany & Company at 210 North Rodeo Drive, open Monday through Saturday from 10 am to 6 pm, and Sunday from 11 am to 5 pm.
Get GPSmyCity App for IOS or Android
You can read offline thousands of travel articles like this one in the "GPSmyCity: Walks and Articles with Offline Maps" app on
iTunes App Store
or
Google Play
. The apps also offer GPS navigation to guide you to the places featured in the articles.
Los Angeles Walking Tours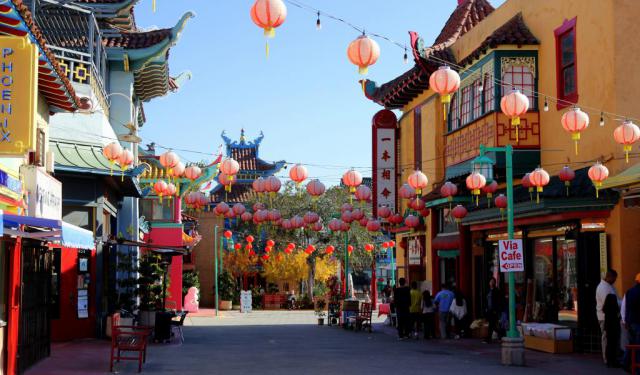 The nightlife in Los Angeles is extremely varied to suit everyone's taste. This is particularly true in relation to the clubs, restaurants and bars that host live music performances. Take the following walking tour if you'd like to see live R&B, rock, jazz or blues concerts.

Tour Duration: 2 hour(s)
Travel Distance: 2.9 km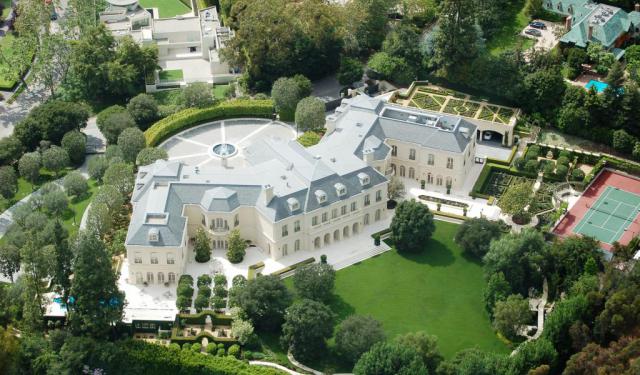 Los Angeles features a great number of beautiful churches and temples. These religious buildings attract a lot of tourists as well as Hollywood celebrities. For instance, Bing Crosby often visited the Good Shepherd Church in Beverly Hills. Take this self-guided tour to explore some of the wonderful Los Angeles churches.

Tour Duration: 3 hour(s)
Travel Distance: 6.2 km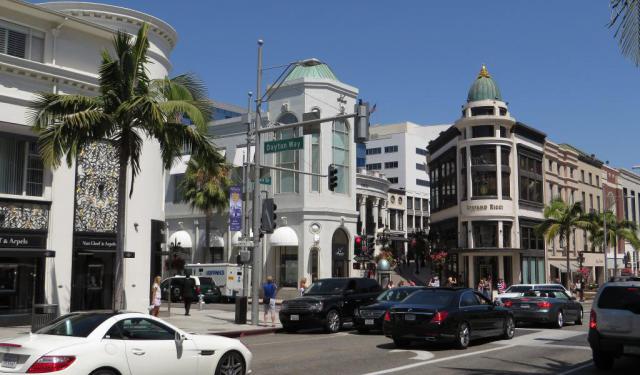 Los Angeles is an absolutely perfect place to enjoy comedy performances, as the crowd is especially warm and energetic here. Great comedians from all over the US and the world come to Los Angeles to perform and become famous. Take this self-guided tour to discover LA's best comedy clubs.

Tour Duration: 4 hour(s)
Travel Distance: 9.6 km