 15 Distinctively Seattle Things to Buy as Souvenirs
With the penchant for coffee they have in Seattle, no wonder they go sleepless. Other than that, the Emerald City is renowned for quite a few "distinctively Seattle" things that make it stand out from the crowd of other major urban U.S. destinations. Here are some tips as to which they are and where to find them. Enjoy!
---
1. Hand-Blown Glass Seattle's status as an epicenter of the glass art world started in 1971 when glass blowing extraordinaire, artist Dale Chihuly, co-founded the Pilchuck Glass School in Stanwood, Washington. Today, Seattle has more glass shops than the illustrious island of Murano, Italy. Glass art, inspired by Chihuly, can be found all around Seattle; gifts as affordable as small globes, ornaments and figurines can be purchased from $20 to thousands of dollars in local galleries, shops and through some Pike Place Market artisans, like Driven Simple www.drivensimple.com who specialize in stunning custom pendant lighting for approximately $135.00. Short of buying an authentic Chihuly, Made in Washington stores are another reliable source for quality gifts of glass made by local artists. Made In Washington Store at 1530 Post Alley Seattle, WA 98101 Phone 206 467-0788. If you're a real glass enthusiast, visit the Seattle Glassblowing Studio where you can purchase hand-blown glass art and watch live glassblowing. Phone: 206-448-2181, 2227 5th Ave Seattle, WA 98121.
Buy It on Amazon:
Offline reading and travel directions:
You can carry this article in your mobile device to read offline and create a self-guided walk to visit the venues featured herein with the GPSmyCity App (available on
iTunes App Store
or
Google Play Store
).
---
2. Northwest Designer Jewelry The Pacific Northwest is renowned for hand-crafted, one-of-a-kind jewelry created by Native American Indian, Pacific Coastal Indian and Intuit Artist. Examples of this exquisite designer jewelry include Silver Orca Ring (approximately $250) designed by Northwest artist Erich Glendale of the Kwakwaka'wakw Nation, representative of his collection of imaginative, engraved in silver, clan designs of orca, eagle, beaver, and killer whales of the Puget Sound. In addition to rings there are necklaces, talismans, broaches, bracelets and earrings by Erich and numerous other artists.
Also, the Square Abalone Earrings (approximately $54) designed and hand-crafted by local artist Lorene Hanlon from the L`uknax.adi, Raven Coho Clan. Lorene grew up in the heart of the Tlingit Nation and is a dedicated bearer of the richness of her ancestry through her jewelry, language, art, activism and dance. These unique one-of-a-kind Northwest Coast First Nations People jewelry designs can be found at the Steinbrueck Gallery in downtown Seattle.
The gallery is located downtown at 2030 Western Avenue, Seattle, WA 98121, one block north of Pike Place Market. It is open 7 days a week; winter hours are 10:30-5:00 and Sundays 12:00-4:00, and summer hours are 10:30-6:00 pm and Sundays 12:00-6:00 pm; (206) 441-3821; http://www.steinbruecknativegallery.com/
Offline reading and travel directions:
You can carry this article in your mobile device to read offline and create a self-guided walk to visit the venues featured herein with the GPSmyCity App (available on
iTunes App Store
or
Google Play Store
).
---
3. Pike Place Market Kitchen Gear Vintage flour sack towels & matching aprons are a popular Seattle gift item and are also frequently found in Northwest homes. These kitchen accessories are hand-silk-screened with original designs by Pacific Northwest artist Christine Vaughan. Christine borrowed the idea of putting images of vegetables and fruit on kitchen towels from her grandmother who used to embroider the flower sacks and make hand towels out of them.
Christine is often found at her Pike Place Market booth on the main arcade of the market. The colorful silk-screens depict indigenous northwest animals, fruits, flowers and vegetables. The decorated Tea Towels and Aprons are made of soft 100% cotton from flour-sack cloth and are a long lasting and useful accent for any kitchen, and are a unique Seattle treasure to take home from your travels. These towels are perfect for drying dishes, and also can be used as a standard kitchen hand towel, or even as a colorful art piece or picnic napkin. Matching cotton poly blend aprons are also available and all are very absorbent and completely machine washable. Other colorful aprons and kitchen wares are available throughout the market as well.
Market Location 1531 Western Avenue Seattle, WA 98101 Pike Place Kitchen Gear is on the Main Arcade - Mailing: Christine Vaughan's Studio 18653 120th Avenue S.E., Renton, WA 98058 Phone: 425-226-9847 Hours: Monday through Saturday, 9 am to 6 pm - Sunday, 9 am to 5 pm. Christine is available at the market 44 weeks of the year. Call to find out which days on any given week. Pike Place Market Vaughan & Son's
Offline reading and travel directions:
You can carry this article in your mobile device to read offline and create a self-guided walk to visit the venues featured herein with the GPSmyCity App (available on
iTunes App Store
or
Google Play Store
).
---
4. Moon Valley Organics Pacific Northwest healing soaps, medical salves, honeys and gift sets are a thoughtful present. Moon Valley Organics is a Pacific Northwest family-owned and operated business located in the foothills of the Cascade Mountain range. They use only the highest quality ingredients, incorporating sustainable farming & wild crafting techniques combined with established scientific study and traditional medicinal knowledge, including a Naturopathic (ND), Oriental Medicine (AOM, Lac) and Traditional Medical (MD) practitioner, and a Herbalist who specifically create their health and beauty products. Each of their botanical formulas integrates the concept of synergy, which means the interaction of pooled ingredients has greater effect than that of the ingredients individual effects. All of their products are petroleum-free and never tested on animals. Moon Valley Organics consciously grows, manufactures and distributes their products from 'seed to sale'. These items are excellent gifts ranging in cost from individual balms at $3.00 on up to gift sets between $12.00 and $30.00.
Moon Valley Organics can be purchased in several Seattle stores, like PCC, Whole Foods and the Herbalist. Alternately, you can visit their store inside the Pike Place Market on the main arcade to taste and peruse their gift item selection. Pike Place Market Location 1531 Western Avenue Seattle, WA 98101 Moon Valley Organics is on the Main Arcade - Hours: Monday through Saturday, 9 am to 6 pm - Sunday, 9 am to 5 pm.
www.MoonValleyOrganics.com
---
5. Native American Arts Seattle's Steinbrueck Gallery is dedicated to enhancing the cultural experience and understanding of the art and heritage of the Northwest Coast First Nations People. Items, like the Native Pacific Northwest Spirit Masks and wall hangings, are excellent representatives of this rich culture.
Northwest Coast Native art has always had the ability to fascinate viewers, from the first explorers to the present-day collectors. These highly detailed and imaginative Northwest Indian designs are renowned for their sophistication and complexity, yet their simple traditional elements. Northwest Coast Indian art has become one of the most sought after modern-day art forms in the world.
Northwest Coast native art makes use of local cedar for masks, monumental art, wood carving, bentwood boxes and baskets. Colorful masks, totem poles and house posts have become symbolic of the Northwest Coast and tell stories of a rich, ancient native culture. There are a great number of small, packable items and gifts in the gallery – all made by Seattle First Nations People. Artworks include items ranging from hand-woven Yupik Grass baskets to stone sculptures and Native Pacific Spirit Masks varying in cost from $5 to $10,000 and up. Larger items can be shipped anywhere in the world.
The gallery is located downtown at 2030 Western Avenue, Seattle, WA 98121, one block north of Pike Place Market. It is open 7 days a week; winter hours are 10:30-5:00 and Sundays 12:00-4:00, and summer hours are 10:30-6:00 pm and Sundays 12:00-6:00 pm; (206) 441-3821; http://www.steinbruecknativegallery.com/
---
6. Washington Wine No trip to Seattle is complete without sampling fine wines from the local wineries, such as the world renowned Chateau Ste. Michelle. And if you're a connoisseur, Woodinville Wine Country has more to offer. Plan a day to tour Woodinville (30 minutes east of Seattle) and attend wine tastings at over 80 boutique and world class wineries where they often have festivities, like great live music and local art along with wine tasting. Purchase bottled wine or the winery logo-wear and glassware right there on site or have it shipped. Prices vary greatly. Woodinville Wine Country Phone: 425.205.4394 General hours Thursday-Monday 12:00-5:00 PM. For maps and info visit www.woodinvillewinecountry.com/Wineries.cfm. Wine tasting charges range from $5 for the purchase of a glass of wine and up.
However, if touring the countryside isn't in your schedule, then stay in one place for a wine expedition at The Tasting Room Seattle. This wine lovers paradise is conveniently located in the heart of Pike Place Market in Post Alley. There you can taste and purchase rare older vintages, current releases, or specialty bottles that aren't always available. Meet the winemakers who create these gems and explore Washington wines at the copper-topped tasting bar or outside at a table on famed Post Alley. Taste or purchase bottled wine from as low as $15.00 (US) and up, or have it shipped.
The Tasting Room is located near Pike Place Market at 1924 Post Alley between Stewart and Virginia Street, next to Kell's Irish Pub and across from the Pink Door Restaurant. (206) 770-WINE (9463). Tasting Room Hours: Sunday - Thursday: Noon – 8:00 PM Friday & Saturday: Noon - Late.
---
7. Seattle Handmade Cheese Nothing goes better with wine than cheese. Across from Pike Place Market is a must-do-see-eat experience, formally known as Beecher's Handmade Cheese. Watch them make cheese, while you taste cheese, buy cheese, books, recipes, acquire 'cheese education', learn about cheese wine pairings, what seasonal cheeses are popular and so much more in this Seattle specialty cheese factory. A Seattle favorite is their "World's Best Mac & Cheese Kit" which lets you make your own scrumptious batch of award-winning macaroni and cheese. Beecher's Mac-n-Cheese has been on Oprah's favorite things. What a great gift! The kit sells for $55.00 (US) and can be easily packed or shipped, as can most anything else in this store.
Join their monthly cheese club (price ranges from approximately $70 to $280), watch the cheese-makers at work – Beecher's is one of the few cheese factories still practicing the centuries-old craft of open vat cheese making – order Pacific Northwest cheese from the cheese counter, and enjoy a cheesy wonderful, affordable lunch at their café, where you can order cheesy soups and breads, Panini's and salads, or try that fabulous Mac-n-Cheese for yourself.
Beecher's Handmade Cheese is located at 1600 Pike Place, Seattle, WA 98101 right in the heart of Pike Place Market on the corner of Pike Street and First Avenue. 206-956-1964 or 1 (877) 907-1644; visit www.beechershandmadecheese.com. Open 9:00 AM to 6:00 PM Sunday thru Saturday.
---
8. Seattle Microbreweries If Micro Brew is your thing, then Beer Enthusiast you've come to the right place. The Northwest is hoppin' for beer. If names like Dragonstooth Stout, the Immortal IPA, Zephyrus Pilsner, Perseus Porter and Night Owl Pumpkin Ale get your attention, then Elysian Brewing just might be your place to shop, taste, learn and explore. Elysian has three (close in to Seattle City Center) breweries that are owned and operated by Seattle's top brew pub master: Elysian Brewery, Seattle's top brew pub, carries Capital Hill - 1221 E Pike St, Seattle, WA 98122 206-860-1920 Seattle /Stadium District - 1st Ave S. Seattle, WA 98104 206-382-4498 Greenlake - 2106 N 55th St, Seattle, WA 98103 206-547-5929 www.elysianbrewing.com
Outside the Seattle city limits, roughly thirty minutes, are numerous other breweries, namely Washington's popular Red Hook micro brews. http://redhook.com/breweries/woodinville-brewery/
Though RedHook Beer is brewed in Woodinville Washington, it's also available in stores and restaurants around the state. The brewery is also home to the Forecasters Public House, where you can indulge in all of the RedHook beers (including many that are only served there) and pub-style meals. Shop the gift store for RedHook gift items; RedHook Shirts, hats and beer paraphernalia for the beer aficionado, and of course, RedHook beer.
Hours: Monday 11:00am-10:00pm, Tuesday-Saturday 11:00am-11:00pm, and Sunday 11:00am-10:00pm. Note: Minors are welcome in the Pub except Friday and Saturday nights after 9:00 p.m. For the beer devotee, there are daily tours of the Brewery, Monday through Friday: 2:00 pm and 4:00 pm. Sat and Sunday: 1, 3, and 5:00 pm. Note: Tour times are subject to change. Tours cost $1 per person, run for one hour, and include up to five samples of beer. Guests also receive a souvenir tasting glass, a walk through the brewery, a Redhook history lesson and an explanation of how they brew their popular ales. Minors are welcome to attend. RedHook Brewery is located at 14300 NE 145th Street Woodinville, WA 98072; Phone 425.483.3232 ext. 1275 http://redhook.com/breweries/woodinville-brewery/
---
9. Dark Chocolates As much as Seattleites love their coffee, they also have a love affair with chocolate. Theo's Chocolates is one of Seattle's chocolaty darlings. Their delicious, award winning chocolate is matched by their commitment to changing the way the cocoa industry conducts business. Seattleites embrace eco-consciousness even in their chocolate. At Theo, they believe that the products that benefit us today shouldn't jeopardize future generations. When you taste their chocolate; light, dark or flavored, you will experience their passion and integrity in every delicious bite. At Theo, there is something for everyone, from an adventurous foodie, to those seeking the simple comfort of a mouth-watering, creamy milk chocolate bar. With the hip and creative logo and packaging, Theo Chocolates are a trendy chocolate gift that is fast becoming a must-have item. Purchase single chocolate bars from $2.00 and up, or beautiful gift packs that range from $8.00 and up. Theo Chocolates can be found in nearly every grocery store or specialty shop in Seattle. Other local favorite chocolates are Fran's, Seattle Chocolate, and Dilettante to name a few.
Theo's Factory and retail store is open 7 days a week from 10:00 am-6:00 pm and is located at 3400 Phinney Ave. N. in the Fremont neighborhood of Seattle, Washington. Public tours are $6.00 and book up early, so book yours 3-4 weeks in advance. 206-632-5100 https://www.theochocolate.com/store/
---
10. Coffee Let's face it, Seattle is synonymous with coffee – all kinds of coffee, from small local roasters to major chains, like Starbucks and Tully's. There is a dazzling array of coffee shops scattered about the Emerald City, each offering their gift items and special blends of Seattle coffee. Coffee-related gift items are popular world round - items like bags of coffee, coffee mugs, glass or tumbler, t-shirts, specialty candies & cookies that represent the brand.
However, if you're in search of a unique Seattle coffee gift, there are some hidden coffee jewels in like Fonté Café, located on First Avenue across the street from the Seattle Art Museum and steps from the Pike Place Market. Fonté Café is befitting their local roasters reputation as "the best micro-coffee roaster in the Northwest" by Northwest Palate Magazine. They have attracted a prominent, global clientele of luxury hotels, including Seattle's Olympic Four Seasons and Wynn Las Vegas. You can buy their luscious coffee at the café – prices range from $15-$25.00 a pound – or gift items that range from $8.00 and up.
Fonté Café is a coffee roaster, coffee bar, wine bar and bistro, conveniently located within steps of Pike Place Market at 1321 First Ave Seattle, WA 98101. They serve European bistro style foods, breakfast, lunch and dinner. 1-888-783-6683. Hours: Tuesday through Saturday 7AM to 10PM, Sunday & Monday 7AM to 9PM. http://cafefonte.com/ Buy coffee at the café or visit fontecoffee.com to purchase fresh roasted coffee online, join their coffee club - the Coffee Vault, and have it delivered to your door.
---
11. Market Spice Tea This spicy tea has been sold for over 100 years as the official Pike Place Market tea and is available in Seattle's Pike Place Market. Visit the store where you can explore the many gift ideas for the tea connoisseurs and cooks in your life. Products range from specialty tea and spice selections, candles, creamed honeys and tea cookies to tea and spice accessories and some specialty food items. Gifts range from $5.00 upwards. Worldwide shipping available! This popular gift item is a Seattle Christmas stocking staple or placed under the tree with the Aplets & Cotlets. Located behind the market's mascot, Rachael the Pig (500 lb brass sculpture) near the Daily Dozen Doughnut Company on the main arcade. Follow the spicy smell and have a sample.
Market Spice is located at 85A Pike Place, Seattle, WA 98101. Phone 206-622-6340 www.marketspice.com Store hours: M-Sat 9:00 AM to 6:00 PM – Sunday 9:00 AM to 5:00 PM.
---
12. Goat Milk Candy Co For people who love goat milk, goat cheeses, candies and treats, supporting the environment and giving back to the world, these Seattle-only delicacies are a must-have. Try goat cheese truffles, chocolate-dipped goat cheese stuffed figs, caramels, and a variety of other goat milk candies, nuts and treats. Seattle's Goat Milk Candy Company features eco-friendly candy made from local, Washington State farms – namely the very popular Blue Rose Dairy in Winlock Washington which has received some of the finest cheese reviews in the state. Goat Milk Candy Company uses only organic ingredients packaged and sold in recyclable wrapping. And to make that chocolate taste even sweeter, Goat Milk Candy Company donates five percent of their gross sales to Heifer International to purchase goats for needy families around the world. How's that for guilt-free chocolate! You can pick up candy at their Queen Anne, non-descript kitchen by appointment only.
Goat Milk Candy Company is located in Seattle, just a 3 minute drive from Pike Place Market at 501 2nd Ave. W. Seattle, WA 98119, phone: 206-407-4092, or find them at local community events by visiting the Goat Milk Candy. http://www.goatmilkcandy.com/about
---
13. Local Honey - Ballard Bee Company Around the world, bees are struggling, but not here in Seattle, thanks to the award winning bee keepers at Seattle's Ballard Bee Company. The discreet yet sophisticated black and white packaging alone is reason enough to give a bottle of this unfiltered raw honey. But there's more to this nectar than a stylish jar: Corky Luster, Ballard Bee Company owner and head bee keeper, uses assorted plants from the Ballard Washington area to create honey that's golden, translucent, and far more fluid than the preponderance of other raw honeys available. Talk about nectar from the gods! This treat is an excellent addition to any dessert or as a gift for any occasion. And if you or someone you know wants to start your own beehive, then consider this: Ballard Bee Company provides one-on-one consultation for any step along the way. Cost begins at 1 hour minimum $65.00/hr plus travel and expense. What a gift for a bee enthusiast!
https://goo.gl/5b1Tmd Ballard Bee Company Honey is available online or in several locations around the State and at many local restaurants and retailers, such as DeLaurenti Specialty Food & Wine. http://www.delaurenti.com/ 1435 1st Ave, Seattle, WA 98101. Phone: 206-622-0141 DeLaurenti is tucked inside the Pike Place Market near the famous Daily Dozen Doughnut Company. DeLaurenti is open daily from 9:00 AM to 6:00 PM - Sundays 10:00 AM until 5:00 PM.
---
14. Pacific Northwest Salmon Wild Salmon is a Pacific Northwest staple and one of the healthiest foods in the world. Specialty gift salmon items are an extremely affordable item, as well as a century's old, much revered gift. Alaska Smokehouse Salmon wooden gift boxes are a treasure from Seattle of WILD salmon delicacies that are sustainably caught off the coast of Alaska and then carefully hand-filleted, marinated in a special brine and slow-smoked over real alder wood fires to ensure no flavor is lost. The fillets are then sealed in their own juices for up to five years. The Smoked Salmon does not need refrigeration, has a five-year shelf life and can be shipped anywhere within the United States! And don't overlook the extras; seafood spreads, salmon jerky, salmon stix and caviar - these are also delicious gift items. The classic cedar gift boxes that are adorned with hand-printed traditional Northwest Native American designs or Pacific Northwest Salmon, Crab and other Pacific Ocean creatures, make attractive alder wood keepsakes.
Alaska Smokehouse Salmon gift boxes can be found in shops and stores throughout Seattle or purchased directly from this Woodinville Washington company by calling 1 (800) 422-0852 or visiting their website http://www.alaskasmokehouse.com/
Two Seattle options: The award winning Uptown Metropolitan Market at 100 Mercer Street (corner of 1st and Mercer) Seattle, WA 98109 located near the Seattle Center. The market is open 24 hours a day and offers free parking. Phone: 206-213-0778 http://metropolitan-market.com/home.php
Several other local Wild Salmon gift items are available at all Made in Washington stores, as well as local grocery stores. The Pike Place Market, Made in Washington store is located at 1530 Post Alley Seattle, WA 98101 - Directions: On Post Alley, between Pike Street and Pine Street. Phone: 206 467-0788 Hours: Mon-Sun 10:00AM to 6:00PM http://www.madeinwashington.com
---
15. Applets & Cotlets Speaking of Aplets & Cotlets! These fruity treats are known as "America's favorite fruit & nut candies", made by Liberty Orchards in Cashmere Washington and grown to be a genuine Northwest tradition. Since the 1940s, Washington State people have sent boxes of Aplets & Cotlets to their faraway friends as a unique offering from Washington State. Gift boxes range from $8.00 to $30.00.
Whether you're looking for tangy Washington State apple candies, chocolate, apricot, Turkish Delights, or their 1920s inspired Nostalgia Collection containing their two original candies, Aplets & Cotlets, plus the Pineapple Upside-Down Cake, Pink Lemonade, Root Beer Float, and Butterscotch Kiss, Liberty Orchards has it all. The $11.95 Nostalgia Collection makes a great gift and comes packed in an Art Deco gift box, featuring historic photos from the company's past days. If you're in Cashmere, you can visit their candy factory, taste candy and shop their huge selection of candy goods.
The Liberty Orchards Candy Factory is located east of Seattle, approximately 113 miles, at 117 Mission Avenue Cashmere, WA 98815 - Hours: April through December: Mon-Fri 8am-5:30pm, Sat-Sun 10am-4pm. January through March: Mon-Fri 8:30am to 4:30pm, Sat-Sun Closed. HOLIDAYS: Closed or reduced hours. Please call 1-800-231-3242 to confirm holiday schedules.
Aplets & Cotlets can also be found at Made in Washington stores http://www.madeinwashington.com, some Seattle grocery and specialty stores and/or ordered on line at http://www.libertyorchards.com/
Other Interesting Souvenirs from Washington
---
If traveling to Washington is not on your immediate agenda, or you simply can't afford an extra space in your luggage, fortunately, these days, you can find a wide selection of authentic and truly interesting Washington souvenirs online. Presented here are some of the Washington products sought by foreign visitors, now available online for your convenience.
1. Coffee Mug from Seattle's Original Starbucks
- A coffee mug from the very first Starbucks store in the historic Pike Place Market in Seattle. A tribute to Starbucks' hometown, this is a highly collectible item. Exclusive and brand new! Made in USA.
2. Fran's Caramels - A temptingly rich sauce of cream and caramelized sugar combined in the slow-cooked richness of thick, creamy caramel. Spoon it straight from the jar or dip in apple slices or salted pretzels for a delicious snack. Warm it up for depth of flavor and serve it spooned over cakes, ice cream or baked pears. Add it to hot cocoa or coffee, or pair it with dark chocolate sauce as a decorative dessert accent. Whichever way you use it, it'll be just as delicious.
3. Marionberry Jam - Marionberry is a kind of blackberry, commonly referred to as the "Cabernet of blackberries", that grows in the Pacific Northwest. Of limited harvest, all natural and fat free, this jam is produced in the region known for its cool nights and warm summer days that make the berries ripen to their sweet perfection. The jam's flavor comes from the fruit itself, not the sugar. A truly gourmet jam; perfect for wedding favors and gift baskets.
4. Seattle Space Needle - Built for the 1962 World's Fair, The Space Needle, a tower in Seattle Washington, a key landmark in the Pacific Northwest of the United States and a symbol of Seattle, is now available to take home in the form of an amazingly detailed etched model or fridge magnet. A wonderful gift for someone else or your own personal use. Evoking the fun, spirit, and color of the beautiful city of Seattle!
Get GPSmyCity App for IOS or Android
You can read offline thousands of travel articles like this one in the "GPSmyCity: Walks and Articles with Offline Maps" app on
iTunes App Store
or
Google Play
. The apps also offer GPS navigation to guide you to the places featured in the articles.
Seattle Walking Tours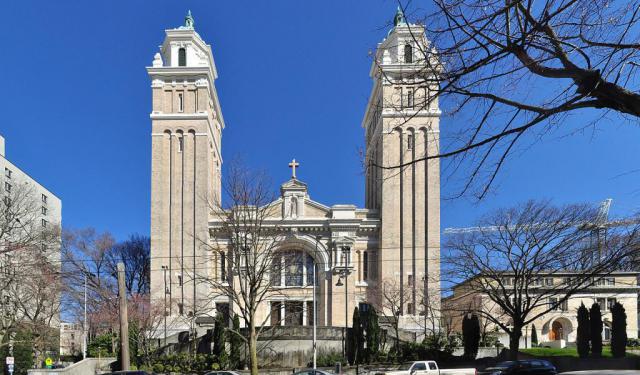 Seattle's religious buildings play a very important role in the city's social life, as they did at the moment of their construction. Besides their religious input, Seattle's religious buildings are an important source of the community's architectural and artistic heritage. This walking tour will lead you to some of the most beautiful and famous religious sights in Seattle.

Tour Duration: 2 hour(s)
Travel Distance: 4.4 km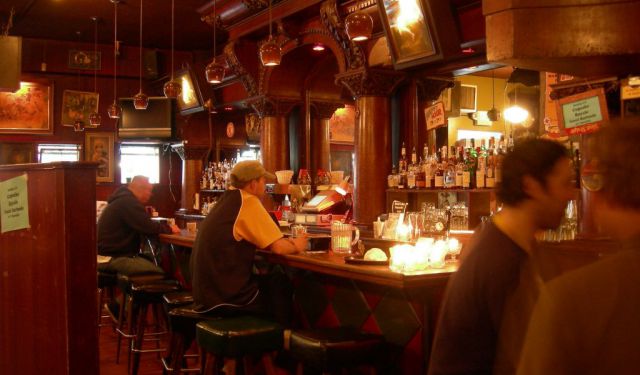 Capitol Hill is the well-known gay neighborhoods in Seattle. It offers a large variety of nightlife options. Whether you're in the mood for trendy dance clubs, chill nightspots, or simply a cocktail night out with your friends Capitol Hill's nightlife is varied enough for anybody to find one that fits. Take this walking tour for a unique nightlife experience in Seattle.

Tour Duration: 1 hour(s)
Travel Distance: 2.6 km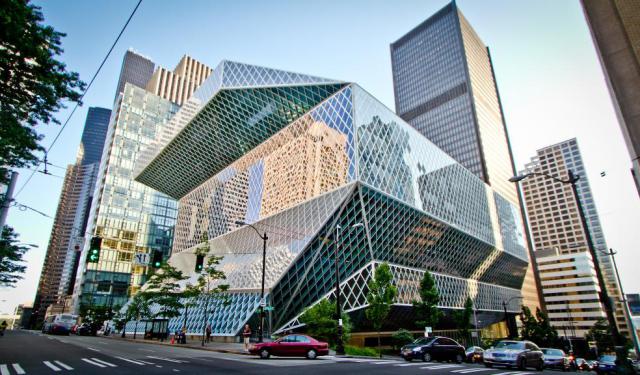 Seattle is one of the most famous tourist destinations in Washington. It offers everything from beautiful architecture and amazing religious buildings to unique museums and galleries, spectacular gardens and parks and one-of-a-kind shops and restaurants. Take this walking tour to explore some of the better known architectural beauties of Seattle.

Tour Duration: 1 hour(s)
Travel Distance: 1.9 km