 Tunis Souvenirs: 15 Authentic Tunisian Products for Avid Traveler
A historic crossroads of many civilizations and influences, - Berber, Spanish, French, - Tunisia is a treasure trove of mementos waiting for a knowledgeable traveler to be picked up. The Medina market of Tunis (the capital city) is one of the best places to shop for local handcrafts. To help yourself with a choice, study the presented list of 15 most distinctive local artifacts!
---
1. Handmade Ceramic Plates Tunisia is known for its numerous handicrafts, which enjoy great support from the government and provide employment to over 120,000 people. Each region of the country specializes in a certain trade; Nabeul and Djerba are famous for their ceramics. The ceramic plates from these regions are 100% made and decorated by hand, using rich colors and traditional motifs inspired by the Islamic tradition, based on geometric forms, foliate shapes (arabesque style) and some figural representations of both fantastic and real animals. In some way, it replicates the antique pottery discovered during the excavation of Roman, Punic and Islamic ruins. The artisans, producing these items, apply a great deal of passion and dexterity.

Needless to say that a handmade gift, such as this, will not only add an exotic ambiance to any interior, but will also provide great decoration to the food served in it, being colorful and lead-free. These magnificent articles are available in various designs and sizes, and can be found in the outskirts of the Medina Arbi, in downtown Tunis, where shops and stalls stay open until about 7pm.
The price ranges between $13 and $35 apiece.
Where to find it:
Poterie de Tunisie
21, Rue Jerusalem
2037 Ariana, Tunisie.
Phone: +(216)55 786 675/+(216) 71 717 236
www.poterie-de-tunisie.com
Buy It on Amazon:
Offline reading and travel directions:
With GPSmyCity App you can read this article offline on your mobile device, use the embedded offline city map and GPS navigation, as well as create a self-guided walk to visit the venues featured in the article.
---
2. Handmade Chess Set Lovely Tunisian two-tone chess set/coffee table comprises a board hand-carved out of a piece of olive wood, which makes it rather unique, as none of its elements can be fully replicated. This, in turn, add some truly stunning twist to the habitual black-and-white chess set. Sure to become the focal point of the interior, wherever you put it, the scrolling edges of the table show off the richness of the olive-wood grain. The surface has a fine finish that is silky smooth to the touch. The veins in the chess board are a deep black, brown and cream; no two items are alike.Appreciate the fine workmanship that went into carving of each square on the board and each individual game figure! A handy feature are the two little drawers on the opposite ends of the board, useful for the times when the game stretches on for days and no one wants to lose their opponents' pieces already won.

Further to being a game board, it can also be used as a small table that can be dismantled into three parts (base, stand and top) for easy storing. As for the maintenance, it is only limited to the occasional rinse of the wood with olive oil.
Price: $99
Where to find it:
STE InterCraft ( olivewoodgift.com )
Rue Saltnia km6 Sfax 3011, Tunisia.
Phone: +216-20-255-440 - Fax : 00216-31-140-030
http://wood-gift.com/chess-table/cat_8.html
Buy It on Amazon:
Offline reading and travel directions:
With GPSmyCity App you can read this article offline on your mobile device, use the embedded offline city map and GPS navigation, as well as create a self-guided walk to visit the venues featured in the article.
---
3. Soft Leather Luxe Pouf Sink yourself into this cool soft leather luxe pouf bean bag, and you will know that it's more than just a pleasing sight in a room, but something that provides the ultimate comfort you could ever imagine! The poufs are totally handmade; the threaded pattern on top may, in some cases, vary, which only adds to their uniqueness. Why on Earth they started calling them 'poufs' is something of a mystery; perhaps, it had something to do with the eighteenth century French pouf hairstyle, popularized by Marie Antoinette.

The poufs are easily combined with both modern and classic sofas, and make the home comfy and cozy without any detriment to functionality. In fact, you can put them almost anywhere in your home and they won't take much space. Can use them as an extension to your bed, or put them near a window or fireplace, or add a nice touch to your children's room. They are just as comfortable as seats for watching the movies. The poufs come in a variety of styles and sizes. A soft leather luxe pouf bean bag is easy to look after - simply wipe it with a damp cloth and that's it. Like most of high-quality leather goods, these tend to look only better with age. Take good care of your poufs and, sure enough, you'll be handing them down to the next generation of your family.
Starting price $19.
Where to find it:
SOUK ORIENTAL
4 Rue De La Production,
2037 Ariana Tunisie.
Open from 8am to 6pm
http://www.souk-oriental.com/pouf-oriental-artisanal-cuir-p-386.html
Offline reading and travel directions:
With GPSmyCity App you can read this article offline on your mobile device, use the embedded offline city map and GPS navigation, as well as create a self-guided walk to visit the venues featured in the article.
---
4. Balgha Slippers A heelless leather slipper, Tunisian Balgha is a fine blend of tradition, authenticity and modernity. Made by hand, the process of manufacturing these Tunisian slippers has barely changed over centuries. In making them, they use natural leather, tanned in a traditional way with environmentally-friendly ingredients.
Although part of a traditional Tunisian dress, the demand for Balgha has been on the rise lately, prompting the appearance of new styles for both men and women.

Tunisian Balgha is well-known for its sturdiness. You will be pleased by the suppleness of its leather. The Balgha slipper is equally suitable for both, indoor and outdoor wear.
It is highly durable and comfortable, and can last for many years. After a day out on heels, Balgha will make you feel like walking on air. Pure bliss! Very easy to pack and light to carry.
Tunisian craft shops, located in the souks of the Medina of Tunis, are among the most beautiful and richest medinas of the Islamic world. There, shoppers can find the Balgha of his/her choice from a variety of styles, offered for as little as $21 a pair.
Where to find it:
Souks of the Medina of Tunis next to Les Arcades
9, Rue Djamaa Ezzitouna
1002 Tunis.
Open Daily from 8am to 7pm
Tel: 71.328.902
---
5. Silver Gift Articles Travelers usually seek to buy something authentic and special to the region or country they visit. In Tunisia, the choice of local specialties is spoiling! Topping the list here is silver. Tunisian silverwork is undoubtedly the richest of the local crafts, in terms of tradition. In large part, this is due to the influence of many cultures it has been subjected to over the centuries - Tunisian, North African, Roman, - resulting in highly diversified designs, distinctly reflecting each of the many regions of this relatively small country.

Unlike jewelry that evolves and loses its symbolic value, Tunisian silverware may lose its function, but retains the same passion it had on day one of its creation, manifested in the numerous pieces of luxury, trinkets and accessories, much liked by the customers seeking to use them for furnishing and decorating their interiors. Particularly notable of these are the toiletries: censers (Mabkhara), combs, caskets (Kanawita), mirrors, and more. The art of filigree, a technique using welded wire of precious metals, acquired its reputation thanks to the skill and talent of a number of local craftsmen excelled in this trade. Nowadays, alongside traditional articles made in this technique, such as incense burners, sprayers, compacts, combs, jewelry boxes and others, there are even pieces of furniture (consoles, mirrors, chairs), photo frames and many other things of various sizes to be found. Small-size silver articles are available for sale all over the country, including any major hotel in Tunis city. Otherwise, one can explore the souks of Medina for a wider choice and, perhaps, somewhat better prices.
Price: $45 and up
Where to find it:
Maison de l'artisanat Atelier N°3,
Av. l'indépendance 2011 Denden.
Open Daily from 9am to 6pm
Phone: (+216) 71.610.919
---
6. Hand-Painted Tajine Hand-made and hand-painted by a single artist, this earthenware is called Tajine and is used to cook and serve traditional North African dish of the same name, as well as other local dishes, such as couscous and rice. The cone-shaped cover funnels condensation directly back to the food for moist, tender results. The traditional Tunisian pattern is painted by hand using food-safe paints. Tajines used for cooking (rather than decoration) better be non-glazed and thus free from any unhealthy chemicals. Each piece is painted freehand, which means that every one of them is slightly different in terms of pattern and color. Other than being a unique piece of art, tajine adds a great deal of taste to the meal, especially if you're not entirely satisfied with the food made in a tin or other metal pot.

If you're passionate about what you eat and like cooking yourself, then trying the food prepared in a traditional clay tajine will surely make your day and win you extra points with the family and friends with whom you share the meal. The base of tajine is both a cooking and serving dish. It is quite heavy, and made so deliberately to withstand constant use, as well as to hold heat longer. The cover is shaped like a funnel in order to act like an oven or a closed chimney. Totally sealed at the top, it keeps the heat and moisture inside, whilst cooking, thus rendering the food more flavorful and healthier. The extended bulb at the top stays cooler, and is used as a handle.
Price: $20
Where to find it:
Royal Ceramique
3, Avenue Farhat Hached
Nabeul-Tunisie.
Phone: +216 72.220.816
---
7. Handmade Bag/Couffa A large range of baskets, specifically designed to ensure ultimate satisfaction in day-to-day use, is an adaptation of Tunisian traditional baskets, made entirely of plant fibers, fashionable, and economic, besides being environmentally friendly - a gesture against the abusive use of plastic bags which have largely invaded our kitchens, rivers and environment in general. Couffa basket can accompany you wherever you go, be it shopping, picnicking, or making a daring escape to the beach, or simply to hold your cosmetics. With well-chosen colors and hand-made charm, these baskets can make a nice addition to your attire, assuring maximum comfort and ergonomics for your hands and arms. Inside the basket, or handbag for that matter, there are glossed pockets to hold your personal papers, notes or other important stuff.

These handmade bags make for excellent gifts, although most customers tend to keep a basket or two for themselves! All made of natural materials – palm leaf, reed, raffia and elephant grass, the bags are 100% recyclable and use biodegradable bubble wrap with recyclable brown paper. The tape is water-based acrylic adhesive which is also better for the environment. The Couffa is found in most every household across Tunisia. To find the best of the best option, go to Art de Tunisie. You can also order online, if that is more suitable for you.
Price: $15 and up
Where to find it:
MEZIANA POINT NET.SARL :
185 Rue de Palestine ,
Hammam-lif 2050 Tunisie.
Open Daily 9am-7pm
Phone: 00216 97 33 49 72
---
8. Tunisian Darbuka Some say, Tunisian Darbuka (goblet drum) originally came from Andalusia, Spain. True or not, but the first Darbuka ever made on the Tunisian soil appeared in Gabès (south-eastern Tunisia). Nowadays, it is widely played throughout the country as part of a group of instruments at almost every celebration, as well as to accompany singing of religious congregations (Issaouia); hence, it is found in almost every home in Tunisia. As a matter of fact, the popularity of Darbuka has spilled out recently to the Western hemisphere as well (e.g. Canada), where it is used as a solo instrument to accompany modern dance performances.

Darbuka has a hollow, goblet-shaped body and is 33cm high, with three different diameters ending in a large bulge with a slightly rounded rim, covered with goat skin. Cotton threads hold the skin on the top of the instrument. The instrument itself is played horizontally with the membrane head facing forward on the thigh under the left or right arm. If you get a chance to visit the Souk of the Medina in Tunis while seeking out a gift for a friend, wrapping up a Darbuka might be a good idea. For just $55, you can get a decent piece; and if you bring it to $350 - a professional one.
Where to find it:
Sts Rachid Ben Zekri
Specialiste en tous produits artisanaux Tunisien
9,Rue Djamaa Ezzitouna
1002 Tunis.
Open Daily from 8am to 7pm
Phone: +216 71.328.902
---
9. Carpet/Kilim A historic crossroads of many civilizations, Tunisia has long been famous for its woven wares. Back in the 5th Century AD, Greek poets already praised the "embroidered carpets and pillows of Carthage," and during the first centuries of Islam, the Aghlabite emirate of Kairouan paid dues to the Caliph of Baghdad partially in carpets. Thanks to Kairouan, the ancient art of tapestry weaving has flourished through the ages and continues to thrive today. Since Kairouan is the oldest and most famous carpet center in Tunisia, the selection of Kairouanese carpets is enormous. They are usually classified into four large categories: the Alloucha, the Zarbia, the Mergoum, and the Kilim.

The carpets of Kairouan are entirely handmade, starting with the shearing of the sheep, progressing through the selection and washing of the wools, spinning of the thread, and ending with the weaving and knotting of the carpets themselves. Furthermore, the creativity and artistic talent of Kairouanese artisans continue to improve on the basic designs through experimentation with an infinite variety of patterns and colors, often producing new masterpieces of harmony and elegance. With a good reason to be proud of the excellent quality of their carpets, Tapis la Tunisie (Tunisian Carpets) has established an extremely rigorous system of quality control, and only those carpets that satisfy the high standards of the board are blessed with the coveted tag that reads "First Choice" (premier choix), delivered by the Tunisian National Office of Artisans. The tag is found on the underside of the carpet, and also describes the exact quality, texture, measurements, type, and production date of the carpet. This is a guarantee of excellence to the buyer.
Price: $600 and up
Where to find it:
Le Palais de l'Artisan
Rue du Lac Léman
Les Berges du Lac - TUNIS - TUNISIE.
Open from 9am to 7pm
Phone: (+216) 71 86 01 49 - Fax: (+216) 71 96 59 91
http://www.palaisartisan.com/fr/tapis-laine.php
---
10. Handmade Bird Cage Tunisian crafts reflect many qualities. One, the making of filigree wire and wood bird cages, has captured the breeze-refreshed beauty and the charm of the country so well that the cages have become a national symbol and one of the most popular local souvenir items. Their designs borrow from the domes of Tunisia's mosques, the half-figs of its window masks, the double "S" heart shapes of its grillwork, and the blue and white colors of its architecture. And for four generations, the craft of birdcage-making has been the domain of one family - the Sammoudas in Sidi Bou Said. For them, the perfection doesn't come easily. Beginning with the finest solid brass and copper, each bird cage is handcrafted, assembled and polished, until the demands of perfection are thoroughly satisfied.

These decorative bird cages and bird playpens are a great way to not only provide a safe, healthy living quarters for your feathery friend, but it also gives you the opportunity to match stainless steel bird cages to your kitchen decor, wood bird cages to your living room or a hanging outdoor bird cages to your patio furniture. You can also find an impressive selection of cheap bird cage accessories, such as bird cage stands, perches and in-cage bird playgrounds. These are the types of novelty birdcage items you can place in the cage or rotate out, when cleaning the cage, to keep the environment new. Since a trip to Tunisia must include a visit to Sidi Bou Said, stopping at the Samouda shop presents no problem. It is just before the Magazin General, down a short staircase which leads directly into the courtyard. You'll find Mr. Samouda there any time, for, as one of his sons remarks, "My father is always working, never a break, never a holiday, he can't go out."
Price: $90
Where to find it:
AMOUDA Azouz,
5 Avenue Habib Bourguiba
2026 Sidi Bou Said.
Open from 9am to 8pm
Phone: +216 71 74 08 30
---
11. Massage Oil/Bath Salts Throughout history, massage oils have been regarded as a most precious medium for healing and spiritual work. The color, fragrance, phytol content, texture and specific genus or species dictates the massage oils specific healing vent. Massage oil's color and fragrance can indicate mineral content, specific acids, ester, natural steroids and pain killers, as well as chlorophyll content. When base oils are referred to simply as a vehicle or "carrier oil", this insinuates that the base is merely to carry for an essential. Massage Oils are applied easily to the skin for a light, even glide and smooth workability. Pure cold-pressed oils are ideal for therapists looking for natural products.

As of the Bath salts, they are a simple and delightful way to add valuable trace minerals to the bathwater, softening the water and gently cleansing the skin. These bath salts are handcrafted with the finest of natural ingredients and pure essential oils employing the healing benefits of botanicals and aromatherapy with each bath. So give yourself the same heavenly feel with a relaxing soak at home by adding handcrafted aromatherapy bath salts to your bath and then feel how soft your skin would be. In a warm and friendly atmosphere, and with customized counseling, "Le Palais de l'Artisan" offers day or night creams with essential oils, massage oils, bath salts, clay masks, perfumes, body lotions, natural soap, etc... All these products, designed by the establishment, are certified organic.
Price: $17
Where to find it:
L'essentiel par l'essentiel
Adresse: Siège Social : 5,Avenue Hafedhe Ibrahim
Cité la Gazelle - 2080 - Ariana - Tunis.
Boutique : Centre X, 3ème étage.
Open from 9am to 7pm
Phone: 71 86 68 08 / 71 87 79 10 - GSM: 23 01 44 44
http://www.mariagetunisien.net/lessentielparlessentiel/galerie.html
Buy It on Amazon:
---
12. Kaftan/Jebba Traditionally, the essential part of a Tunisian costume has been "Jebba" for men and "Kaftan" for women. The latter, although varying in detail between regions, represents broad, simple tunics made of wool, cotton or silk, depending on circumstances. The embroidery is a distinctive element of regional variations, largely responsible, along with woven patterns, for the richness and originality of kaftan, rather than the actual cut or fabric used. Until the mid 19th century, brides from wealthy aristocratic families of Tunis wore velvet, brocade or silk kaftans, richly embroidered with gold and adorned with precious stones. Nowadays, some of the girls marrying in Sousse and Hammamet wear a kaftan with elbow-long sleeves, open front, and varying in length from knee to mid calf.

The traditional male costume also has to it some regional specifications, generally referring at the Arab ancestral origins. Kaddroun, the blouse, and the Bden are still worn, especially in rural parts of the country, but it is the Jebba that is considered most typical Tunisian dress for men, nowadays mostly used as a ceremonial garment. The traditional costume also remains a great source of inspiration for modern clothes. The fabric of the jebba varies, according to seasons, and includes tease, silk, cloth (melf), flax (quamraya), and mixes silk and teases (mqârdech).
The price can start from $50 and go up to $1000.
---
13. Chechia Chechia is a close-fitting traditional red skull cap worn in Tunisia. The history of the Chechia dates back five hundred years to the time of the arrival of Andalusian Arabs from Spain. A cousin of European beret, this head piece generally comes in a variety of styles and colors, but the Tunisian Chechia is always red. Tourists, who see Chechia as an excellent exotic souvenir, can hardly imagine the amount of hard work that goes into making it. The process first involves creation of "kabbous", bonnets made by women of worsted, knitted wool. These bonnets are then sent to pressing, where they sink them in hot water and soap, and then men press them with their feet for a long time, so as to soften the fabric, until the stitches of knitting disappear.

More and more young Tunisians rediscover red woolen Chechias these days. Traditionally worn only by men, certain Chechias are now designed even for women as a part of evening dress or holiday accessory. Chechias occupy three whole sections of the Medina market in Tunis; some of the souks (bazaars), e.g. Ech-Chaouachine, specializing in Tunisian handicrafts, present Chechias in the final stage of their manufacture-to-retail process.
Price: $15
Where to find it:
Ets Troudi Belhassen
187 bis rue La Kasba
1006 Tunis.
Open from 9am to 7pm
Phone: +21671260070 - Fax: +21671260070
http://www.sheshia.fr.gd/home-page.htm
---
14. Rob Date Syrup A by-product of Tunisian date industry, largely recognized for some of the best dates in the world, date molasses (syrup) is a 100% natural product, rich in Calcium, Magnesium, Sodium and vitamins. The syrup possesses important nutritional power contributing to growing young children and adolescents, and is also highly recommended for the old people and pregnant women, as well as those breast-feeding. The date molasses is also very appreciated by athletes.

The Rob syrup is scientifically proven as reducing Cholesterol, preventing atherosclerosis, as well as beneficial for those suffering anemia, asthenia and anorexia. It is also good a remedy against nail fragility, hair loss, dry skin, lip cracks and eye tiredness. The product is even suitable for those on a diet and diabetics (if moderately consumed). The date molasses can be taken either as spread on bread or mixed with drinks (cold and hot, e.g. tea) as a sweetener, as well as used as stuffing for pancakes or addition to creams, cacao and nuts for making chocolate. Since milk is poor in iron and magnesium, mixing it with the Rob syrup makes it a good aliment suitable for all ages.
Price: $2 a jar
Where to find it:
RIDAT
Ste De Conditionnement Marzougui Dattes
32, R. Garibaldi
1001, Tunis Republique Tunis.
Phone: +216 71965161/ +216 71345491 - Fax: 71965735
Email: ridat@tunet.tn
---
15. Amber Jewelry Do you know the way to tell real amber? Or to make sure that a camel hoof is natural and not of plastic, as it looks sometimes? With amber, you just need to rub it hard against a cloth, till it warms up, and then smell it - should have a nice aroma, a kind of resin. In case of camel hoof, you put a flame to it, barely touching - it mustn't melt and should smell similarly to burnt hair. The rock-hardened resin from pine trees, amber is highly valued for its natural beauty. The inclusions found in amber are pretty much what makes it most interesting. Once a liquid, amber has all sorts of things stuck in it, from lichen and pine needles to insects and even reptiles. So who knows, the pendant around your neck or the bangle on your wrist may well contain a Dinosaur DNA!

Unlike most of amber jewelry, Tunisian pieces are fairly affordable and look good on both, women and men. Palais de l'Artisan offers a rich collection of amber items, boasting wealth of designs and audacity of mixtures that give each article a unique touch, fit to become, eventually, an integral part of the owner's personality.
Price: $21-$55
Where to find it:
9, Rue Rayhana, Choutrana 2
La Soukra
2036 ARIANA Tunisie.
Phone: + 216 71 863 978 - Fax : + 216 71 765 428
http://www.biomare.com/
Other Interesting Souvenirs from Tunisia
---
If traveling to Tunisia is not an option for you right now, or you simply can't afford extra space in your luggage, fortunately, these days, you can find a wide selection of authentic and truly interesting Tunisian souvenirs online. Presented here are some of the top Tunisian products sought by foreign visitors, now available online for your convenience.
1. Olive Wood Cutting Boards (Or Anything Olive Wood)
- Handcrafted by Tunisian artisans from 100% natural olive wood, a rustic cutting board, set of bowls, or a wooden canoe for olives are ideal as both, a housewarming gift and domestic appliance that is solid and durable, and will last you a lifetime if properly looked after. These items are made of dense olive wood that has been aged and treated with olive oil, with no bleach, dye or any other chemical used during the process. Ideal utensils for herbs, garlic, olives, gourmet nuts, or any other food or snack. Easy to care: simply wipe clean with a damp cloth or wash with mild detergent.
2. Foutas - Traditional towels used in hammam (Mid Eastern Spa); also useful as a simple towel, wrap, shawl, throw, sarong, tablecloth, or any sort of blanket. Hand-woven out of cotton or linen on a traditional loom (with hand-rolled fringes). Foutas are very absorbent, machine washable and fast drying, even in low temperatures, becoming softer and more absorbent with each wash. Lightweight and easy to roll for packing/travel. Exquisitely stylish yet highly practical, Fouta is an ideal multipurpose gift.
3. Harissa - Hot, aromatic paste made of chili and assorted spices and herbs (sun-dried hot peppers, garlic, coriander, caraway, and salt). Harissa is widely used in the Tunisian cuisine to flavor stews, soups or couscous (if mixed up with water or tomato juice), or as a dip for bread (usually served in a pool of olive oil). May also be used to add spice to mayonnaise and sauces.
Get GPSmyCity App for IOS or Android
You can read offline thousands of travel articles like this one in the "GPSmyCity: Walks in 1K+ Cities" app on
iTunes App Store
or
Google Play Store
. The apps also offer city offline maps and GPS navigation to guide you to the places featured in the articles.
Walking Tours in Tunis, Tunisia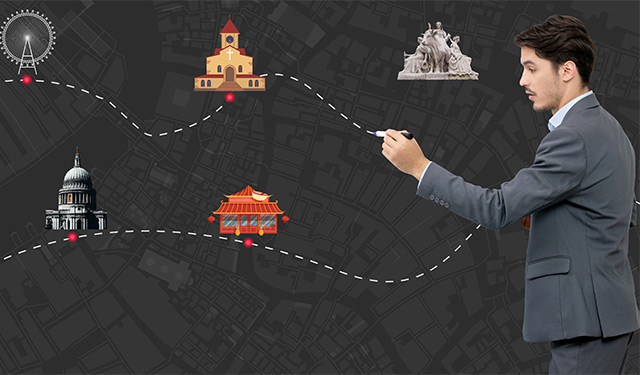 Creating your own self-guided walk in Tunis is easy and fun. Choose the city attractions that you want to see and a walk route map will be created just for you. You can even set your hotel as the start point of the walk.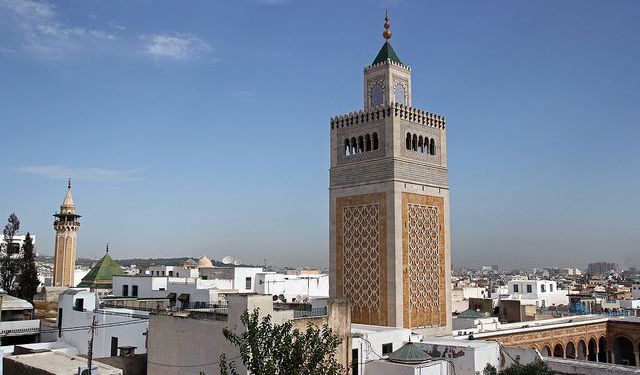 Tunis is the capital of Tunisia and one of the largest cities in the Arab world. Tunis was a Berber settlement founded on and around the ancient city of Carthage. The settlement of Tunis dates as far back as the 4th century BCE. It became the capital city in 1159.
The city was controlled by numerous empires over the years, which has lent to its interesting art and architecture. With influences...
view more
Tour Duration:
1 Hour(s)
Travel Distance:
1.8 Km or 1.1 Miles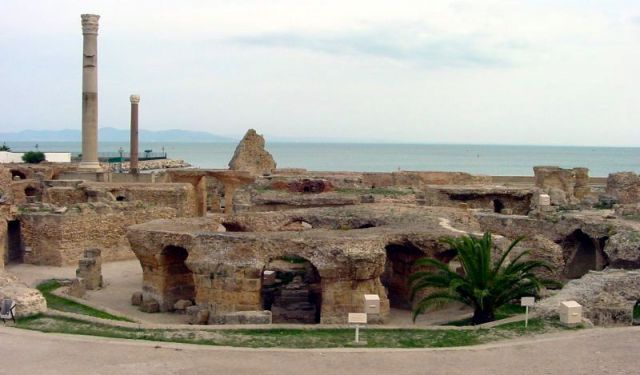 Carthage is a modern, upscale seaside suburb of Tunis and a unique place of archaeological and cultural value, situated at the site of an ancient capital of the Carthaginian (Punic) civilization, which fell to Rome in the 2nd century BC.
The settlement was founded by the Phoenicians in the first millennium BC and, after being destroyed by the Romans in the course of three Punic Wars, emerged...
view more
Tour Duration:
2 Hour(s)
Travel Distance:
4.0 Km or 2.5 Miles