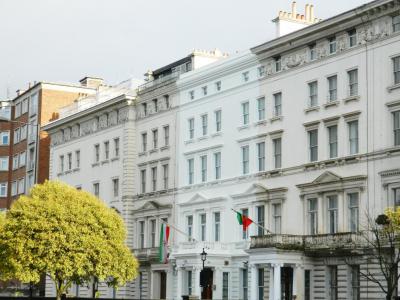 14 Prince's Gate, London
Situated at the eastern end of a row of buildings overlooking Hyde Park, 14 Princes Gate holds is listed as a Grade II designated structure in the National Heritage List for England. This terrace earned its name due to its location opposite the entrance known as the Prince of Wales' Gate to Hyde Park, a gate named after the future Edward VII when he held the title of Prince of Wales.

Constructed in 1849, the building had a varied ownership history, with members of the Morgan family, prominent American bankers, among its proprietors. From the 1920s to the 1950s, it served as the official residence for eight American ambassadors. During this period, American architect Thomas Hastings was commissioned to undertake renovations, including a facade makeover in the Beaux-Arts style, the addition of striking Native American heads in the keystones above ground floor windows, and the installation of a grand staircase.

In more recent times, 14 Princes Gate served as the inaugural headquarters of the Independent Television Authority from 1955 to 1961. Subsequently, it housed the Royal College of General Practitioners until 2010, at which point it reverted to being a private residence. Notably, on the morning of April 30, 1980, the Royal College's activities were disrupted by the start of the Iranian Embassy Siege, which occurred nearby at #16 Princes Gate. During the five-day siege, some rooms in this building were utilized by the Special Air Service for planning their operation to resolve the crisis.
Walking Tours in London, England
Useful Travel Guides for Planning Your Trip
--- London Souvenirs: 20 Distinctively British Products for Travelers
Most visitors to London consider shopping as part of their must-do London experience. From street markets to Victorian arcades to snobbish Sloane Square to busy Oxford Street, there are a host of shops selling items which typically represent this vibrant city. Whether you are shopping for souvenirs...