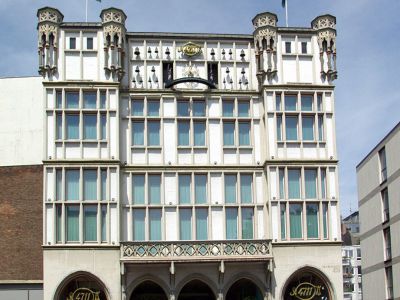 4711 House of Fragrances, Cologne
The 4711 House of Fragrances is home to a museum and the original cologne store. 4711 refers to the building where fragrances were manufactured in 1792.

Johann Maria Farina first created a fragrance in the early 18th century. He named the fragrance "Water from Cologne" (in German "Eau de Cologne"). During the 18th century, the fragrance became more and more popular.

Wilhelm Mulhens was another fragrance producer who started manufacturing "miracle water" as a medicine. During the French Occupation at the end of the 18th century, a soldier listed the building where Mulhens created his fragrance as "4711" in a census.

In 1810, a Napoleonic law required all medicine producers to list their ingredients. Mulhens decided to repackage his product as a fragrance rather than disclose the secret ingredients.

Mulhens wanted to capitalize on the famous Farina name and bought the rights to the Farina name. However, this purchase was suspect and the Farina family sued Mulhens. Mulhens finally adopted the 4711 name in 1881.

The original 4711 building no longer exists. The new 4711 building houses the flagship 4711 store and a museum. Visitors can enjoy the Fragrance Fountain, which circulates the 4711 Original "Water from Cologne". In addition, visitors can tour exhibitions including old Rosoli bottles and historic perfume creations.

The 4711 building has 20 bells and plays three tunes every hour.

Tip:
You can create your own perfume or just look for different types of souvenirs for family and friends.
4711 House of Fragrances on Map
Walking Tours in Cologne, Germany