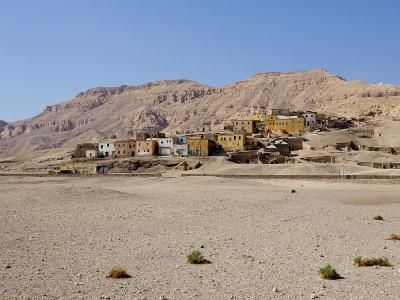 Abd el-Qurna Necropolis, Luxor
The Abd el-Qurna Necropolis is the hillside location of many of the Tombs of the Nobles. The Qurna part of the name is thought to be a derivation of the el-Qurn meaning "peak". Other theories behind the name of the cemetery are that it was named after a local saint. It is one of the most frequently visited necropoli in Thebes thanks to a high concentration of noble tombs. There are more than 150 burial places that have been found on the hill, most of them dating to the 18th-20th dynasties.

Among the tombs that are open to the public are those of User, a scribe and royal steward under the reign of Thuthmosis I; Nahkt, which features impressive, brightly colored murals of festivals and banquets in ancient Egypt; the tomb of Menna and his wife has a typical T-shaped noble design featuring stelae that show men and women praying and murals of giving and receiving offerings. The tomb of Anen, who was the brother in law of Amenhotep III, features details relating to his role as chancellor of Lower Egypt and semi-priest of Heliopolis. Visiting the sites at the Abd el-Qurna Necropolis provides a fascinating glimpse into everyday life in the ancient Egyptian kingdoms as well as important information relating to the pharaohs and their courts.
Abd el-Qurna Necropolis on Map
Walking Tours in Luxor, Egypt