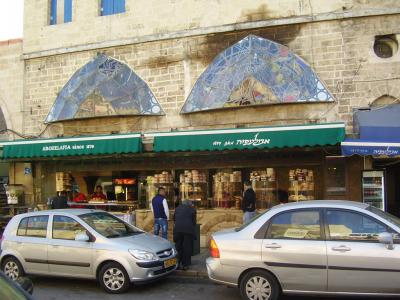 Abouelafia Bakery, Tel Aviv
An excellent place to taste Middle Eastern baked goods and pastries, this iconic bakery in Jaffa, run by an Arab-Israeli family since the late 19th century, is open all day and all night, having become embedded in the personal food histories of many.

Don't miss the chance to get something to eat here – there is quite a range of breads and pitas (plenty topped with eggs and cheese) and flaky bourekas (hot pockets) to choose from and you can also indulge in mouthwatering sweets like baklava, babka, or knafeh.

Staff is used to tourists and everything here is a feast for the eyes and stomach, with pastries baked every few hours, around the clock. Ask for a sample at your own risk – you will probably end up buying more if you do. If you're there when it's really busy and people are lining up onto the street, don't walk away – enjoy the atmosphere!

Tip:
Try the triangle sesame-puffed "kaak" bread filled with different kinds of cheese!
Walking Tours in Tel Aviv, Israel