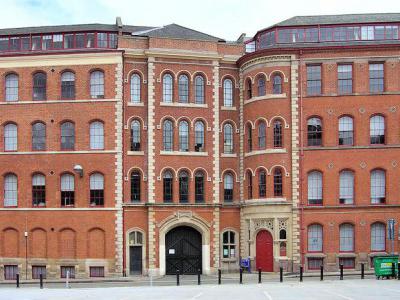 Adams Building and Lace Market, Nottingham
The Adams Building was built in 1855 as a lace finisher's warehouse and salesroom. It is located in the Lace Market section of Nottingham. It absorbed an earlier structure built in 1800. Additions and alterations were made through the 1800s. In 1999 it became part of the city campus of Nottingham College.

The Adams Building was designed by architect Thomas Chambers Hine. It was named for owner Thomas Adams, a leading industrialist of the day. The main building and its additions are of the same style. They are constructed of red brick and ashlar facings. Overall, it is Italianate. It has up to five stories with rear ranges around two inside courtyards.

Thomas Adams was a dedicated philanthropist. He provided a chapel with a chaplain in the lower floor. There were sanitary facilities and wash rooms, a tea room, savings bank and library.

The Lace Market is reputed to be the oldest section of Nottingham. Some might doubt that but the many ancient cave dwellings in the area lend some credence to the theory. The Lace Market got its name from the lace industry there that once made the city flourish.

It was never a market in the public sense but rather a place that handled wholesaling and promotion of lace industry products. The Adams Building marked the heyday of the lace industry in Nottingham. With the coming of the 20th century the industry declined.

The Lace Market today is an area of students, digital industries and small businesses. There may have been sweeping changes in the residents in the area, some of the old buildings and all of the caves remain.
Adams Building and Lace Market on Map
Walking Tours in Nottingham, England