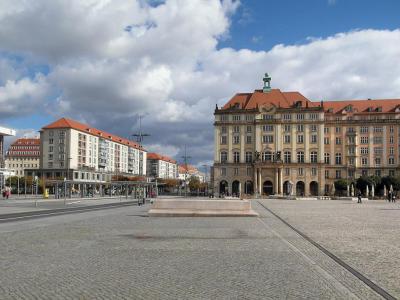 Altmarkt (Old Market Square), Dresden
Old Market Square has been a vital part of Dresden since the 13th century. Old Market Square has hosted markets, games, and festivals throughout its history.

World War II bombs destroyed the historical square. It has since been reconstructed according to historical plans. The Dresden Palace of Culture was completed in 1969 and features modern architecture with a dynamic symmetrical trapezoid roof. The rest of the buildings were reconstructed to continue to Baroque architectural heritage.

Landmark buildings include the Old Market House (Haus Altmarkt) and the 92-meter-high (302-foot) Holly Cross Church (Kreuzkirche).

Visitors will find several interesting plaques in the square. A commemorative plaque dedicated to German poet and writer Ludwig Tieck is displayed on Tieck's former home at the corner of Old Market Square and Kreuz Street (Kreuzstrasse). Tieck was one of the founding fathers of the Romantic movement in the late 18th and early 19th centuries

Visitors will also find a bronze plaque commemorating the 1849 May Uprising in the northwest corner. A plaque commemorates the market's post-war foundation stone can be found on the square's west side. Finally, a small embedded memorial featuring a two-line inscription is dedicated to the people who died in Dresden during World War II.

Old Market Square hosts the annual Dresden Autumn Festival and the Dresden Christmas Market. Dresden's Christmas Market is one of the oldest in the world and has been held since 1434. The square hosts a huge Christmas tree and a 14-meter high (46-foot) pyramid.
Altmarkt (Old Market Square) on Map
Walking Tours in Dresden, Germany