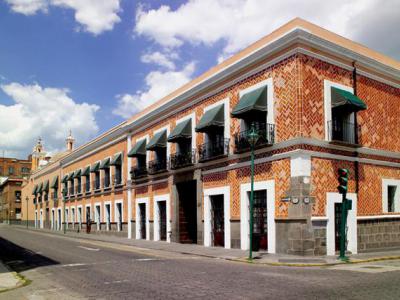 Amparo Museum, Puebla
(must see)
The Amparo Museum is one of the most important history museums in Mexico. It was founded and sponsored by the Amparo Foundation in 1991.

The museum is housed in two Colonial-style buildings. One of the buildings is the former Hospital of Our Lady and San Juan de Letran, built in the 17th century. It later became a college for women before it was used for the Amparo Museum. This building holds most of the exhibits from the historical collection.

The museum's collection follows the development of Mexico throughout its history. Pieces in the collection date from 2,500 BC to the present day. Items include figures, altars, sculptures, and monuments from civilizations like Maya, Olmec, Mixtec, Aztecs, and Huastec.

The second building, added in the 18th century, was used as part of the hospital but later became a private home. It has been remodeled to display how the houses would have looked throughout the colonization of Mexico.

The Amparo Museum also hosts temporary exhibits by national and international artists. It presents conferences, seminars, concerts, and workshops to support education, research, and the creative arts. There is no charge to enter the museum, which is open from 10 AM to 6 PM. Amparo Museum is closed on Tuesdays.
Walking Tours in Puebla, Mexico