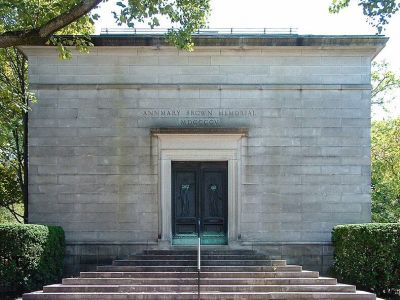 Annmary Brown Memorial, Providence
Annmary Brown Memorial is an art museum, library and a mausoleum at Brown University. The building was constructed between 1903 and 1907, designed by Rhode Island architect Norman Isham. Its monumental bronze doors feature allegorical representations of Art and Learning, signaling to visitors that the building contains many cultural treasures inside well worth exploring. Before merging with the university in 1948, the museum was established as an independent collection by General Rush C. Hawkins and his wife, Annmary Brown.

Recognized by his contemporaries as both distinguished book collector and discerning patron of the arts, the General showed preference for representational paintings. His Memorial collection comprises 17th-20th century European and American paintings, among which are the early works of Anthony Van Dyck and his school, Angelika Kauffmann, Michelle Marieschi, Peter Paul Rubens, Andrea del Sarto, Francesco Solimena, Gilbert Stuart, Giovanni Battista Tiepolo and Benjamin West. The more modern ones feature the likes of Giuseppi Barbaglia, Jacob D. Blondel, Don Jose Casado, Thomas Couture, Thomas Hicks, John Wesley Jarvis, Eastman Johnson, Frederik Kaemmerer, Gari Melchers and Edwin Lord Weeks.

The Memorial's book section is one of the five libraries making up Brown University Library system. Previously, it had contained a collection of 450 incunabula and other ancient tomes and manuscripts, before it was transferred to the John Hay Library in 1990.

Personal mementos of the founder and the Brown family, as well as the Cyril and Harriet Mazansky British Sword Collection are also displayed at the gallery. At the rear of the building, there is a crypt holding the remains of Annmary Brown and General Hawkins themselves.

The venue is open Monday through Friday, from 1:00 to 5:00 pm during the academic year, Labor Day through Memorial Day.
Sight description based on Wikipedia.
Annmary Brown Memorial on Map
Walking Tours in Providence, Rhode Island