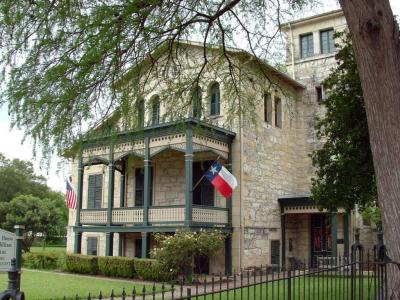 Anton Wulff House, San Antonio
The Anton Wulff House is named after its original owner, Anton Friedrich Wulff (1822–1894) who was a native of Hamburg, Germany, and immigrated to Texas in 1848. Wulff was actively involved in civic work, served as San Antonio's first park commissioner, and was elected a city alderman. He was also the man who designed the layout and took part in the beautification of Alamo Plaza, much of it at his own expense.

The multi-story Italianate limestone edifice was built in 1869–1870 on the land originally owned by Pedro Huizar, and which was once part of San Antonio de Valero Mission. In 1902, the Wulff family sold the property.

Flooding in 1921 resulted in a 1926 flood-control measure that included re-routing part of the San Antonio River. Prior to that, the Wulff house was adjacent to the river and included a boathouse and a bathhouse. After a 1950 sale, the structure was converted into individual apartments, and later, the United Brotherhood of Carpenters and Joiners remodeled it further. In 1968, the house received a zoning exemption due to its inclusion in the King William District.

In 1974, the San Antonio Conservation Society (SACS) purchased the home for $250,000. In 1975, SACS moved its headquarters into the Wulff home. In honor of the land's original owner, an adjacent lot is named the Pedro Huizar Garden. In 1976, the property was designated a Recorded Texas Historic Landmark and listed on the National Register of Historic Places listings in Bexar County, Texas as a contributing structure of the King William Historic District.
Sight description based on Wikipedia.
Walking Tours in San Antonio, Texas