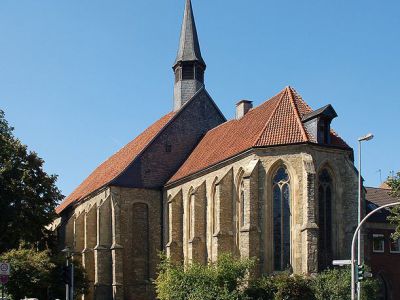 Apostelkirche (Apostle Church), Munster
The Apostle Church in Münster is the main Protestant church in the city. It is located in the northern part of the historic old town about halfway between St. Lamberti and the promenade belt . It was built as a monastery church for the Franciscans and from 1517 was the church of the Minorite monastery .

The Church of the Apostles is a Gothic hall church with two naves, now three naves, with a long, narrower choir with three bays and a 5/8 closure . On the east end of the nave roof rises a turret with the bell.

The church was built in the style of a mendicant order in the second half of the 13th century as a monastery church for the Franciscans who belonged to the Westphalian Custody in the Cologne Franciscan Province ( Colonia ); the brothers of the order, founded in 1210, probably settled in Münster in 1247, around 1270, with the help of Bishop Gerhard von der Mark , they received an extensive plot of land for the construction of the church and monastery, and by 1284 the nave , the choir and the southern aisle of the Church to the sixth yoke. The monastery was immediately north of the church. The Northern aisle and the two west bays were added with great sensitivity in the years 1654-59, since the church was felt to be inharmonious. It is the oldest purely Gothic church building in Westphalia . The original patron was Catherine of Alexandria .

The building was given the name of the Apostle Church in 1922 after the construction of a second evangelical church in Münster. In the following years, the fixtures from the 19th century were largely removed.

During World War II the church suffered severe damage. After provisional stadiums, reconstruction was not completed until around 1960. The church was rededicated on October 30, 1949 in the presence of Bishop Wilhelm Stählin . The reconstruction was supported by parishes on the Isle of Wight .
Sight description based on Wikipedia.
Apostelkirche (Apostle Church) on Map
Walking Tours in Munster, Germany