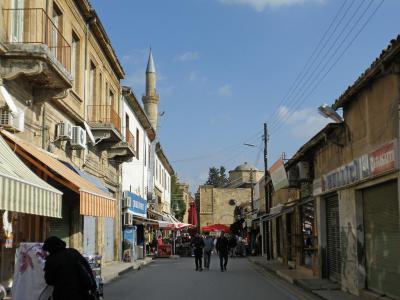 Arasta Street, Nicosia
Arasta Street extends from Eleftheria Square. It lays in a north-south direction. It is about one kilometer in length. Mostly it is within the Republic of Cyprus. At the north end one encounters the buffer zone and the green line. Here Arasta Street and Girne Caddesi enter the Turkish part of Nicosia.

The republic of Cyprus does not keep immigration checkpoints any more at the several entrances to the Turkish old city. Nevertheless it does hold identification checks on people entering from the northern, or also known as Turkish, sector.

Arasta street is narrow, pedestrian with shops jammed shoulder to shoulder. At the end of the street is the beautiful Gothic/Lusignan Selimiye Mosque and the Great Inn. The street is shaded for most of it's length by awnings and canopies. At one stretch, however, shade is provided by a flotilla of colorful umbrellas overhead.

The shops sell generally inexpensive items, including textiles, jewelry, shoes and casual footwear. There are, of course, cafes, and other watering holes for the footsore tourist.
Walking Tours in Nicosia, Cyprus