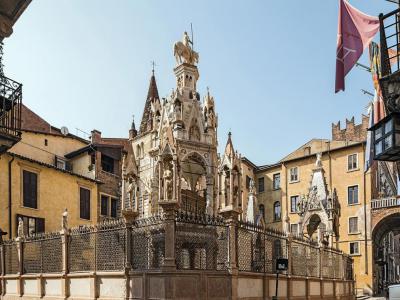 Arche Scaligere (Scaligeri Tombs), Verona
The Scaligeri Tombs are known as the location of Juliet's staged death.

The Scaligeri Tombs are a group of five Gothic monuments. They were built to celebrate the della Scala family, 13th and 14th-century rulers of Verona.

Mastino I della Scala ended various conflicts in Verona in 1259. The city council was so pleased with his success that they gave the Scala family hereditary and permanent ruling powers. Just like a Shakespearean tragedy, the family began to struggle amongst themselves for power.

The tombs are in a gated court outside the Santa Maria Antica church. The elaborate tombs are reminiscent of tabernacles. Each tomb rises high and has a carved sarcophagus with a baldachin or carved covering. Each tomb is topped with a statue of the deceased, shown riding a horse and wearing armor.

These tombs are some of the most celebrated monuments of gothic architecture in Verona.
Arche Scaligere (Scaligeri Tombs) on Map
Walking Tours in Verona, Italy