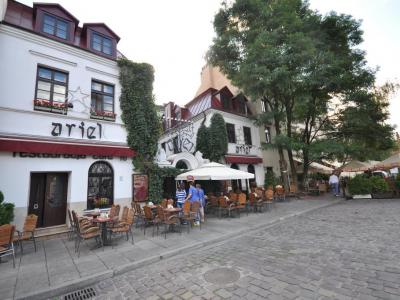 Ariel Jewish Restaurant, Krakow
Nowadays, Kosher culture is as much part of the Krakow culinary scene as it is part of the centuries-old Jewish tradition. Amid the variety of Jewish restaurants lining Szeroka Street there is one with reputation of delivering a truly unique dinning experience.

Situated in the heart of Kazimierz, on Jewish Square, amid five synagogues, the place is called Ariel – in honor of one of the four archangels, Uriel (the "Light of God"). Perhaps it is due to this Old Testament association and/or blessing from God that the local food – borscht, cabbage salads and Russian-style pierogies – are particularly delicious.

The interior is quite typical of the neighborhood, decorated in a charmingly cluttered style. The green room with a fireplace is cozy and full of character – resembling a 16th-century Jewish tenement house – manifested in an eclectic mix of historic paintings and vintage stuff.

In addition to six indoor dining halls laden with antiques and heirlooms from the past, the restaurant also provides outdoor seating in summer. Prices vary between moderate and not so.

If you care for live music, look no further, as you will fill find plenty of it at Ariel. In fact, live klezmer music is a popular lure for tourists here, albeit somewhat costly. In spring and summer the gigs are on everyday, but in winter you may have to call in advance or check their website to find out. Either way reservations are highly recommended. A gift shop and apartment rentals are also available.
Ariel Jewish Restaurant on Map
Walking Tours in Krakow, Poland