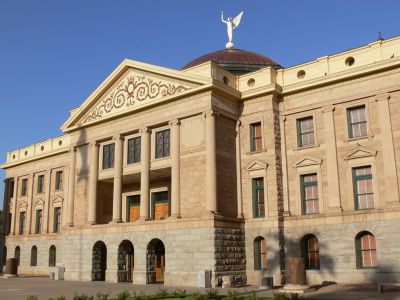 Arizona State Capitol Museum, Phoenix
The original 1901 capitol building was the last seat of territorial government before Arizona became a state in 1912. The facility housed all three branches of the new state's government, but new facilities were built as more space was needed. Today, the original building is home to the Arizona State Capitol Museum.

The primary focus of the museum is the territory's path to statehood. You can tour the restored original executive, judicial, and legislative offices. There are also special exhibits dedicated to the sinking of the battleship USS Arizona, which was lost at Pearl Harbor during World War II.

The building itself is historically significant in that it was part of the effort to show that Arizona was ready to be a state. Architect James Riely Gordon designed it. The original plans were for a much larger facility, but budget constraints meant scaling back. The capitol features a small lead-alloy top instead of the decorative dome that was initially planned. Mostly local materials, like granite, copper, and malapai, were used in the building's construction.

Construction began in 1898. Starting in 1901, it served as the center of territorial, and later state, government. There were expansion projects in 1918 and 1938. In 1960 the Legislature moved into its own building, and in 1974 the Governor's Office moved into its executive tower. Since then, the original building has served as a museum dedicated to state history.

The location is open to the general public from 9:00 a.m. until 4:00 p.m., Monday through Friday. There is also a wonderful gift shop and store in the building, which opens at 9:30 a.m. The museum is free of charge, which makes this a real bargain.
Arizona State Capitol Museum on Map
Walking Tours in Phoenix, Arizona