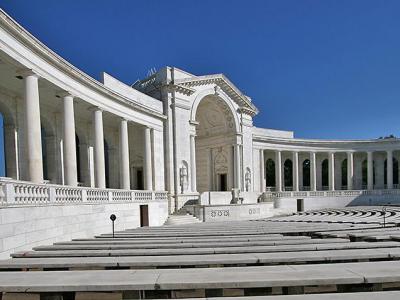 Arlington Memorial Amphitheater, Washington D.C.
Memorial Amphitheater is an outdoor amphitheater, exhibit hall, and nonsectarian chapel located in Arlington National Cemetery. It replaces the older, wooden amphitheater near Arlington House, which by the early 1900s had grown far too small for the large ceremonies held there. It was designed in 1913 to be the center of a biaxial grouping of landscape features and monuments that included the USS Maine Mast Memorial in the west, the Spanish–American War Memorial to the south, and a formal Italianate garden to the east.

The cornerstone for the new amphitheater was laid on October 13, 1915 by President Woodrow Wilson. In a hollowed out section of the cornerstone was placed a copper box containing 15 items including a copy of the United States Constitution, the United States Declaration of Independence, the Bible, the United States flag, one each of every coin and postage stamp then in circulation, a Congressional directory, a telephone directory of the District of Columbia, an autographed photograph of President Wilson, and several items connected with Arlington National Cemetery.

The amphitheater is built mostly of Imperial Danby marble from Vermont and Botticino stone, imported from Italy. Dedicated on May 15, 1920, over the years it underwent several renovations, including those in 1956, 1974, 1995–1996 and 2012.

Remembrance services, such as Memorial Day and Veterans Day, are quite common here. Sponsored by the U.S. Army Military District of Washington, these services are often attended by the President or Vice President of the United States. The annual Easter sunrise service has been held in the amphitheater since 1931, and is also very popular. The very first such service was organized by the Knights Templar, a group of Freemasons, and was attended by President Herbert Hoover. Many military organizations conduct other annual memorial services in the amphitheater, attended yearly by almost 5,000 people.

Alongside memorial services, the amphitheater also hosts state funerals of prominent Americans. Among them have been the likes of General John J. "Black Jack" Pershing, Secretary of Defense James Forrestal, and Antarctic explorer and Rear Admiral Richard E. Byrd. The unknown member of the armed forces representing Vietnam War dead was interred here in 1984, and the unidentified remains of 30 victims of the September 11 attacks on The Pentagon were buried here in 2002. The last American veteran of World War I, lay in state in the Amphitheater Chapel in 2011.
Sight description based on Wikipedia.
Arlington Memorial Amphitheater on Map
Walking Tours in Washington D.C., USA
Useful Travel Guides for Planning Your Trip
---