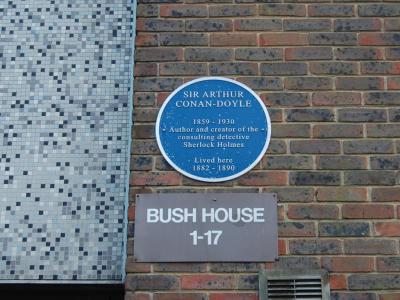 Arthur Conan Doyle Residence and Medical Practice, Portsmouth
The young struggling Doctor Doyle lived and kept his general practice at Bush Villas in Southsea, Portsmouth. He arrived here in 1882. He moved to London in 1890 to practice ophthalmology. One photo shows him on a visit to Southsea in 1911. He stands in the front doorway next to a lingerie shop. There appears to be light rain.

The original building in the photograph no more exists. It was flattened in a World War II bombing raid. Now, the space is occupied by a block of apartments. On the brick wall in front are two blue plaques commemorating Doyle's residence and his first two Sherlock Holmes stories written here.

Doyle took up the study of medicine in Edinburgh, Scotland. After serving two voyages as a ship's doctor, he entered a disastrous partnership with George Budd, a classmate. This partnership fell apart, and Doyle, strapped for cash to set up his own practice, moved to Portsmouth. There were few patients, so he had time to write.

The character of Sherlock Holmes is based on Dr. Joseph Bell, Doyle's Professor of Surgery in Edinburgh. The doctor showed incredible skills in reasoning and observation. Photos of mustachioed Doyle show a resemblance to Nigel Bruce, the actor who played Doctor Watson, opposite Basil Rathbone as Sherlock Holmes in the film.
Arthur Conan Doyle Residence and Medical Practice on Map
Walking Tours in Portsmouth, England