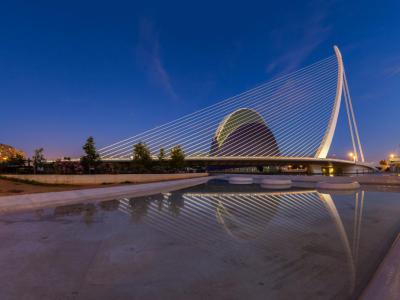 Assut de l'Or Bridge, Valencia
The Assut de l'Or Bridge, also known as El Jamonero or Pont de l'Arpa, is a striking cable-stayed bridge located in the City of Arts and Sciences in Valencia. Designed by Santiago Calatrava, a renowned Valencian architect and civil engineer, the bridge was completed in December 2008. Its name, l'Assut de l'Or, translates to the Dam of the Gold, paying homage to a nearby dam. However, Calatrava referred to it as the Serreria Bridge.

Situated in the southeastern part of Valencia, the bridge spans the Túria Gardens near the eastern edge of the City of Arts and Sciences complex. Its design draws inspiration from Calatrava's earlier work on a cantilever spar cable-stayed bridge in Seville, Spain, back in 1992. The Serreria Bridge features a curved pylon that leans backward and is supported by concrete counterweights embedded in the roadway.

One of the bridge's notable visual elements is the interplay between the curved pylon and the 29 parallel cables that support the bridge deck. At night, the cables and the pylon are illuminated by spotlights, enhancing the aesthetic appeal. The bridge deck accommodates two carriageways with three lanes each for vehicles, an additional lane for a tramway, and a dedicated path for pedestrians and cyclists along the central spine, created by the cable stays.
Assut de l'Or Bridge on Map
Walking Tours in Valencia, Spain