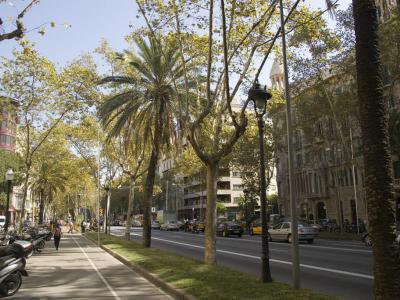 Avinguda Diagonal (Diagonal Avenue), Barcelona
Avinguda Diagonal, one of Barcelona's widest and most significant avenues, divides the city diagonally, cutting through the grid-like pattern of surrounding streets. Its construction began in the mid-19th century and served as a display of wealth for the affluent who paraded in their luxurious carriages along the avenue.

This iconic avenue is renowned for its showcase of Catalan Modernism, featuring numerous buildings in this architectural style on both sides of the road. It has also become a premier shopping destination in Barcelona, offering a wealth of department stores, malls, and designer boutiques. As you stroll along the avenue, you'll find an abundance of cafes and restaurants where you can relax and admire the impressive architecture.

The uptown section of Avinguda Diagonal traverses the vibrant business and shopping district of Barcelona. The prominent L'Illa shopping center stands alongside the avenue, with its stepped design reminiscent of New York's Rockefeller Center. Designer fashion stores abound, particularly around Francesc Macià Square ("Plaça de Francesc Macià") and Pau Casals Avenue. At the end of the latter, you'll find Turó Park, an ideal spot to rest and rejuvenate, complete with a small children's playground and a café-kiosk. Behind L'Illa, don't miss Concordia Square ("Plaça de la Concordia"), a charming oasis amidst the towering buildings of uptown, featuring a church bell tower and local businesses such as a florist, pharmacy, and hairdresser. Enjoy a quiet drink at one of the outdoor cafes in this picturesque square.
Avinguda Diagonal (Diagonal Avenue) on Map
Walking Tours in Barcelona, Spain
Useful Travel Guides for Planning Your Trip
---